Sterling™-LWB5+ WiFi 5 + Bluetooth 5.2 Module / USB Adapter
Recommended for New Design (RND)
Overview
New: Pluggable USB-A Wi-Fi 5 adapter for Linux devices!
Laird Connectivity's customers across multiple industries have a diverse set of requirements and specific needs. They asked for a truly robust industrial IoT wifi module: one that's rugged, small, simplifies their BOM, is globally certified, has reliable connectivity, and easy to integrate.
Laird Connectivity's Sterling-LWB5+ embedded wifi module answers that call for next-gen wireless IoT. Powered by Infineon's CYW4373E silicon, the Sterling-LWB5+ is purpose-built for IIoT connectivity through a secure, reliable, and robust feature set. It's IoT from the start: fully certified, easy to integrate, and is the fastest route to the market for IoT.
Purpose Built: Made with manufacturability in mind, and pre-certified to cut down barriers to entry.
Compatible: Our Linux Backports package supports many Linux kernels.
Reliable: Integrated PA (Power Amplifier) and LNA (Low Noise Amplifier) with antenna diversity for reliable connectivity in harsh RF environments.
Robust: Rich feature-set including 802.11ac Wi-Fi and Dual-Mode Bluetooth Low Energy. Reliable in industrial temperature range, and solder-down module is suitable for industrial vibration and impact demands.
Secure: Supports the latest WPA2/WPA3 Enterprise security standards.
Laird Connectivity is an Infineon Premium Partner
Laird Connectivity is honored to be approved as an Infineon Premium Partner. A partnership which leverages Infineon's AIROC™ Wi-Fi chipsets and ModusToolbox™ solutions combined with Laird Connectivity's superior software enablement and integration support.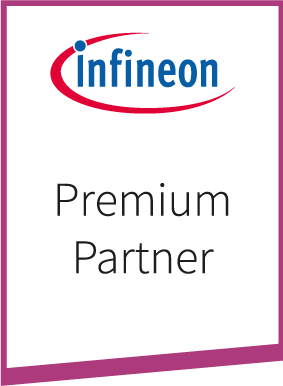 Specifications
Wireless Specification
Wi-Fi 5 (802.11ac)
Bluetooth 5.2 Low Energy
Chipset (Wireless)
Infineon (Cypress) CYW4373E
Dimension (Width - mm)
12
Dimension (Length - mm)
17
Antenna Options
Chip antenna, trace pin, or MHF4 connector
Certifications
Module: FCC, ISED, UKCA, EU, MIC, KC, AS-NZS
USB Adapter: FCC, ISED, EU, UKCA, AS/NZS
Form Factor
Solderable module or M.2 E-key Module
Output Power
Integrated power amplifier and low noise amplifier
Wi-Fi Coexistence
Integrated coexistence
Part Number
Antenna Type
Bulk or Single
Chipset (Wireless)
Description
Frequency Range (Max)
Frequency Range (Min)
Frequency Range 2 (Max)
Frequency Range 2 (Min)
Logical Interfaces
OS/Software
Packaging
Product Type
System Architecture
Technology

453-00045C

Recommended for New Design (RND)

Buy Now
Internal, Chip Antenna
Infineon (Cypress) CYW4373E
Sterling LWB5+ 802.11ac / Bluetooth 5.0 Solderable Module (Chip Antenna) - Bulk
2495

MHz

2400

MHz

5825

MHz

5150

MHz

SDIO, Serial, USB
Android, Linux
Cut Tape
Embedded Module
Hosted
802.11ac, Bluetooth 5.0

453-00046C

Recommended for New Design (RND)

Buy Now
External, MHF4 Connector
Infineon (Cypress) CYW4373E
Sterling LWB5+ 802.11ac / Bluetooth 5.0 Solderable module (External Antenna) - Single
2495

MHz

2400

MHz

5825

MHz

5150

MHz

SDIO, Serial, USB
Android, Linux
Cut Tape
Embedded Module
Hosted
802.11ac, Bluetooth 5.0

453-00047C

Recommended for New Design (RND)

Buy Now
External, Trace Pin
Infineon (Cypress) CYW4373E
Sterling LWB5+ 802.11ac / Bluetooth 5.0 Solderable Module (Trace Pin) - Bulk
2495

MHz

2400

MHz

5825

MHz

5150

MHz

SDIO, Serial, USB
Android, Linux
Cut Type
Embedded Module
Hosted
802.11ac, Bluetooth 5.0

453-00048

Recommended for New Design (RND)

Buy Now
External, MHF4 Connector
Infineon (Cypress) CYW4373E
Sterling LWB5+ 802.11ac / Bluetooth 5.0 M.2 Carrier Board (E-Type Key w/ SDIO/UART)
2495

MHz

2400

MHz

5825

MHz

5150

MHz

SDIO, Serial
Android, Linux
Embedded Module
Hosted
802.11ac, Bluetooth 5.0

453-00045-K1

Recommended for New Design (RND)

Buy Now
Internal, Chip Antenna
Infineon (Cypress) CYW4373E
Sterling LWB5+ 802.11ac / Bluetooth 5.0 Development Board (Chip Antenna)
2495

MHz

2400

MHz

5825

MHz

5150

MHz

SDIO, Serial, USB
Android, Linux
Development Kit
Hosted
802.11ac, Bluetooth 5.0

453-00046-K1

Recommended for New Design (RND)

Buy Now
External, MHF4 Connector
Infineon (Cypress) CYW4373E
Sterling LWB5+ 802.11ac / Bluetooth 5.0 Development Board (External Antenna)
2495

MHz

2400

MHz

5825

MHz

5150

MHz

SDIO, Serial, USB
Android, Linux
Development Kit
Hosted
802.11ac, Bluetooth 5.0

453-00048-K1

Recommended for New Design (RND)

Buy Now
External, MHF4 Connector
Infineon (Cypress) CYW4373E
Sterling LWB5+ 802.11ac / Bluetooth 5.0 Development Kit for M.2 Key E (SDIO/UART)
2495

MHz

2400

MHz

5825

MHz

5150

MHz

SDIO, Serial
Android, Linux
Development Kit
Hosted
802.11ac, Bluetooth 5.0

453-00049

Recommended for New Design (RND)

Buy Now
External, MHF4 Connector
Infineon (Cypress) CYW4373E
Sterling LWB5+ 802.11ac / Bluetooth 5.0 M.2 Carrier Board (E-Type Key w/ USB)
2495

MHz

2400

MHz

5825

MHz

5150

MHz

USB
Android, Linux
Embedded Module
Hosted
802.11ac, Bluetooth 5.0

453-00045R

Recommended for New Design (RND)

Buy Now
Internal, Chip Antenna
Infineon (Cypress) CYW4373E
Sterling LWB5+ 802.11ac / Bluetooth 5.0 Solderable module (Chip Antenna) - Bulk
2495

MHz

2400

MHz

5825

MHz

5150

MHz

SDIO, Serial, USB
Android, Linux
Tape/Reel
Embedded Module
Hosted
802.11ac, Bluetooth 5.0

453-00046R

Recommended for New Design (RND)

Buy Now
External, MHF4 Connector
Infineon (Cypress) CYW4373E
Sterling LWB5+ 802.11ac / Bluetooth 5.0 Solderable Module (External Antenna) - Bulk
2495

MHz

2400

MHz

5825

MHz

5150

MHz

SDIO, Serial, USB
Android, Linux
Tape/Reel
Embedded Module
Hosted
802.11ac, Bluetooth 5.0

453-00047R

Recommended for New Design (RND)

Buy Now
External, Trace Pin
Infineon (Cypress) CYW4373E
Sterling LWB5+ 802.11ac / Bluetooth 5.0 Solderable Module (Trace Pin) - Bulk
2495

MHz

2400

MHz

5825

MHz

5150

MHz

SDIO, Serial, USB
Android, Linux
Tape/Reel
Embedded Module
Hosted
802.11ac, Bluetooth 5.0

453-00049-K1

Recommended for New Design (RND)

Buy Now
External, MHF4 Connector
Infineon (Cypress) CYW4373E
Sterling LWB5+ 802.11ac / Bluetooth 5.0 Development Kit for M.2 Key E (USB/USB)
2495

MHz

2400

MHz

5825

MHz

5150

MHz

USB
Android, Linux
Development Kit
Hosted
802.11ac, Bluetooth 5.0

450-00137Buy Now
Internal
Single
Infineon (Cypress) CYW4373E
Sterling LWB5+ 802.11ac / Bluetooth 5.0 Pluggable USB Adapter - Single
2495

MHz

2400

MHz

5825

MHz

5150

MHz

USB
Linux
Pluggable USB Adapter
Hosted
802.11ac, Bluetooth 5.0

450-00137BBuy Now
Internal
Bulk
Infineon (Cypress) CYW4373E
Sterling LWB5+ 802.11ac / Bluetooth 5.0 Pluggable USB Adapter - Bulk
2495

MHz

2400

MHz

5825

MHz

5150

MHz

USB
Linux
Pluggable USB Adapter
Hosted
802.11ac, Bluetooth 5.0
Certified Antennas
FlexPIFA / FlexPIFA 6E Flexible Adhesive-Backed PIFA Internal Antennas

Dual band antenna with MHF4L connector

Mini NanoBlade Flex / Flex 6E Series Internal Antenna

Nanoblade Series Internal Antenna
Become a Laird Connectivity Customer and Gain Exclusive Access to Our Design Services Team
Antenna Scans
Antenna selection and placement
Custom antenna design
Worldwide EMC testing / certifications
Embedded RF hardware / firmware design
Cloud architecture and integration
Mobile application development
Product & Industrial Design
Distributors
Distributor
Phone Number
Region
Website

Alpha Micro

UK Only

+44 1256-851770

EMEA
Website

Arrow Electronics

1-855-326-4757
+44 2039 365486

APAC, North America, South America, EMEA
Website

Avnet

1-480-643-2000
+44 1628 512900

APAC, North America, South America, EMEA
Website

Braemac

Australia, New Zealand, South East Asia

+61 2 9550 6600
+64 9 477 2148

APAC
Website

Cal-Chip Connect

1-215-942-8900

North America
Website

Digi-Key

1-800-344-4539

North America, South America, APAC, EMEA
Website

EBV Elektronik

EMEA
Website

Farlink Technology

China, Hong Kong

+86 13266922199

APAC
Website

Farnell

1-800-936-198
+44 3447 11 11 22

EMEA
Website

Future Electronics

1-800-675-1619
1-514-428-8470

North America, South America, APAC, EMEA
Website

Glyn

+49-6126-590-0

EMEA
Website

Jetronic

China, Hong Kong and Taiwan

852-27636806 

APAC
Website

Laird Connectivity

1-847-839-6925
+44 1628 858941

North America, South America, APAC, EMEA
Website

M2M Germany

+49-6081-587386-0

EMEA
Website

Martinsson

+46 8 7440300

EMEA
Website

McCoy

South East Asia

+65 6515 2988

APAC
Website

Mouser

1-800-346-6873
+44 1494 427500

North America, South America, APAC, EMEA
Website

RS Components

+852-2421-9898
+44 3457-201201

North America, South America, APAC, EMEA
Website

Ryoyo

Japan

+81-3-3543-7711

APAC
Website

Supreme Components International

India, South East Asia

+65 6848-1178

APAC
Website

Symmetry Electronics

1-866-506-8829

North America
Website

Tekdis

Australia and New Zealand

+61 3 8669 1210

APAC
Website

Telsys

+972 3 7657666

EMEA
Website