Sterling™-LWB5 Dual-Band WiFi 5 Module with Bluetooth 5.2
Not Recommended for New Design (NRND)
Overview
Now available: The Sterling-LWB5+, the successor to our Sterling-LWB5!
Dual-Band WiFi 5 + Bluetooth 5.2 Combo Module
The Sterling™-LWB5 dual-band WiFi 5, Bluetooth® 5.2 module offers significant value to developers by providing an unmatched breadth of options, certifications, and antenna options, which altogether provide greater flexibility to meet the challenging requirements of many wireless designs. This certified module is based on the Infineon CYW43353 chipset to create one of the very first commercially available solutions that offers Wi-Fi 5 capabilities for ultra-high data rate 5 GHz Wi-Fi connectivity, while also featuring classic Bluetooth and BLE connectivity as well. The module comes in three configurations to best address specific applications, each boasting an industrial temperature rating (-40° to +85° C) and an industry-leading range of certifications and antenna options.
Laird Connectivity is an Infineon Premium Partner
Laird Connectivity is honored to be approved as an Infineon Premium Partner. A partnership which leverages Infineon's AIROC™ Wi-Fi chipsets and ModusToolbox™ solutions combined with Laird Connectivity's superior software enablement and integration support.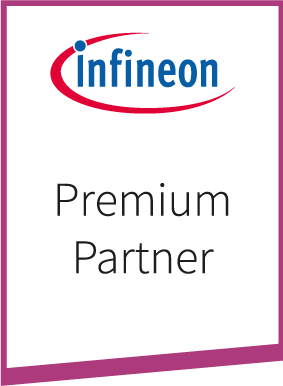 Now Available: Compatible Sterling-LWB5+ Modules!
For customers designing in a new module, or for existing Sterling-LWB5 customers looking for an upgrade path, the Sterling-LWB5+ is perfect in demanding applications such as industrial and medical. 
Supports WPA3 personal and enterprise standards
Pluggable USB adapter version
M.2 2230 version.
Bluetooth 5.2
RTOS support for MODUS Toolbox and STM32 CUBE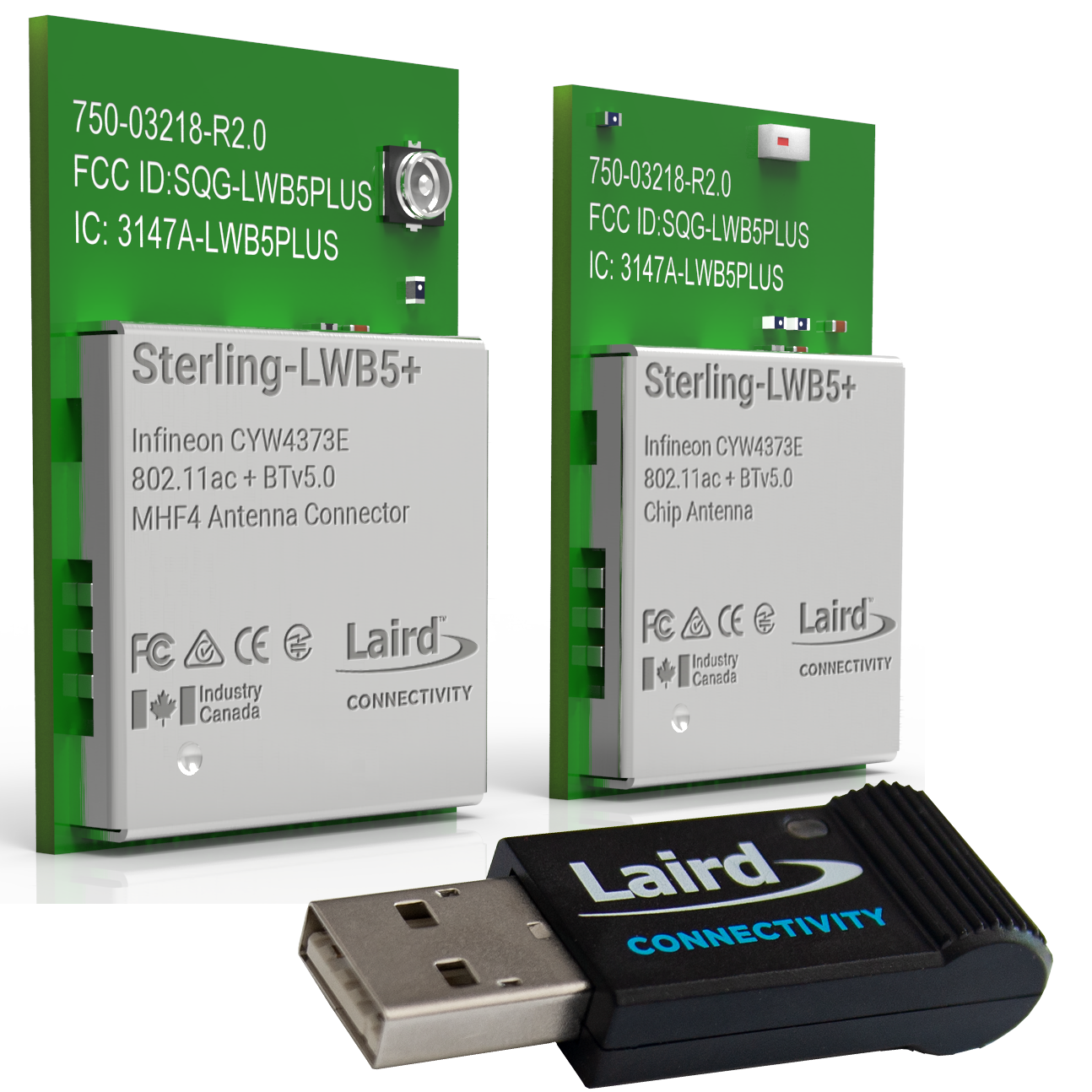 Specifications
Certifications
FCC, ISED, EU, UKCA, MIC
Dimensions
10 x 10 x 1.6 (SiP)
15.5 x 21 x 2 (module)
Operating Temp (Max) (°C)
Operating Temp (Min) (°C)
Wi-Fi Chipset
Infineon CYW43353
Part Number
Antenna Type
Chipset (Wireless)
Description
Dimension (Height - mm)
Dimension (Length - mm)
Dimension (Width - mm)
Frequency Range (Max)
Frequency Range (Min)
Frequency Range 2 (Max)
Frequency Range 2 (Min)
Logical Interfaces
OS/Software
Packaging
Product Type
System Architecture
Technology
Type
450-0162C

Recommended for New Design (RND)

Buy Now
External
Infineon CYW43353
Sterling-LWB5 SiP, Cut/Tape
1.6

mm

10

mm

10

mm

2495

MHz

2400

MHz

5825

MHz

5150

MHz

Serial, GPIO, SDIO, PCM, I2S
Linux, Android
Cut/Tape
Embedded Module
Hosted
802.11abgn, 802.11ac, Bluetooth 5.2, Dual Mode (Classic + BLE)
SiP Module
450-0168C

Recommended for New Design (RND)

Buy Now
External
Infineon CYW43353
Sterling-LWB5 Module with U.FL, Cut/Tape
2

mm

21

mm

15.5

mm

2495

MHz

2400

MHz

5825

MHz

5150

MHz

Serial, GPIO, SDIO, PCM, I2S
Linux, Android
Cut/Tape
Embedded Module
Hosted
802.11abgn, 802.11ac, Bluetooth 5.2, Dual Mode (Classic + BLE)
Module
450-0169C

Recommended for New Design (RND)

Buy Now
Internal
Infineon CYW43353
Sterling-LWB5 Module with Chip Antenna, Cut/Tape
2

mm

21

mm

15.5

mm

2495

MHz

2400

MHz

5835

MHz

5180

MHz

Serial, GPIO, SDIO, PCM, I2S
Linux, Android
Cut/Tape
Embedded Module
Hosted
802.11abgn, 802.11ac, Bluetooth 5.2, Dual Mode (Classic + BLE)
Module
450-0162R

Recommended for New Design (RND)

Buy Now
External
Infineon CYW43353
Sterling-LWB5 SiP, Tape/Reel
1.6

mm

10

mm

10

mm

2495

MHz

2400

MHz

5825

MHz

5150

MHz

Serial, GPIO, SDIO, PCM, I2S
Linux, Android
Tape/Reel
Embedded Module
Hosted
802.11abgn, 802.11ac, Bluetooth 5.2, Dual Mode (Classic + BLE)
SiP Module
450-0168R

Recommended for New Design (RND)

Buy Now
External
Infineon CYW43353
Sterling-LWB5 Module with U.FL, Tape/Reel
2

mm

21

mm

15.5

mm

2495

MHz

2400

MHz

5825

MHz

5150

MHz

Serial, GPIO, SDIO, PCM, I2S
Linux, Android
Tape/Reel
Embedded Module
Hosted
802.11abgn, 802.11ac, Bluetooth 5.2, Dual Mode (Classic + BLE)
Module
450-0169R

Recommended for New Design (RND)

Buy Now
Internal
Infineon CYW43353
Sterling-LWB5 Module with Chip Antenna, Tape/Reel
2

mm

21

mm

15.5

mm

2495

MHz

2400

MHz

5835

MHz

5180

MHz

Serial, GPIO, SDIO, PCM, I2S
Linux, Android
Tape/Reel
Embedded Module
Hosted
802.11abgn, 802.11ac, Bluetooth 5.2, Dual Mode (Classic + BLE)
Module
Development Kits
Documentation
| Name | Part | Type | Last Updated |
| --- | --- | --- | --- |
| Application Note - Guidelines for Replacing Antennas v1.0 | All | Application Note | 01/17/2019 |
| Application Guide, Sterling-LWB5 | All | Documentation | 03/29/2019 |
| Datasheet - Sterling-LWB5 | All | Datasheet | 05/24/2022 |
| Product Brief - Sterling-LWB5 | All | Product Brief | 05/18/2022 |
| Sterling-LWB Certification Guide | All | Documentation | 10/19/2020 |
| Test Report, EN60950-1 2006, Sterling-LWB5 Module | All | Documentation | 03/29/2019 |
| Test Report, EN60950-1 2006, Sterling-LWB5 SD Card | All | Documentation | 03/29/2019 |
| CAD Files Sterling-LWB5 U.FL and Chip Antenna Modules | All | Technical Drawings | 03/29/2019 |
| CAD Files Sterling-LWB5 U.FL and Chip Antenna SD Cards | All | Technical Drawings | 03/29/2019 |
| Sterling-LWB SD Card User Guide | All | Documentation | 03/29/2019 |
| Product Change Notice 1-2017 (Sterling-LWB & LWB5) | All | Quality and Environmental | 03/29/2019 |
| EU Certifications - Sterling LWB5 | All | Certification | 12/01/2022 |
| FCC and ISED (Canada) Certifications - Sterling LWB5 | All | Certification | 12/17/2020 |
| MIC Certifications - Sterling LWB5 | All | Certification | 07/25/2023 |
| Software, Sterling-LWB, LWB5, and LWB5+ | All | Software | 04/14/2021 |
| RoHS 3 Compliance - Wi-Fi Products | All | Certification | 02/16/2022 |
| Regulatory Information - Sterling-LWB5 | All | Certification | 08/28/2023 |
| Application Note - PetaLinux Software Integration - 60 Series and LWB Series | All | Application Note | 08/13/2020 |
| Regulatory Release Notes - Sterling-LWB5 | All | Documentation | 05/07/2021 |
| PCN 10H 2021 - Sterling LWB, LWB5, EWB | All | Documentation | 11/24/2021 |
Certified Antennas
Become a Laird Connectivity Customer and Gain Exclusive Access to Our Design Services Team
Antenna Scans
Antenna selection and placement
Custom antenna design
Worldwide EMC testing / certifications
Embedded RF hardware / firmware design
Cloud architecture and integration
Mobile application development
Product & Industrial Design
Distributors
Distributor
Phone Number
Region
Website

Alpha Micro

UK Only

+44 1256-851770

EMEA
Website

Arrow Electronics

1-855-326-4757
+44 2039 365486

APAC, North America, South America, EMEA
Website

Avnet

1-480-643-2000
+44 1628 512900

APAC, North America, South America, EMEA
Website

Braemac

Australia, New Zealand, South East Asia

+61 2 9550 6600
+64 9 477 2148

APAC
Website

Cal-Chip Connect

1-215-942-8900

North America
Website

Digi-Key

1-800-344-4539

North America, South America, APAC, EMEA
Website

EBV Elektronik

EMEA
Website

Farlink Technology

China, Hong Kong

+86 13266922199

APAC
Website

Farnell

1-800-936-198
+44 3447 11 11 22

EMEA
Website

Future Electronics

1-800-675-1619
1-514-428-8470

North America, South America, APAC, EMEA
Website

Glyn

+49-6126-590-0

EMEA
Website

Jetronic

China, Hong Kong and Taiwan

852-27636806 

APAC
Website

Laird Connectivity

1-847-839-6925
+44 1628 858941

North America, South America, APAC, EMEA
Website

M2M Germany

+49-6081-587386-0

EMEA
Website

Martinsson

+46 8 7440300

EMEA
Website

McCoy

South East Asia

+65 6515 2988

APAC
Website

Mouser

1-800-346-6873
+44 1494 427500

North America, South America, APAC, EMEA
Website

RS Components

+852-2421-9898
+44 3457-201201

North America, South America, APAC, EMEA
Website

Ryoyo

Japan

+81-3-3543-7711

APAC
Website

Solid State Supplies

UK Only

+44 (0) 1527 830800

EMEA
Website

Supreme Components International

India, South East Asia

+65 6848-1178

APAC
Website

Symmetry Electronics

1-866-506-8829

North America
Website

Tekdis

Australia and New Zealand

+61 3 8669 1210

APAC
Website

Telsys

+972 3 7657666

EMEA
Website