BL5340 Series - Multi-Core Bluetooth 5.2 + 802.15.4 + NFC Modules
Recommended for New Design (RND)
Overview
New: LE Audio Evaluation Kit, by Laird Connectivity and Packetcraft!
Laird Connectivity's newest edition to their Nordic Semiconductor based Bluetooth LE portfolio, is the most advanced, most secure and highest performing dual core MCU architecture wireless solution available. The BL5340 series of robust, tiny modules feature the Nordic nRF5340 SoC. It directly targets the highest performance with the lowest power budget.
Nordic nRF5340 – 7x7 QFN with 48 GPIOs available.
Dual Cortex M33 microcontroller cores
-

Application processor - 128/64 MHZ M33 – 1MB Flash/512KB RAM

(Including DSP Instructions)


-

Network processor - 64 MHz M33 – 256KB Flash/64KB RAM

Extended Industrial Temperature Rating (-40° to +105 °C)
Antenna choice – integrated pre-certified PCB or Trace pad options
Small form factor: as small as 15 x 10 x 2.2 mm (BL5340)
Development choice: Zephyr RTOS or utilize Nordic nRF Connect SDK, or contact Packetcraft for LE Audio applications
Bluetooth LE: Peripheral/Central, 2 Mbps (high throughput), LE Coded (long range), AoA/AoD, LE Audio / Isochronous Channels, Mesh
Advanced Security: ARM TrustZone®, Root of Trust, ARM CryptoCell-312 & KMU, Access Control Lists, System Protection Unit, Encrypted QSPI
Firmware Over the Air (FOTA) via MCUboot and Zephyr

Fully featured development kits

to jump start Bluetooth LE development
New LE Audio Evaluation Kit -
From Laird Connectivity and Packetcraft!
Our new LE Audio EVK is ready to go out of the box to test the latest LE audio use cases. The kit contains:
3 x Laird Connectivity BL5340 DVKs
3 x BL5340 AIB v1
1 x ground loop isolator
3 x audio cables TRS 1/8" (3.5mm)
3 x USB cables for power
Pre-loaded LE Audio Eval Kit binary firmware
Quick Start Guide (QSG)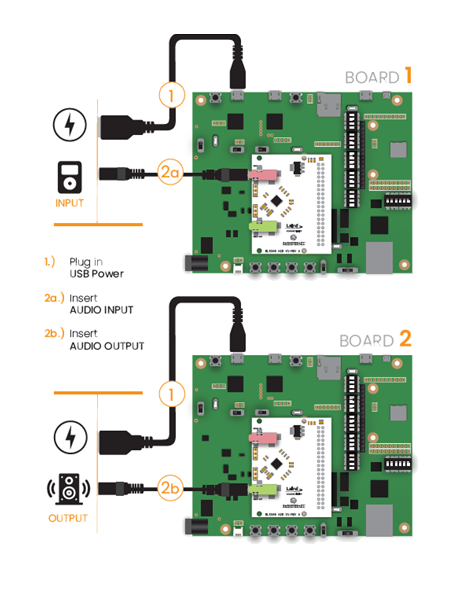 Specifications
Antenna Options
Integrated or External via SMT Pad
Certifications
FCC, ISED, EU, UKCA, MIC, AS-NZS, Bluetooth SIG
Data Rate
1 Mbps, 2 Mbps, 500 kbps, 125 kbps
Logical Interfaces
USB, UART, QSPI, SPI, I2S, I2C, PDM, PWM, ADC, GPIO, QDEC, Comparator, Low Power Comparator
Operating Temp (Max) (°C)
Operating Temp (Min) (°C)
Power Consumption
BL5340: 5.3 mA @ +3 dBm TX
4.1 mA @ 0 dBm TX
1.3 µA @ System On
.9 µA @ System Off
Programming Options
Nordic nRF Connect SDK
Zephyr
Transmit Power (Radiated)
Up to +5 dBm
Wireless Specification
Bluetooth 5.2
802.15.4 (Thread and Zigbee)
NFC
Part Number
Antenna Type
Bulk or Single
Chipset (Wireless)
Dimension (Height - mm)
Dimension (Length - mm)
Dimension (Width - mm)
Frequency Range (Max)
Frequency Range (Min)
Frequency Range 2 (Max)
Frequency Range 2 (Min)
Logical Interfaces
OS/Software
Packaging
Part Group
Product Type
System Architecture
Technology
Transmit Power

453-00052RBuy Now
Integrated Antenna
Bulk
Nordic nRF5340
2.2

mm

15

mm

10

mm

2480

MHz

2402

MHz

13.56

MHz

13.56

MHz

USB, UART, QSPI, SPI, I2S, I2C, PDM, PWM, ADC, GPIO, QDEC, Comparator, Low Power Comparator
Nordic SDK, Zephyr
Tape/Reel
BL5340 Module
Embedded Module
Hostless
Bluetooth 5.2, NFC
Up to +5 dBm

453-00053RBuy Now
Trace Pin
Bulk
Nordic nRF5340
2.2

mm

15

mm

10

mm

2480

MHz

13.56

MHz

13.56

MHz

USB, UART, QSPI, SPI, I2S, I2C, PDM, PWM, ADC, GPIO, QDEC, Comparator, Low Power Comparator
Nordic SDK, Zephyr
Tape/Reel
BL5340 Module
Embedded Module
Hostless
Bluetooth 5.2, NFC
Up to +5 dBm

453-00052CBuy Now
Integrated Antenna
Bulk
Nordic nRF5340
2.2

mm

15

mm

10

mm

2480

MHz

2402

MHz

13.56

MHz

13.56

MHz

USB, UART, QSPI, SPI, I2S, I2C, PDM, PWM, ADC, GPIO, QDEC, Comparator, Low Power Comparator
Nordic SDK, Zephyr
Cut Tape
BL5340 Module
Embedded Module
Hostless
Bluetooth 5.2, NFC
Up to +5 dBm

453-00053CBuy Now
Trace Pin
Bulk
Nordic nRF5340
2.2

mm

15

mm

10

mm

2480

MHz

2402

MHz

13.56

MHz

13.56

MHz

USB, UART, QSPI, SPI, I2S, I2C, PDM, PWM, ADC, GPIO, QDEC, Comparator, Low Power Comparator
Nordic SDK, Zephyr
Cut Tape
BL5340 Module
Embedded Module
Hostless
Bluetooth 5.2, NFC
Up to +5 dBm
Development Kits
Become a Laird Connectivity Customer and Gain Exclusive Access to Our Design Services Team
Antenna Scans
Antenna selection and placement
Custom antenna design
Worldwide EMC testing / certifications
Embedded RF hardware / firmware design
Cloud architecture and integration
Mobile application development
Product & Industrial Design
Distributors
Distributor
Phone Number
Region
Website

Alpha Micro

UK Only

+44 1256-851770

EMEA
Website

Arrow Electronics

1-855-326-4757
+44 2039 365486

APAC, North America, South America, EMEA
Website

Avnet

1-480-643-2000
+44 1628 512900

APAC, North America, South America, EMEA
Website

Braemac

Australia, New Zealand, South East Asia

+61 2 9550 6600
+64 9 477 2148

APAC
Website

Cal-Chip Connect

1-215-942-8900

North America
Website

DigiKey

1-800-344-4539

North America, South America, APAC, EMEA
Website

EBV Elektronik

EMEA
Website

Farlink Technology

China, Hong Kong

+86 13266922199

APAC
Website

Farnell

1-800-936-198
+44 3447 11 11 22

EMEA
Website

Future Electronics

1-800-675-1619
1-514-428-8470

North America, South America, APAC, EMEA
Website

Glyn

+49-6126-590-0

EMEA
Website

Jetronic

China, Hong Kong and Taiwan

852-27636806 

APAC
Website

Laird Connectivity

1-847-839-6925
+44 1628 858941

North America, South America, APAC, EMEA
Website

M2M Germany

+49-6081-587386-0

EMEA
Website

Martinsson

+46 8 7440300

EMEA
Website

McCoy

South East Asia

+65 6515 2988

APAC
Website

Mouser

1-800-346-6873
+44 1494 427500

North America, South America, APAC, EMEA
Website

RS Components

+852-2421-9898
+44 3457-201201

North America, South America, APAC, EMEA
Website

Ryoyo

Japan

+81-3-3543-7711

APAC
Website

Solsta

UK Only

+44 (0) 1527 830800

EMEA
Website

Supreme Components International

India, South East Asia

+65 6848-1178

APAC
Website

Symmetry Electronics

1-866-506-8829

North America
Website

Tekdis

Australia and New Zealand

+61 3 8669 1210

APAC
Website

Telsys

+972 3 7657666

EMEA
Website

WPG

+44 1628 958460

EMEA
Website