BT860 Series Bluetooth Module
Recommended for New Design (RND)
Overview
The BT86x series of UART HCI modules leverage the Cypress CYW20704 A2 chipset to provide exceptionally low power consumption with outstanding range for OEMs needing both Classic Bluetooth and Bluetooth Low Energy support. The Bluetooth 5 core specification shortens your development time and provides enhanced throughput, security and privacy.

The BT860 modules are ideal when designers need both performance and minimum size. For maximum flexibility in integration, they support a host UART interface, I2S and PCM audio interfaces, GPIO, and Cypress' GCI coexistence(2-Wire). The modules provide excellent RF performance and identical footprint options for integrated antenna or an external antenna via a trace pin.

These modules present a Bluetooth standard HCI interface with support for Linux/ Android and Embedded Bluetooth software stacks for operating system backed devices. Additionally, Laird Connectivity has partnered with SEARAN for support of their ultra small, flexible 'dotstack' platform for embedded Cortex M3 and M4 implementations.
Bluetooth v5.0 – Dual Mode – BR / EDR / LE – Classic Bluetooth and Bluetooth Low Energy (BLE)
Compact Footprint – As small as 8.5 x 12.85 mm
Class 1 Output – up to 8 dBm
UART Host interface
GPIO, GCI, I2S and PCM
Industrial Operating Temp: -30° to +85°C
Bluetooth SIG approved – Hardware Controller Subsystem
International regulatory approvals – FCC, ISED, EU, UKCA, RCM, Korea, and Japan approvals
Broad BT Stack Support – Linux, Android, Embedded
Fully-Featured Development Kit – Low cost kit for prototyping/debugging/integration testing to speed development time
Use the BT860 with SEARAN's Dotstack
Learn how to connect SEARAN's STM32F discovery board to drive Laird's BT860 BLE module, create a Bluetooth A2DP connection to your tablet and run a throughput test.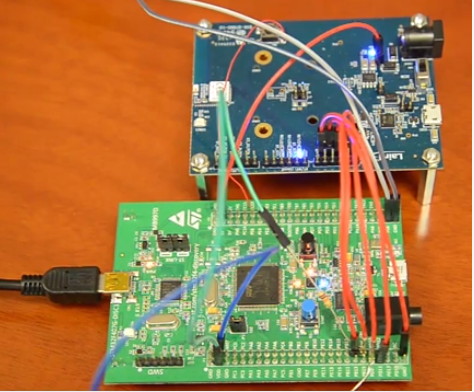 Specifications
Chipset
Cypress CYW20704 A2
Antenna Options
Integrated or External via Trace Pad
Certifications
FCC, ISED, EU, MIC, KC, AS-NZS, Bluetooth SIG
Logical Interfaces
UART, GPIO, I2S and PCM
Operating Temp (Max) (°C)
Operating Temp (Min) (°C)
Receive Sensitivity
-94dBm
Wi-Fi Coexistence
2-wire Cypress Global Coexistence Interface (GCI)
Part Number
Antenna Options
Antenna Type
Chipset (Wireless)
Dimension (Height - mm)
Dimension (Length - mm)
Dimension (Width - mm)
Frequency Range (Max)
Frequency Range (Min)
Logical Interfaces
OS/Software
Product Type
System Architecture
Technology
Type

BT860-ST

Recommended for New Design (RND)

Buy Now
External SMT Pad
External
Infineon (Cypress) CYW20704 A2
1.9

mm

12.85

mm

8.5

mm

2480

MHz

2402

MHz

GPIO, GCI, I2S, PCM, Serial
HCI, Linux, Windows, Android
Embedded Module
Hosted
Blutooth 5.0, Dual Mode (Classic + BLE)

BT860-SA

Recommended for New Design (RND)

Buy Now
Internal Multilayer Ceramic
Internal
Infineon (Cypress) CYW20704 A2
2.2

mm

12.85

mm

8.5

mm

2480

MHz

2402

MHz

GPIO, GCI, I2S, PCM, Serial
HCI, Linux, Windows, Android
Embedded Module
Hosted
Blutooth 5.0, Dual Mode (Classic + BLE)
DVK-BT860-SA

Recommended for New Design (RND)

Buy Now
Internal
Infineon (Cypress) CYW20704 A2
2480

MHz

2402

MHz

GPIO, GCI, I2S, PCM, Serial
HCI, Linux, Windows, Android
Development Kit
Hosted
Blutooth 5.0, Dual Mode (Classic + BLE)
Development Kit
DVK-BT860-ST

Recommended for New Design (RND)

Buy Now
External
Infineon (Cypress) CYW20704 A2
2480

MHz

2402

MHz

GPIO, GCI, I2S, PCM, Serial
HCI, Linux, Windows, Android
Development Kit
Hosted
Blutooth 5.0, Dual Mode (Classic + BLE)
Development Kit
Certified Antennas
Does the BT860 hardware support 7 concurrent BR/EDR connections?
Does the BT860 hardware support 7 concurrent BR/EDR connections?

Yes. The chipset and firmware in the BT860 does not limit the number of concurrent BR/EDR connections. Note that there may be stack or host resource limitations that could limit the number of concurrent connections.
Is a licence required to use the LC3 audio codec?
Use of the LC3 codec is included in the Bluetooth product licence when you qualify your product. No additional licence fees are required.
Do I still have to list/qualify my product with the BT SIG even if I don't use the BT logo?
What factors influence the actual TX rate of the controller?
The actual TX rate is influenced by the PDU and MTU sizes along with the Connection Intervals and Slave Latency.
Why are multiple EMPTY_PDU are being sent from the Master per connection interval?
The communications protocol for Bluetooth is a ping pong type style, so every connection event begins with the Master sending the slave a packet and the Slave then responds to that packet with any data it may have. Therefore, when the Master has no data to transmit it will send an EMPTY_PDU to the Server and the Server, if it has data to send, will send back the data in response. You can see this readily where there is no data transmissions, the Master and Slave ping pong EMPTY_PDU's back and forth on every connection event, if Slave Latency was incorporated then during these periods of no data transmissions you would see Master send EMPTY_PDU and no response from Slave because it has no data to send and was allowed to skip the connection event because of it.
 
What is the maximum number of BLE connections that can be achieved with the BT85x or BT860?
The Cypress CYW20704 A2 chipset, which the BT85x and the BT860 is based on, theoretically supports up to 127 Bluetooth LE connections. However, because the BT860 is an HCI module it is dependent on the Bluetooth stack running on the host therefore, the number of connections will depend on what the host CPU and memory capacity can support.
Additionally, as the number of connections increases, the throughput per each connection will decrease and the processing and memory requirements will increase, which can lead to increased latency. So while 127 is the theoretical limit the actual limit in practical use case would be less than that.
Is there a way to extend the shelf life of Laird modules?? If the shelf life cannot be extended in any way, what are the consequences of using modules after shelf life?
The shelf life statements are essentially to prevent mishandling of the product and not storing it properly. If the modules are still sealed in the package, stored at the proper temperature and have not been exposed to moisture they should be fine. However, when working with modules beyond their shelf life you MUST bake the modules before populating the them to your board. Failure to bake the modules could result in the yield rate dropping down lower than expectation due to popcorn or de-lamination on the modules. It is recommended that you follow IPC/JEDEC J-STD-033 which is the general standard for the handling, packing, shipping and use of moisture/reflow sensitive surface mount devices.
Our main concern is around the castellation/pads which solder the module to the board. It is imperative those pads do not get tarnished, as this would cause soldering issues. Humidity can affect solderability as well, as if there is any excess moisture in the solder on the module, during reflow of the module to the board, steam balls can essentially explode the solder and sometimes result in an open circuit (or possibly a short circuit).
As long as all of the moisture handling and temperature guidelines are being followed you will likely have no issues. It is further recommended that when you do the build with modules that have exceeded their shelf life that you start with a handful to perform a test run and do a final test to make sure all is working as expected. As long as there are no issues with the initial test run we would expect that you will not experience any problems.
The BT850, BT851 and BT860 are listed as Bluetooth 5 modules. What Bluetooth 5 features do they support?
The BT850, BT851 and BT860 are Bluetooth 5 qualified modules. However, these modules do not support any Bluetooth 5 features.
Per the Bluetooth SIG FAQ, "there are no mandatory features that must be claimed to use the Bluetooth 5.0 specification. However, manufacturers are required to implement all interoperability improvements and errata applied to Bluetooth 5 in order to comply with the specification".
What is the Capacitor needed on BT850 nRESET line to prevent the low power glitch.
In order to prevent a low power glitch that can cause EEPROM corruption (no field fix for this state) in the BT850/ BT860, a 0.1uF capacitor should be placed on the nRESET line of the radio if the nRESET line is connected to something externally.
If the nRESET line is to be left NC (not connected) then the capacitor is not needed. 
How can I connect a Bluetooth Low Energy Device to a PC?
Bluetooth Low Energy uses Services as opposed to the set of standardized profiles that exists for Classic Bluetooth. While some Bluetooth Low Energy services have been standardized by the Bluetooth SIG, the development of custom services is allowed to meet custom application requirements.
 
Because Bluetooth Low Energy uses a completely different protocol than Classic Bluetooth and supports custom services, Bluetooth Low Energy devices cannot connect to a computer through the typical Bluetooth configuration of a computer. Therefore, connecting to a PC requires writing and running a Bluetooth Low Energy Central Role/Client application to collect the data sent from the Bluetooth Low Energy peripheral modules. Application development for PCs and Mobile devices is outside the scope of our support. Alternatively, a BL654 USB dongle could be used as a BLE Central Role device, to collect the BLE data and pass it to the PC over a COM Port. However, you would still need an application to view and process the data received over that COM Port.
 
We generally recommend customers who are new to Bluetooth Low Energy obtain a copy of Getting Started with Bluetooth Low Energy to help them understand the Bluetooth Low Energy protocol and the GATT table. There are also many resources available online which explain this. 
When Bluetooth Low Energy was first introduced and we launched our BL6xx product line (predecessors to the BL65x series) we produced the BL600 and BL620 smartBASIC Application Walkthrough document, which provides an overview of how Bluetooth Low Energy works and how a GATT table is constructed. 
Can I use a BT850/860 in the place of an existing BT800/830?
Is it safe to run a Laird Connectivity Bluetooth module through a PCBA wash cycle?
In general, cleaning the populated modules is strongly discouraged. Residuals under the module cannot be easily removed with any cleaning process.
Cleaning with water can lead to capillary effects where water is absorbed into the gap between the host board and the module. The combination of soldering flux residuals and encapsulated water could lead to short circuits between neighboring pads. Water could also damage any stickers or labels.
Cleaning with alcohol or a similar organic solvent will likely flood soldering flux residuals into the RF shield, which is not accessible for post-washing inspection. The solvent could also damage any stickers or labels.
Ultrasonic cleaning could damage the module permanently.
However, if water washing is required you will need to use deionized water. We do not recommend chemical cleaning and cannot guarantee it will not damage the modules. If you MUST clean PCB with chemicals it is recommended that you test on one board and then confirm the module still works after the process, prior to adding it to production, while understanding the above affects washing the populated PCBs can have on the module.
What is Laird Connectivity's product lifecycle EOL and PCN policy?
Laird Connectivity is committed to the long-term supply of all its standard embedded wireless modules and packaged products. Laird Connectivity's products are specifically designed to meet the needs of the industrial and medical markets, which typically require 7 – 10 years product lifecycle. Although Laird Connectivity can't guarantee that a component used in our products will not be obsoleted and cannot be reasonably substituted, Laird Connectivity can assure customers we will continue to sell our product when we have customer demand and can obtain the necessary components to build our products.
Become a Laird Connectivity Customer and Gain Exclusive Access to Our Design Services Team
Antenna Scans
Antenna selection and placement
Custom antenna design
Worldwide EMC testing / certifications
Embedded RF hardware / firmware design
Cloud architecture and integration
Mobile application development
Product & Industrial Design
Distributors
Distributor
Phone Number
Region
Website

Alpha Micro

UK Only

+44 1256-851770

EMEA
Website

Arrow Electronics

1-855-326-4757
+44 2039 365486

APAC, North America, South America, EMEA
Website

Avnet

1-480-643-2000
+44 1628 512900

APAC, North America, South America, EMEA
Website

Braemac

Australia, New Zealand, South East Asia

+61 2 9550 6600
+64 9 477 2148

APAC
Website

Cal-Chip Connect

1-215-942-8900

North America
Website

DigiKey

1-800-344-4539

North America, South America, APAC, EMEA
Website

EBV Elektronik

EMEA
Website

Farlink Technology

China, Hong Kong

+86 13266922199

APAC
Website

Farnell

1-800-936-198
+44 3447 11 11 22

EMEA
Website

Future Electronics

1-800-675-1619
1-514-428-8470

North America, South America, APAC, EMEA
Website

Glyn

+49-6126-590-0

EMEA
Website

Jetronic

China, Hong Kong and Taiwan

852-27636806 

APAC
Website

Laird Connectivity

1-847-839-6925
+44 1628 858941

North America, South America, APAC, EMEA
Website

M2M Germany

+49-6081-587386-0

EMEA
Website

Martinsson

+46 8 7440300

EMEA
Website

McCoy

South East Asia

+65 6515 2988

APAC
Website

Mouser

1-800-346-6873
+44 1494 427500

North America, South America, APAC, EMEA
Website

RS Components

+852-2421-9898
+44 3457-201201

North America, South America, APAC, EMEA
Website

Ryoyo

Japan

+81-3-3543-7711

APAC
Website

Solsta

UK Only

+44 (0) 1527 830800

EMEA
Website

Supreme Components International

India, South East Asia

+65 6848-1178

APAC
Website

Symmetry Electronics

1-866-506-8829

North America
Website

Tekdis

Australia and New Zealand

+61 3 8669 1210

APAC
Website

Telsys

+972 3 7657666

EMEA
Website

WPG

+44 1628 958460

EMEA
Website