Sentrius™ MG100/BT510/BT610 Cumulocity IoT Starter Kit
Overview
EOL Notice: The MG100/BT510/BT610 Cumulocity IoT Starter Kit is EOL as of Nov 18, 2022. See our EOL Notice for more details.
Powered by Laird Connectivity's Pinnacle™ 100 Modem, the Sentrius™ MG100 Gateway captures data from Bluetooth 5 long range sensors and sends it to the cloud via a global low power cellular (LTE-M/NB-IoT) connection. Paired with Laird Connectivity's Sentrius™ BT510 and our latest Sentrius™ BT610 sensors, the starter kit provides a complete hardware solution for monitoring your applications status.

Out-of-box the gateway and sensors have be developed to work with the Software AG Cumulocity IoT platform. Cumulocity IoT gives you very fast visibility and control over your remote assets, be these houses, cars, machines or any other assets that you want to manage.
Kit Contents
Sentrius MG100 Gateway

3 x Sentrius BT610 I/O Sensors

3 x Thermistor Sensors

1 x Sentrius BT510 Multi-Sensor

60 day free trial of Cumulocity IoT software
Fully-Featured Development Kit
Configure your data points and set points from Cumulocity IoT for your application. No software development needed. Monitor status, collect historical data, log changes and record the alarms from your equipment. Industrial-strength security with no VPN required. With Cumulocity IoT, you get self-service access to analytics and smart rules for the business user as well as full developer tooling for the more advanced user. Quickly connect hybrid applications and easily configure integrations to update and synchronize data between applications using dozens of pre-built connectors and predefined recipes to get the job done fast. Our MG100/BT510/BT610 Cumulocity IoT Starter Kit also includes a free two months of Cumulocity IoT service.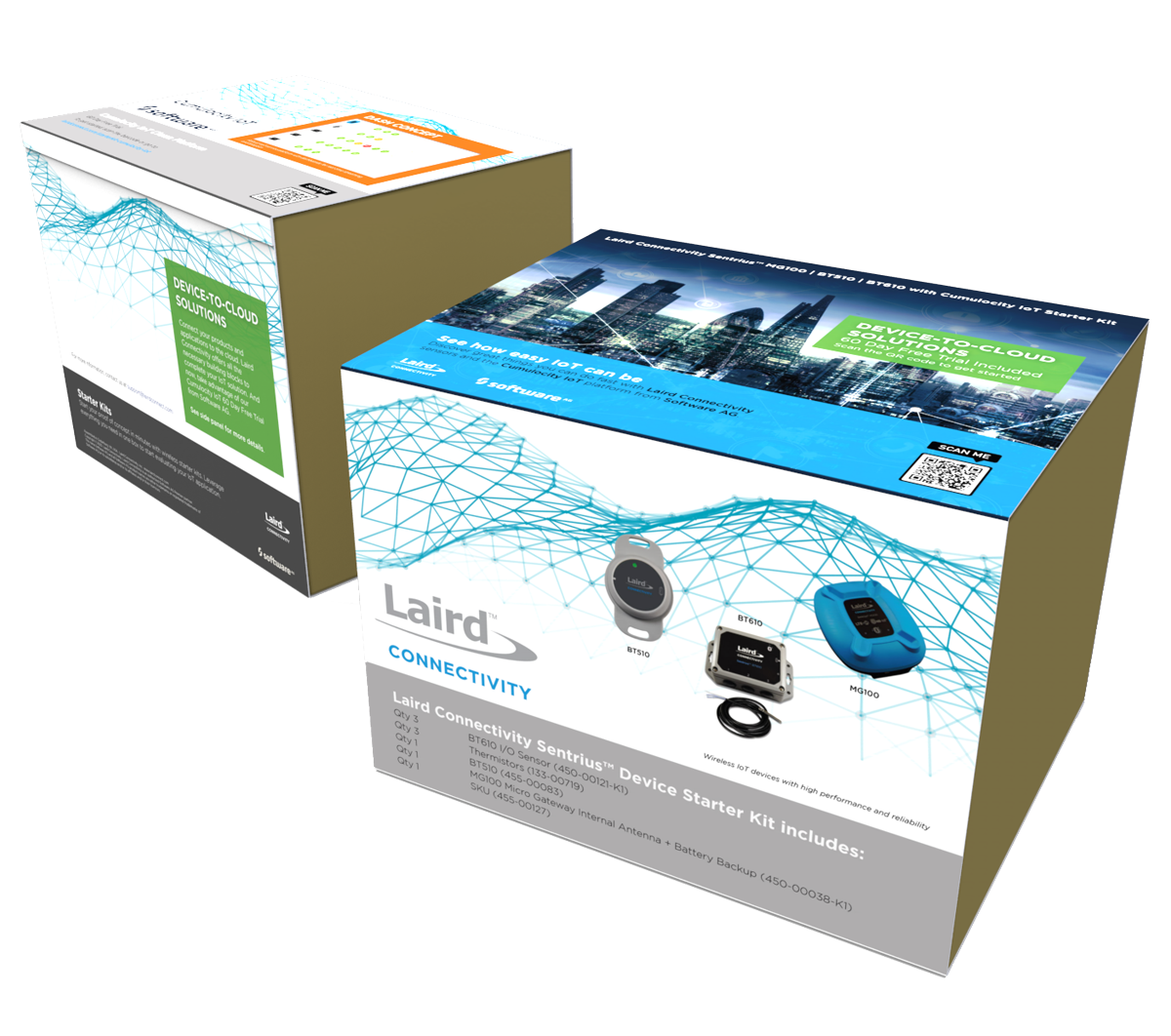 Get Started Quickly with Cumulocity IoT
60 Days for Free
Out-of-box the gateway and sensors have be developed to work with the Software AG Cumulocity IoT platform. Included in the box is a fully functioning Cumulocity IoT implementation that includes a free 60-day evaluation period to start your PoC project without needing to integrate anything additional.
Open the box, set-up the hardware, register for your Cumulocity IoT account, then start pulling data from your sensors. That is all that you need to do to get started. The kit is fully scalable to allow reuse of any work done during your evaluation period.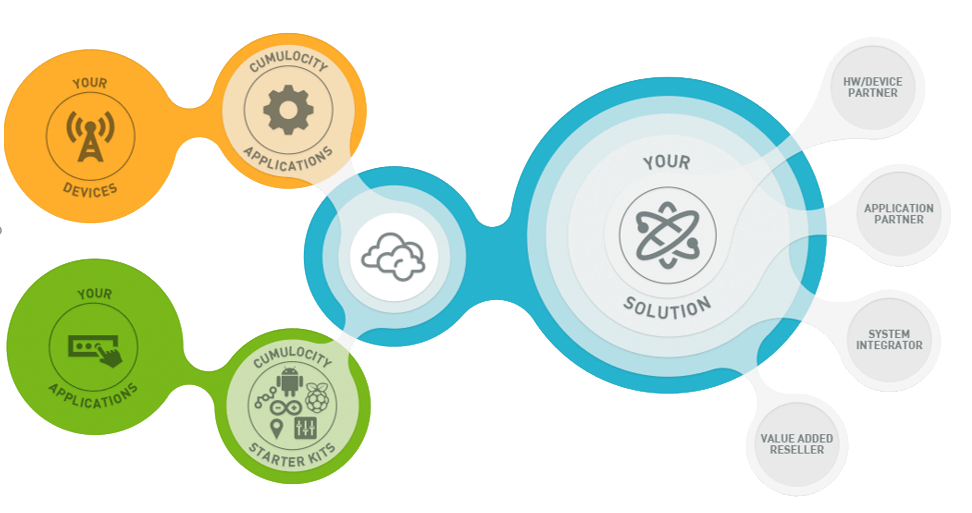 The Easy Button: View our Joint Webinar with Software AG! 
IoT solutions show measurable return on investments for businesses across a variety of industries by creating efficiencies and enabling new business models. They can, however, be challenging to implement and difficult to scale. From managing devices and configuring connectivity types, to ingesting data and building applications, it can all be a bit overwhelming. Until now.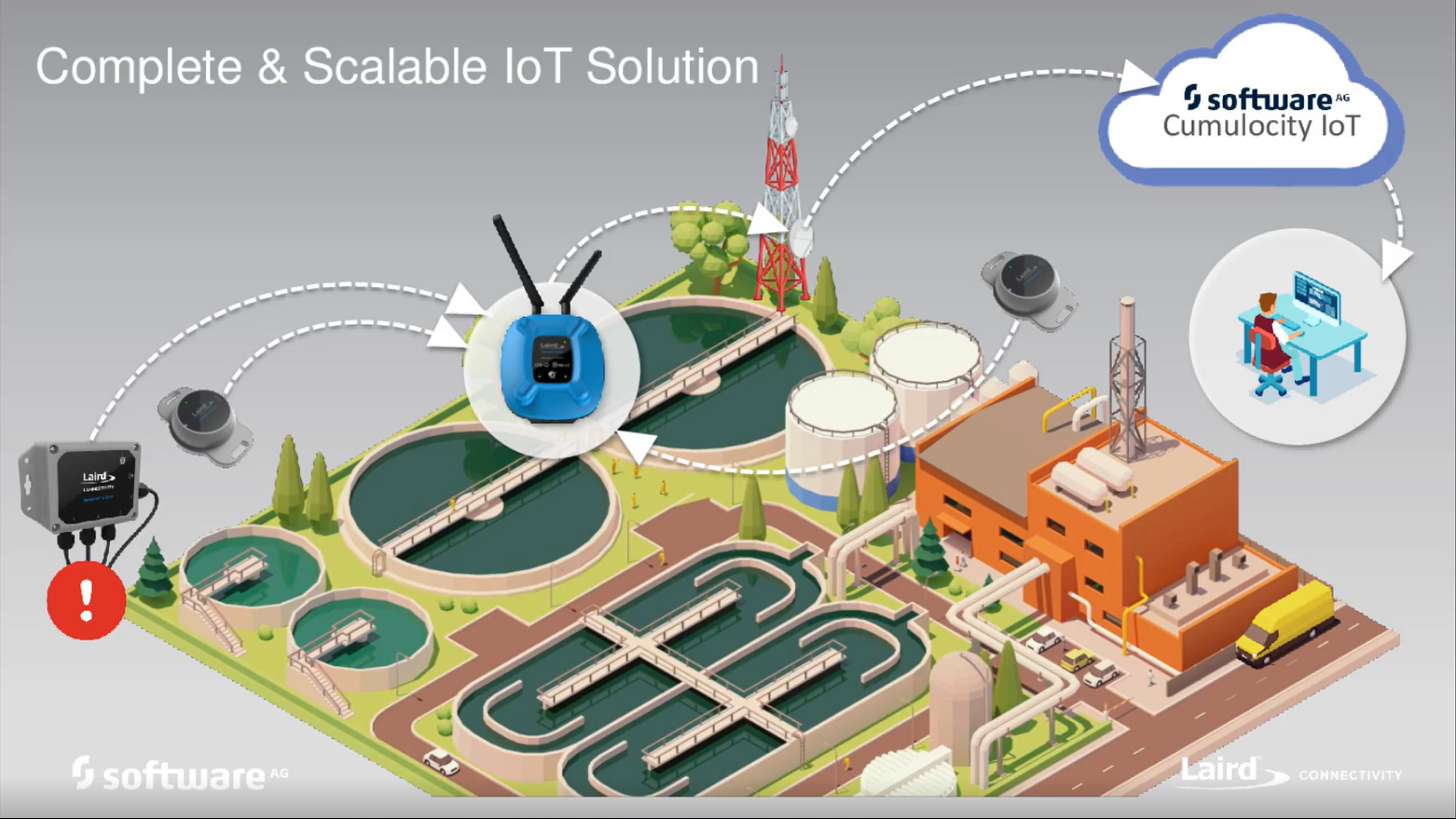 Specifications
Wireless Specification
Bluetooth 5, LTE-M, NB-Iot (MG100)
Bluetooth 5 (BT510 and BT610)
Chipset (Wireless)
Sierra HL7800, Nordic nRF52840 (MG100)
nRF52840 (BT510 and BT610)
Sensor Type
Temperature, Proximity, Door Open / Close, Acceleration (BT510)
Thermistor, AC Current, Ultrasonic, Pressure (BT610)
Certifications
FCC (USA), ISED (Canada), EU, UKCA,
Cellular approvals PTCRB, GCF
AT&T and Verizon carrier approvals
Form Factor
Molded plastic housing
Software
Cumulocity IoT Platform by Software AG (Two months free)
Part Number
Additional Description
Included Gateway
Included Sensor

455-00127

End of Life (EOL)

Buy Now
MG100/BT510/BT610 Cumulocity IoT Starter Kit
MG100
1x BT510, 3x BT610, 3x Thermistor Cable
Become a Laird Connectivity Customer and Gain Exclusive Access to Our Design Services Team
Antenna Scans
Antenna selection and placement
Custom antenna design
Worldwide EMC testing / certifications
Embedded RF hardware / firmware design
Cloud architecture and integration
Mobile application development
Product & Industrial Design
Distributors
Distributor
Phone Number
Region
Website

Alpha Micro

UK Only

+44 1256-851770

EMEA
Website

Arrow Electronics

1-855-326-4757
+44 2039 365486

APAC, North America, South America, EMEA
Website

Avnet

1-480-643-2000
+44 1628 512900

APAC, North America, South America, EMEA
Website

Braemac

Australia, New Zealand, South East Asia

+61 2 9550 6600
+64 9 477 2148

APAC
Website

Cal-Chip Connect

1-215-942-8900

North America
Website

Digi-Key

1-800-344-4539

North America, South America, APAC, EMEA
Website

EBV Elektronik

EMEA
Website

Farlink Technology

China, Hong Kong

+86 13266922199

APAC
Website

Farnell

1-800-936-198
+44 3447 11 11 22

EMEA
Website

Future Electronics

1-800-675-1619
1-514-428-8470

North America, South America, APAC, EMEA
Website

Glyn

+49-6126-590-0

EMEA
Website

Jetronic

China, Hong Kong and Taiwan

852-27636806 

APAC
Website

Laird Connectivity

1-847-839-6925
+44 1628 858941

North America, South America, APAC, EMEA
Website

M2M Germany

+49-6081-587386-0

EMEA
Website

Martinsson

+46 8 7440300

EMEA
Website

McCoy

South East Asia

+65 6515 2988

APAC
Website

Mouser

1-800-346-6873
+44 1494 427500

North America, South America, APAC, EMEA
Website

RS Components

+852-2421-9898
+44 3457-201201

North America, South America, APAC, EMEA
Website

Ryoyo

Japan

+81-3-3543-7711

APAC
Website

Supreme Components International

India, South East Asia

+65 6848-1178

APAC
Website

Symmetry Electronics

1-866-506-8829

North America
Website

Tekdis

Australia and New Zealand

+61 3 8669 1210

APAC
Website

Telsys

+972 3 7657666

EMEA
Website