Accelerate Your Connected Strategy Through Customized Solutions
To bring a successful connected strategy to market, many businesses must manage the unique challenges of the IoT. Building and validating the business case and then executing on productization can be daunting. With partners needed for hardware and software design, cloud integration, mobile application development and AI/ML Analytics, developing a connected strategy can quickly become overwhelming. That's why Laird provides comprehensive IoT solutions to navigate these complexities. Whether you need product customization, IoT development or product development services, we use in-house expertise and strategic partnerships to bring your product to market faster with the results you want. From our wireless modules, SOMs, antennas and custom design capabilities to certification labs and manufacturing facilities, Laird has all the components necessary to realize your IoT strategy.
Product Customization
 
Mechanical housing customization - We will help you customize the size, shape, IP rating and industry specific certifications that impact the mechanical housing of a product.
Software/firmware integration and customization - We can help provide third-party integration of cloud services AI/ML/Analytics and customer specific algorithms.
Hardware and Environmental specification customization - We can help customize the sensor, input and power. We can also customize the temperature, humidity, moisture shock and vibe specific requirements that impact overall design.
IoT Development Services
When looking to partner with a company to bring your IoT solution to market, it's critical to understand your business model, ROI and go-to market strategy. Laird Connectivity focuses on your outcomes to develop the hardware and software tailored to your application.  On the front end of the engagement we offer:
Business, application, use case strategy and validation
Connectivity/RF consulting and hardware architecture definition
User interaction/experience design
Cloud, mobile App and 3rd party application strategy
Manufacturing, supply chain and logistics planning and definition
Our Capabilities
Laird has the capabilities to support your IoT development. Our deep heritage in developing IoT solutions for customers means we have the services to bring your product to market on-time and on budget.
Industrial Design/User Experience Design
RF design and hardware customization
Mechanical Engineering
Firmware RTOS, software O/S, embedded Linux/ driver development
Cloud integration and mobile app development
Vertically integrated manufacturing and box build with Laird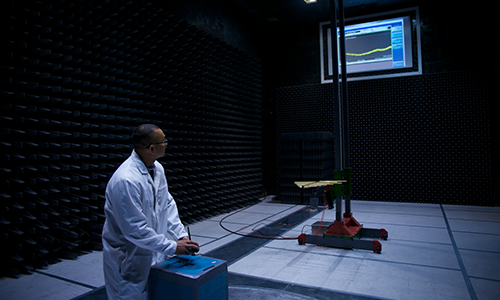 ComplianceMate
ComplianceMate partnered with Laird to supply and support SentriusTM RS1xx sensors and RG1xx Gateways for their newest product range. This LoRaWAN based sensor ecosystem enables automated temperature monitoring and reporting with digitized capture and reporting of operational activity within the food service industry. Using our product development and wireless expertise, Laird provided ComplianceMate with a cost-effective solution for the harsh RF operating world of sealed refrigeration units in any building's kitchens. Laird was uniquely positioned to meet all of the specific product requirements by customizing our standard LoRaWAN Sensor and Gateway Platform.
Laird provided:
Custom Enclosure Color and Label
Client Specific Software Features
Client Mobile Appplication
Manufacturing
Engineering & Field Support
DEWALT
DEWALT required a Connected battery to enable new jobsite features not previously possible including real-time battery management, battery security, and safety features. Laird designed an IoT platform for DEWALT that included integrating Bluetooth Smart directly into the battery pack and developing the Android and iOS mobile apps for connectivity. Laird also completed the BLE manufacturing test fixtures.
Laird provided:
Industrial Design Concepts and Refinement
Mechanical Design and Implementation
Antenna Design and Manufacturing