The Value of Wi-Fi: By the Numbers
Published on February 25, 2021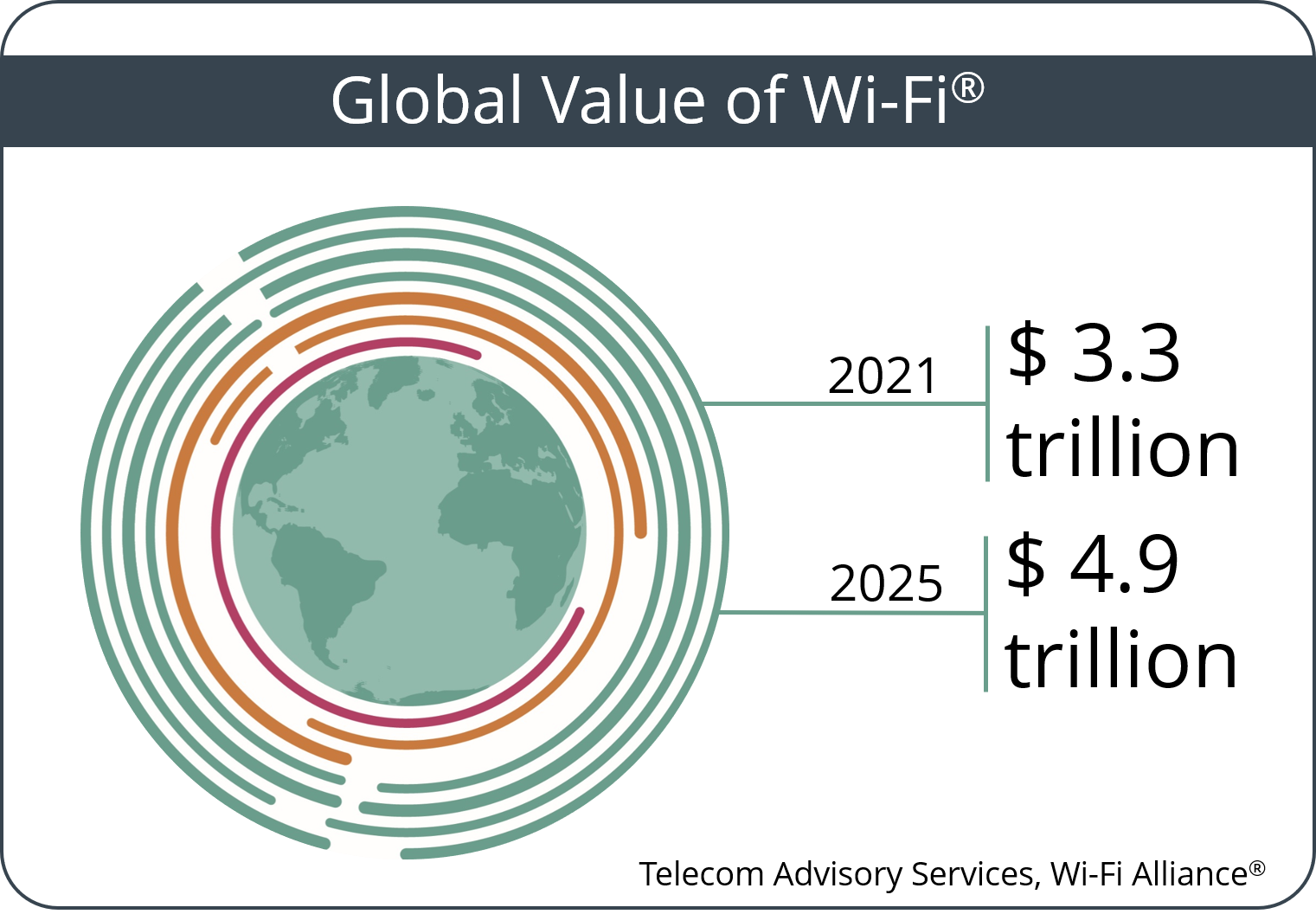 Wi-Fi Deployment: Outpacing Expectations Worldwide
The Internet of Things is driven by many technologies with the shared goal of connecting people, gathering useful information, and automating and simplifying aspects of our daily lives. Connectivity brings us efficiency, makes it easier to communicate, and achieves more with less human effort. Millions upon millions of wireless devices have been deployed around the world, bringing connectivity to devices in the home, in utilities, in smart municipal applications, retail, transportation, and many more application areas.
Laird Connectivity provides a wide range of Wi-Fi modules for many of these applications, including our complete enterprise-ready 60 Series System on Module, our latest LWB5+ Wi-Fi 5 + Bluetooth 5.2 combo module, and our Sterling-EWB IoT Module, all specifically designed for emerging IoT applications.
The Wi-Fi Alliance recently released a new study demonstrating the global economic value of Wi-Fi, a technology that has gone from a niche specialty to near ubiquitous over the course of the last two decades. Wi-Fi has a critical role to play in the global economy, and that role is demonstrated by its significant growth over this time – and the growth expected over the next five years.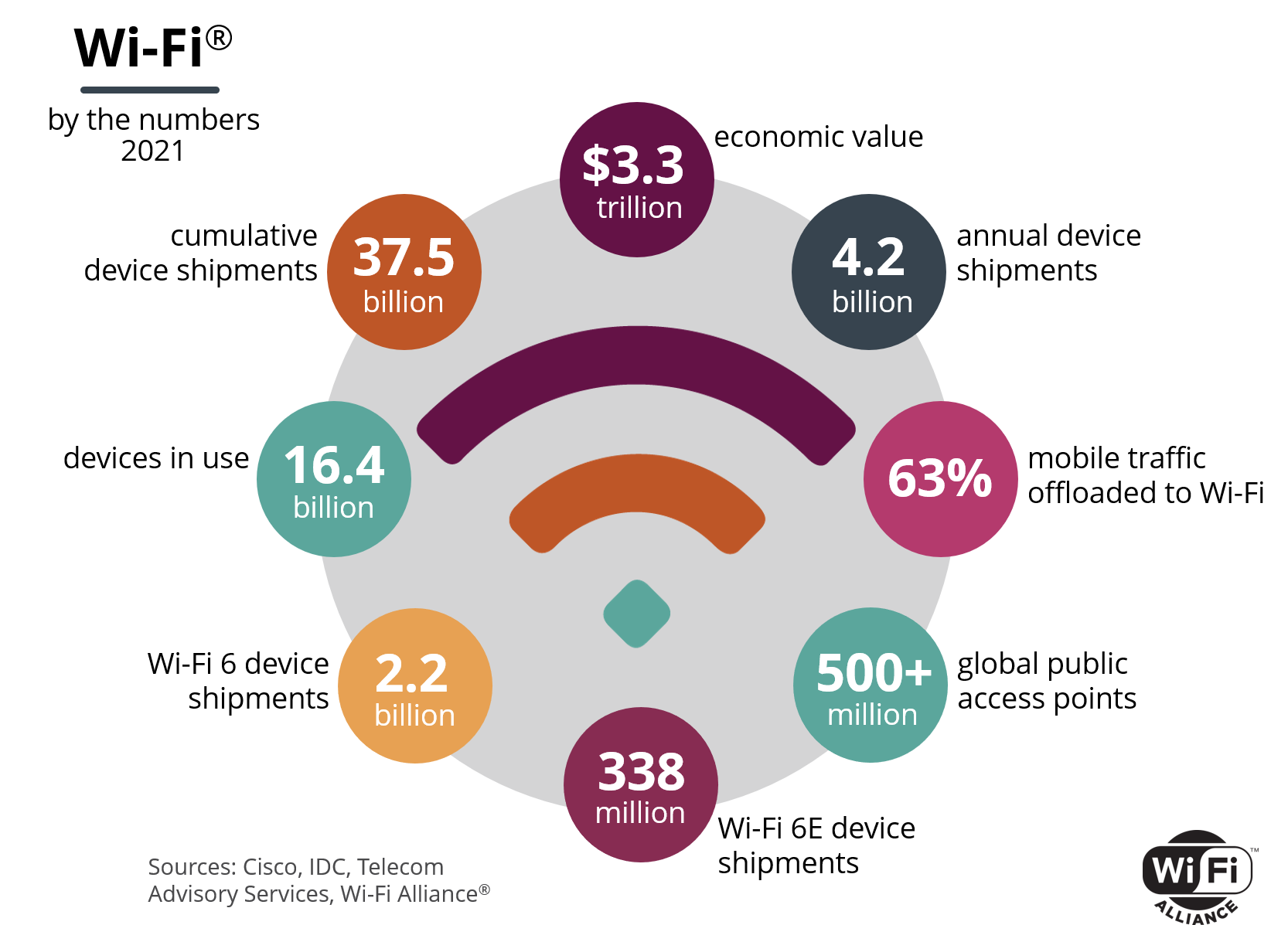 Wi-Fi Value Today
The study, developed by Telecom Advisory Services for the Wi-Fi Alliance, evaluates 15 economies around the world in detail to help quantify the value in the present and future for Wi-Fi devices. These economies are in 14 countries across the Americas, Europe, Africa, and Asia. In each, the study finds not only a strong economic value to Wi-Fi usage as it pertains to individual customers and businesses, but growth opportunities in every economy studied. The findings are clear: Wi-Fi technology is one of the dominant economic engines in the digital economy, offloading cellular traffic, providing public access points, and covering significant portions of digital communications in the places it operates.
The study estimates the global value of Wi-Fi in 2021 at $3.3 trillion, an increase from $1.96 trillion in 2018. This increase is driven by different factors in different places: In some places, free public access points are a bigger driver in Wi-Fi value, where they offload a higher amount of mobile traffic in public places. In others, like Singapore, enterprise Wi-Fi is larger and drives as much as half of the Wi-Fi value in that economy. Countries vary by data usage and usage type as well. For example, in the UK, growing adoption of AR/VR applications account for an increasing portion of Wi-Fi usage and will continue to grow into the future.
The study also finds that key contributors to the value of Wi-Fi include public access points, residential, enterprise, ISP traffic, manufacturing, and the latest generation of Wi-Fi 6, as well as new applications and developing economies. It also finds that the disruption caused by the COVID-19 pandemic has driven more reliance on Wi-Fi as businesses move operations online and people seek ways to stay connected with friends and family.
Wi-Fi Value in 2025
Driven by expanded spectrum, new applications, and the growing need for speed and bandwidth, the Value of Wi-Fi study finds significant growth for the value that Wi-Fi provides over the next five years. From 2021 to 2025, the study finds Wi-Fi value will grow from $3.3 trillion to $4.9 trillion, moved along by nearly 5 billion more device deployments, broader adoption of IoT sensors and devices, and great increases in demands for video streaming and AR/VR.
Critically, Wi-Fi provides more than just a delivery of value: it is a key driver of digital resilience and innovation. By enabling telepresence, telecommuting, distance learning, and more, Wi-Fi makes it possible for customers and businesses to continue everyday functions even with the need to remain home an avoid gathering in public.
To learn more about the ways that Wi-Fi provides value around the world and will power the future of device connectivity, see the study and related materials at www.valueofwifi.com.
For a look at our wide range of enterprise and IoT-ready Wi-Fi modules, see our Wi-Fi + Bluetooth Modules page.