Opening the Box: Laird Connectivity's RM1xx LoRaWAN + BT v4.0 [Video]
Published on September 27, 2016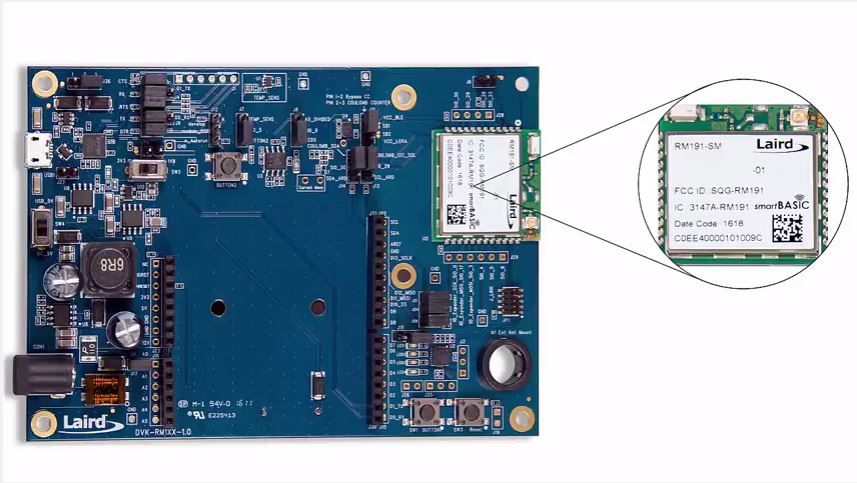 Earlier this year Laird Connectivity announced its Enterprise Internet of Things (EIoT) RM1xx module series, the first commercially available solution to integrate both LoRa™ and Bluetooth® Smart (BLE) connectivity into one module. Combining Bluetooth® v4.0 with LoRaWAN™, the emerging standard in Low Power Wide Area Networks, allows for longer-range EIoT systems. The RM1xx aggregates and transmits data from Bluetooth® Smart or BLE devices and sensors over LoRa™ to gateways as far as 15 km (~10 miles) away. In an industrial setting, for example, the RM1xx can monitor sensors on water, fuel, and chemical tanks throughout a facility via wireless BLE technology or any traditional I/O connections. It can then aggregate and relay that information back to a central server alerting plant managers to dangerous tank levels before an outage or catastrophe occurs. BLE sensors consume very little energy, so each tank sensor can last for years on a single coin cell battery, saving the management company time and money replacing batteries.
Below is a short unboxing video that gives you a preview of what to expect when your RM1xx development kit arrives at your doorstep. Check it out!
For more information about the module and LoRa™, check out the RM1xx LoRa™ module webpage.