Wi-Fi 6/6E in Embedded? All You Need to Know to Get Started Successfully
Join us for an informative webinar to learn how to add significant value to your devices with Wi-Fi 6/6E.
Published on July 27, 2023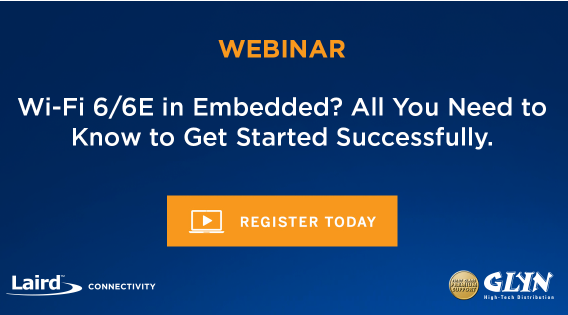 Date: Wednesday 13 September 2023
Time: 5 PM CEST / 11 AM EDT / 8 AM PDT
Presented By: Laird Connectivity and Glyn High Tech Distribution
More and more Wi-Fi-enabled devices are competing for limited bandwidth and pushing the WLAN infrastructure to its limits. This is where Wi-Fi 6 delivers a giant leap forward for connectivity in embedded applications like medical, industrial and logistics.
With Wi-Fi 6 your data bandwidth can be super-fast at 9.6 Gbps, almost as if it were in real time. Connecting many devices simultaneously now works more reliably and efficiently, even in close proximity. New features for lower power consumption enable new, portable applications.
Highlights include:
Wi-Fi 6/6E introduction - Features of Wi-Fi 6/6E for embedded applications
Wi-Fi 6/6E benefits - Why are the new features valuable?
Wi-Fi modules - Solutions for Wi-Fi 6/6E
Antenna solutions - Options for Wi-Fi 6/6E