Tungsten700 SMARC® System-On-Module from Laird Connectivity Combines Superior Edge Processing with Wi-Fi 6 and Bluetooth 5.3 Connectivity
MediaTek partnership delivers powerful IoT innovation for industrial and commercial applications
Published on July 19, 2023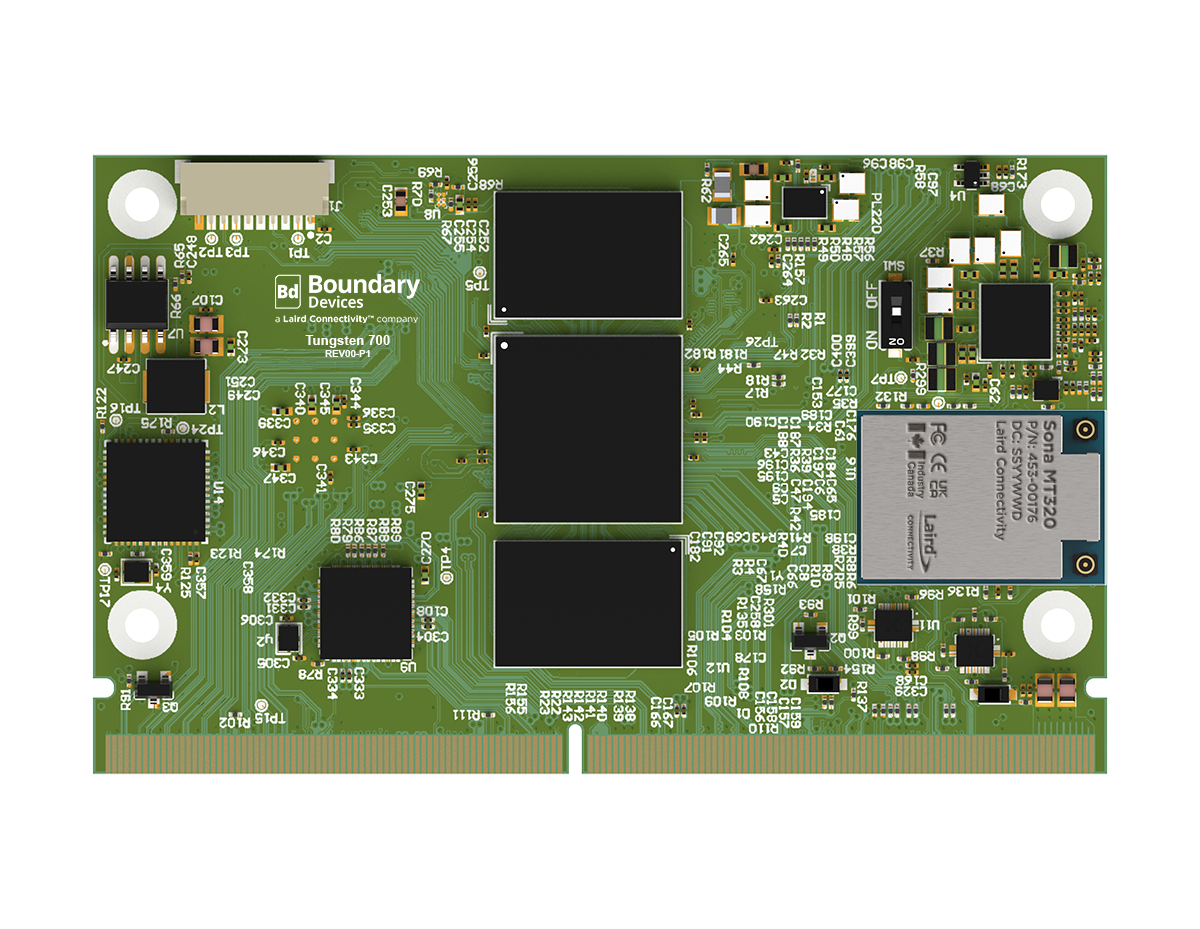 Akron, Ohio – July 19, 2023 – Laird Connectivity, a global leader in wireless technology and System-on-Modules (SOMs), announce the Tungsten700 SOM in a smart mobility architecture (SMARC) form factor, developed in partnership with MediaTek.
The Tungsten700 SMARC is powered by the MediaTek Genio 700 processor and Laird Connectivity's upcoming Sona™ MT320 Wi-Fi 6/Bluetooth 5.3 module, based on the MediaTek Filogic 320 Wi-Fi/Bluetooth combo radio. Together these solutions provide a comprehensive compute and connectivity platform. This high-performance SOM, when used with the new SMARC carrier, also serves as a single board computer (SBC) that can significantly speed customer products to market.
"The Tungsten700 heralds the start of our collaboration with MediaTek to bring smartphone comparable processing and features to the embedded IoT space, leveraging MediaTek's decades of experience in next-generation connectivity and computing to create a smart, efficient, high-end connected system," said Dan Kephart, Senior Product Manager, Laird Connectivity. "Available in the SMARC 2.1.1 form factor, this robust product provides a high performance and power efficient IoT solution that easily scales with customer's applications."
This product is an ideal solution for demanding use cases, utilizing powerful Arm® DynamIQ multiprocessing which combines the performance of a dual-core 2.2 GHz Arm® Cortex-A78 and power-optimized hexa-core Arm® Cortex-A55 operating at 2.0 GHz. This octa-core architecture allows for balancing power efficiency with the availability of peak computing performance. Customers can also leverage hardware acceleration AI, delivering up to 4 TOPS, an Arm® Mali-G57 GPU, hardware accelerated 4K video codecs, an audio DSP, and advanced 32MP video HDR ISP. Multiple display, network, data, audio, and camera interfaces are also available.
"Laird Connectivity and Boundary Devices are trusted leaders in the SOM and wireless module space, making them a fantastic partner for MediaTek," said Richard Lu, Vice President of IoT Business at MediaTek. "By utilizing the MediaTek Genio 700 combined with the MediaTek Filogic 320, we can effectively address the many diverse IoT applications and market segments, enabling a wide variety of benefits for our customers."
The Tungsten700 conforms to the SMARC 2.1.1 standard form factor (82mm x 50mm), with a SMARC edge connector, on board ethernet PHYs, and a USB hub controller. The SMARC standard offers an easy future upgrade route to the latest new processor, memory, and wireless SOM configurations and simplifies designing for multiple performance options. The Tungsten700 SMARC is ideal for a broad range of applications, including industrial vision systems, smart signage and retail POS, industrial tablets and handhelds, industrial IoT gateways, autonomous and automated robots and vehicles, and more. It supports a variety of operating systems including Yocto Linux, Android, and Ubuntu. Boundary Devices products are specifically designed to meet the needs of the industrial and medical markets, which typically require a 10+ year product lifecycle.
For more information about the Tungsten700 SMARC, visit: https://www.lairdconnect.com/product/tungsten700-smarc
About Laird Connectivity 
Laird Connectivity simplifies wireless connectivity with market-leading RF modules, system-on-modules, internal antennas, IoT devices, and custom wireless solutions. Our products are trusted by companies around the world for their wireless performance and reliability. With best-in-class support and comprehensive product development services, we reduce your risk and improve your time-to-market. When you need unmatched wireless performance to connect your applications with security and confidence, Laird Connectivity Delivers – No Matter What.