Laird Connectivity Brings Wi-Fi 6/6E to Their Extensive Portfolio of Wi-Fi Modules with the New Sona™ IF573 Product Line
Delivering Wi-Fi 6 and 6E with Bluetooth 5.4 for Next-Gen Industrial IoT Connectivity
Published on June 8, 2023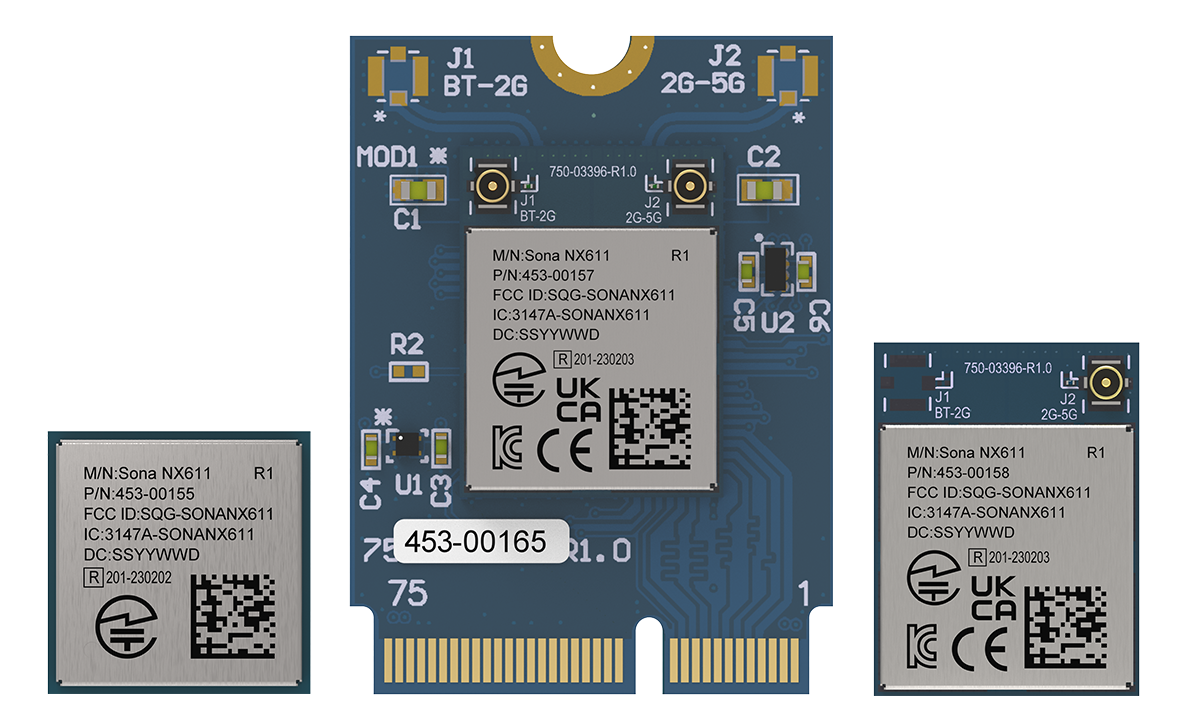 Akron, Ohio – 8 June 2023 – Laird Connectivity, a global leader in wireless technology and Premium Partner for Infineon Technologies, today announces the upcoming Sona™ IF573 Wi-Fi 6/6E family of modules to their extensive portfolio of Wi-Fi solutions. Powered by Infineon Technologies' leading AIROC™ CYW55573 chipset, the Sona IF573 is a truly robust industrial IoT module that is rugged, small, globally certified, has reliable connectivity, and is easy to integrate.
The Sona IF573 delivers a fully featured Wi-Fi 6E radio, answering the call for next-generation wireless IoT. Purpose-built for rugged IoT connectivity, the Sona IF573 brings access to both PCIE and SDIO interfaces, an industrial operating temperature range, latest generation Wi-Fi and BT, combined with both pluggable card and SMT M.2 form factor.
"Adding the Sona IF573 to our Wi-Fi portfolio demonstrates Laird Connectivity's commitment to providing the latest technology and wireless capabilities to our customer base," said Andrew Ross, Senior Product Manager, Laird Connectivity. "We're really excited to offer this innovative module range based on Infineon's leading-edge AIROC silicon to our industrial and medical customers who need a highly reliable, secure, industrial-grade Wi-Fi 6/6E solution with major performance and feature enhancements."
The Sona IF573 has a rich feature-set including Wi-Fi 6/6E and Bluetooth 5.4 connectivity. It delivers on reliability with high quality drivers and extended product life support. Laird Connectivity's Linux Backports package ensures compatibility for a broad range of Linux Kernels. The module also supports the latest WPA3 security standards. "Infineon is pleased to build on its strategic partnership with our Premium Partner, Laird Connectivity," said Sivaram Trikutam, Vice President of Wi-Fi Product Line, Infineon Technologies.
"Infineon's AIROC CYW55573 delivers high-performance Wi-Fi capabilities that go beyond the Wi-Fi 6/6E standard requirements to improve the range, reliability, and robustness in congested networks for IoT applications and lower latency for AI applications. The product also supports the latest Bluetooth Auracast™ broadcast feature to enable new audio use cases with exceptional audio quality. Laird Connectivity's Sona IF573 module accelerates customers' time-to-market by speeding up development time. We look forward to an ongoing collaboration."
The Sona IF573 is available in SMT M.2 form factor and pluggable card, supporting either an RF trace connection or MHF4 connectors for external antennas. It was intentionally designed to meet the demands of harsh RF IoT applications, with integrated PA (Power Amplifier) and LNA (Low Noise Amplifier) with 2x2 MU-MIMO antennas for reliability connectivity. Laird Connectivity offers a variety of pre-certified Wi-Fi 6E antennas in the FlexMIMO, FlexPIFA, and Mini Nanoblade ranges. Target applications include rugged handheld devices, industrial IoT sensors and gateways, and medical devices such as infusion pumps, HD imaging, beds, and blood analyzers.
The Sona IF573 will be globally certified to reduce customers' barrier to entry. Pending certifications include FCC, ISED, CE, RCM, MIC, and Bluetooth SIG registration.
For more information about the Sona IF573, visit: www.lairdconnect.com/sona-if573-series
To learn more about Laird Connectivity, visit: www.lairdconnect.com
About Laird Connectivity:
Laird Connectivity simplifies wireless connectivity with market-leading RF modules, system-on-modules, internal antennas, IoT devices, and custom wireless solutions. Our products are trusted by companies around the world for their wireless performance and reliability. With best-in-class support and comprehensive product development services, we reduce your risk and improve your time-to-market. When you need unmatched wireless performance to connect your applications with security and confidence, Laird Connectivity delivers –no matter what.