Raymarine
Published on March 28, 2019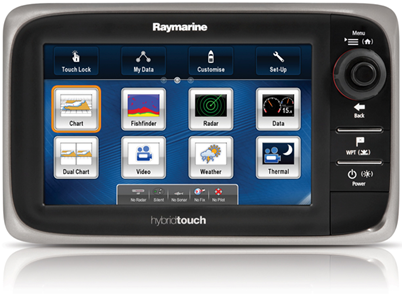 RayMarine, a world leader in marine electronics, develops and manufactures the most comprehensive range of electronic equipment for the recreational boating and light commercial marine markets. The Raymarine e7 Network Multifunction Display breaks new ground with Wi-Fi video streaming to Apple iPhones and iPads or Android Tables and Smartphones. Additionally the e7's built-in Wi-Fi adapter allows it to wirelessly sync waypoints and routes with the Navionics Mobile app. This enables you to plan your next voyage on your iPhone or iPad and then wirelessly sync it to the e7's chartplotter.
The Technical Challenge
High performance Wi-Fi was essential for the e7 device to interoperate with today's leading smartphones for streaming video. The device also required Bluetooth to stream music and audio control directly from the smartphone to the display. This coupled with the challenging environment demanded a robust radio solution that could withstand various interferers at extreme temperatures.
The Solution
The e7 platform is based on our TiWi-R2 module. The FCC/IC and ETSI tested module is based on the WL1271 solution from Texas Instruments and supports 802.11 b/g/n and Bluetooth 2.1+EDR. The fully integrated module provided a fast time to market and easy to implement solution. The TiWi-R2 boasts best in class performance (4dB better link margin than competition) in a footprint smaller than a penny (13mmx19mm). We strategically designed the module to include an analogue front end and TCXO for superior range performance at industrial temperatures. Raymarine took advantage of Our flexible antenna solutions and implemented a printed circuit board trace antenna to fit within the slim profile of the e7 while still offering advanced performance.
We offer:
Experience in leveraging wireless in an industrial setting, including evaluating potential interferers and demanding environmental factors
Custom antenna design and driver integration with various operating systems and microprocessors, including QNX, Linux, and Android
Development of Wi-Fi, Bluetooth, 6LoWPAN, BLE, and other standards-based wireless products
Custom protocol development to meet your application's unique needs