Leveraging UWB and BLE in Manufacturing Environments
Manufacturing processes are being revolutionized by pin-point tracking and monitoring, leading to optimized workflows and enhanced safety protocols within the factory environment.
Published on November 14, 2023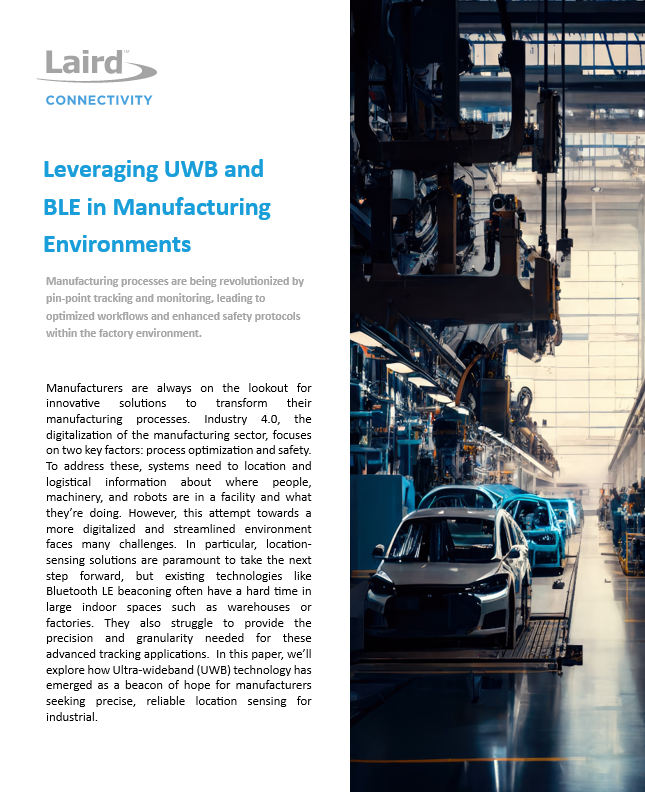 Manufacturers are always on the lookout for innovative solutions to transform their manufacturing processes. Industry 4.0, the digitalization of the manufacturing sector, focuses on two key factors: process optimization and safety. To address these, systems need location and logistical information about where people, machinery, and robots are in a facility and what they're doing. However, this attempt towards a more digitalized and streamlined environment faces many challenges. In particular, location-sensing solutions are paramount to take the next step forward, but existing technologies like Bluetooth LE beaconing often have a hard time in large indoor spaces such as warehouses or factories. They also struggle to provide the precision and granularity needed for these advanced tracking applications.
Read this paper to learn how how Ultra-wideband (UWB) technology has emerged as a beacon of hope for manufacturers seeking precise, reliable location sensing using Laird Connectivity's UWB module.