New LoRaWAN + BLE Sensor Platform for Long Range IoT Applications
Published on June 27, 2017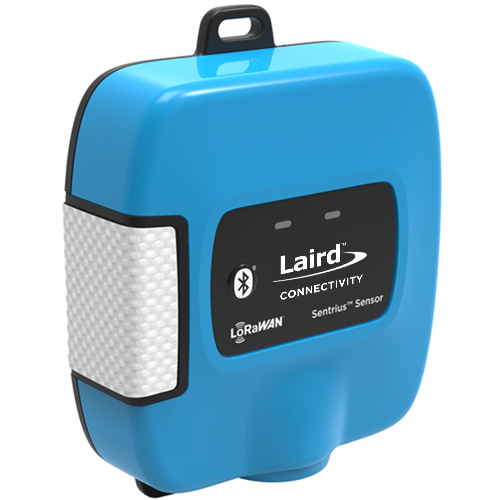 Today Laird Connectivity launched the new Sentrius™ RS1xx Series sensor platform that enables enterprise customers to deploy secure, stable wireless sensors in long-range Enterprise Internet of Things (EIoT) applications. The RS1xx is a battery powered, long-range integrated sensor platform that leverages LoRaWAN and Bluetooth low energy (BLE) connectivity for EIoT applications that require precise temperature and humidity control.
The RS1xx will be displayed at Sensors Expo, June 27-29, at the McEnery Convention Center in San Jose.
At its core, the RS1xx utilizes Laird Connectivity;s field-proven and reliable RM1xx module hardware, providing LoRaWAN options in 868 and 915MHz frequencies, with BLE for local data display, configuration, and troubleshooting. The RS1xx also features IP65 rated enclosures, robust multi-layer security to safeguard your network at every level, industry leading support services, and is fully certified for FCC, IC, CE, and Bluetooth SIG listing.
Based on the Semtech SX1272 and Nordic nRF51 silicon, the RS1xx is the latest addition to Laird Connectivity's Sentrius Series of LPWAN solutions, joining the RG1xx multi-interface gateway, RM1xx LoRa + BLE enabled modules, and LPWAN antennas. This ecosystem of pre-integrated solutions provides developers and OEMs the flexibility and freedom to create everything from a single standalone node to a complete end-to-end IoT network.
The RS1xx works with Laird Connectivity's RG1xx Series of LoRa/multi-wireless gateways for simple out-of-the-box integration and is compatible with 3rd party Cloud and LoRa network ecosystem partners. Sensor data can easily be routed to the Cloud with Laird's simplified wireless connectivity deployment, and with minimal development effort, batteries, and simple out-of-the-box configuration, the RS1xx is ready to capture data to a smartphone or tablet.
The RS1xx IoT sensor platform is ideal for use cases such as greenhouses, grain storage, cold chain monitoring, cooling tanks, equipment, or any application that requires constant monitoring and reporting of temperature fluctuations, humidity, and other critical metrics across an entire facility or ecosystem.
RS1xx Features at a Glance
 
Your Wireless Network

 

Develop a fully-owned private LoRa network to capture, route, and process IoT data for your application - choose from RM1xx modules, RS1xx finished sensors or RG1xx Gateways

 

 

 

Rugged Durability with a Broad Sensor Array

IP65-rated enclosures provide a robust and resilient platform for recording and delivering sensor data from a range of harsh environments

 

 

 

 

 

Comprehensive Security and Reliability

Robust multi-layer security at each interface to safeguard your network at every level

 

 

 
Broad Certification and Approvals

 

FCC, IC, CE and Bluetooth SIG listing (all pending)

 

 

 

Platform for Building Actionable IoT Intelligence

Route sensor data to the Cloud with Laird Connectivity's simplified wireless connectivity deployment

 

 

 

 

 

Personal Support for Your Implementation

Support works with Laird Connectivity engineering to help configure and deploy your application