New BLE Breakout Board Series for Any Hardware Budget
Published on September 9, 2015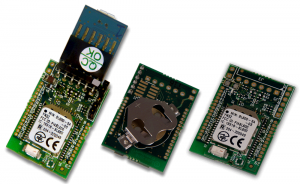 BLE development just got easier with Laird's Bx600 breakout board series. Joining the DVK-BL600 development kit, Laird's new Bx600 breakout boards provide BLE development options for any hardware budget. The Bx600 breakout boards provide a streamlined approach for simplified BL600 prototyping for as little as a tenth of the cost. The series comes in the following packages: basic breakout board, board with coin cell attachment, and board with coin cell attachment and USB-to-UART adapter, while the DVK-BL600 contains a wider variety of hardware components such as interfaces, sensors, LEDs, and power options. With the Bx600 series, you get the right hardware with cross-platform software. Whether you need a simple prototype option or lots of sensors and interfaces for testing, the Bx600 breakout boards are cost-effective and direct:
BB600 is a basic breakout board and pin-based power supply with access to I/O via through holes for breadboarding. This is the most cost-efficient access to the full BL600 and can be used for prototyping and adding the BL600 to existing designs.
BC600 includes a mounted coin cell power adapter for designing low-power solutions directly on the board. This option allows flexibility of power and mobile deployment for prototyping low-power solutions such as Beacons.
BA600 bundles the coin cell adapter with a USB to UART adapter for power flexibility and PC testing with applications like vSP. Ideal use cases include easy PC connection for vSP / serial testing.
DVK-BL600 offers extensive onboard equipment to help you design for any application. The full development board features sensors, LEDs, through-holes, current measurement circuit, power connectors, and interfaces for complete design and testing functionality.
All four packages allow you to connect to and program the BL600 from Windows, OSX, or Linux via UwTerminal software. In addition, Laird's new UwTerminalX software brings smartBASIC to all desktop environments. UwTerminalX (Windows / Linux / OSX) lets you control the BL600 in command mode and compile, load, and run smartBASIC scripts on the device.
Customers also receive personal support from initial design to mass production and beyond. Laird's support team, based in the United State, Europe, and Asia, provides integration support, analysis, and troubleshooting for all currently supported hardware. With direct access to Laird engineering, the Embedded Wireless Support Team bridges you to decades of software, experience, and wireless expertise. Laird guarantees a fast response and is dedicated to seeing your product through design to manufacturing. Our online support center serves as an archive of FAQs, as well as product documents and software files.
Visit the Bx600 product page or contact us for more information!