Innovation Through Integration: A Fusion of Products and Services
Step into a new chapter through the strategic acquisition of Boundary Devices by Laird Connectivity. This acquisition brings a new leading product portfolio, but also a fusion of two philosophies centered around customer-focused innovation and engineering excellence.
Published on October 24, 2023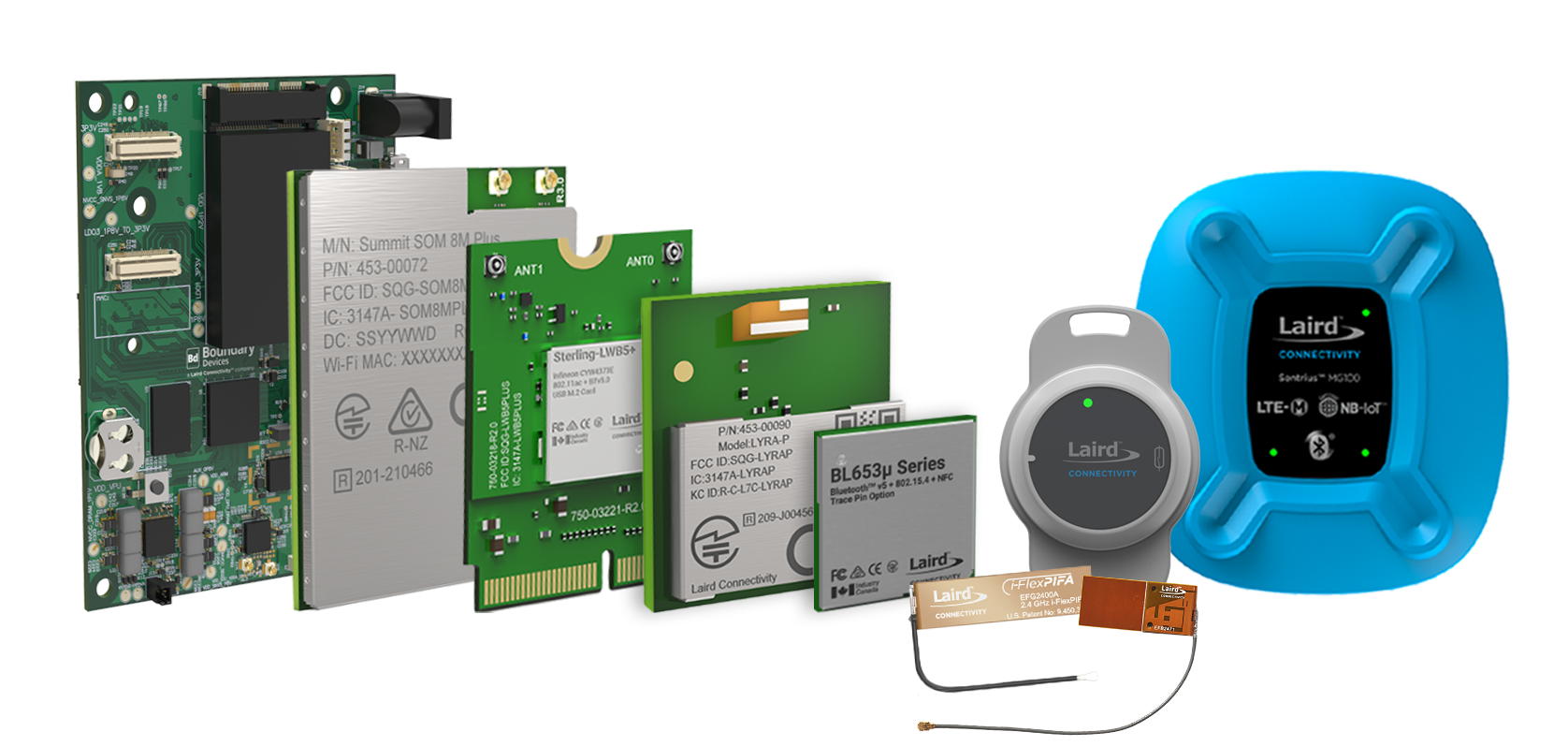 Laird Connectivity's acquisition of Boundary Devices not only adds additional products to a catalog, but it also brings two philosophies of customer-focused innovation and engineering together. The result is more solutions with greater possibilities as we bring a unique combined product portfolio to the industry. We will discuss the strengths of each and dive into how the two can support each other to bring new integrated solutions to the market.
Wireless Connectivity: The Laird Connectivity Advantage
What does Laird Connectivity bring to the table? With decades of experience in wireless connectivity, we have a comprehensive portfolio of Wi-Fi modules + Bluetooth that allow you to select the feature set and connectivity that best meets your needs. From the latest fast data rates of Wi-Fi 6/6E 6GHz to the original 802.11b, our engineers are experts in the field helping to create products for connectivity in medical, industrial, and commercial settings where RF performance, low power consumption, and fast time to market are a must. Similarly, for over 15 years, we have developed and produced Bluetooth modules, products, and development kits for a range of Bluetooth connectivity. Our development experience began all the way back with Bluetooth 1.1 and continues through to Bluetooth 5.4. With our decades of expertise, implementing a solution to your product has never been easier.
Even with our bread-and-butter products in Wi-Fi and Bluetooth, we continue to push our engineering capabilities to create tomorrow's solutions. This is evident from our new lineup of innovative Ultra-wideband modules (UWB) that bring a brand new wireless protocol to our portfolio. With key attributes such as pin-point accuracy to the centimeter and real-time refresh rates up to 1000 times/second, UWB brings new markets in asset-tracking and indoor navigation to our customers. We also have a strong LoRaWAN ecosystem, like the RM126x module, for long range, low power applications. Targeting key IoT requirements such as bi-directional communication, end-to-end security, mobility, and localization services, our portfolio of products delivers high performance with unparalleled design flexibility.
As mentioned, with decades of experience in the development and production of internal antennas and wireless modules, having a single manufacturer experienced in both modules and antennas leads to optimized integration. Laird Connectivity's internal antennas, whether for Wi-Fi, Bluetooth, or even the long-range of LoRaWAN, are small, cost-effective solutions that provide unmatched connectivity to fit within a products enclosure. Take for example our new i-FlexPIFA™ that not only delivers strong performance in challenging environments but is the industry's first inverted FlexPIFA™ that can easily mount directly to the inside of the forward or top-facing part of an enclosure. Our engineers take common problems we hear from our customers to provide the latest innovative solutions.
Designing custom products and getting wireless products tested and certified can be complicated and time-consuming. Beyond our industry leading hardware offerings, Laird Connectivity excels in design and testing. Led by a multi-faceted engineering team with diverse skillsets, our services department in Cedarburg, WI reduces your risk and gets your product to market faster. Our engineers are experts in product development, EMC testing, and antenna design, specializing in compliance and certifications, to ensure that all products are rigorously tested to not only meet but exceed the highest standards of performance and reliability. We work with you every step of the way, before, during, and after your product goes to market.
Boundary Devices: A Powerhouse of SOMs, SBCs, and Accessories
With the ever-changing environment, technological advancements demand new products to be more powerful, have the latest technologies, and come in smaller sizes. Typically, engineering teams need to go through a lengthy process creating a custom board, certifying the design, and continually respin their PCBs to have the latest components which takes their attention away from developing a product that can change the world. This is where Boundary Devices excels. As hardware and software engineers need products to get to production as quickly as possible, their SOMs give pre-designed starting platforms with the option to choose the right components to meet the design needs. Having the ability to choose the processor, memory, wireless connectivity, software compatibility, and OS allows great flexibility.
Boundary Devices partners with a number of silicon vendors to offer a diverse range of processors, from the very powerful MediaTek Genio 700 to the versatile NXP i.MX series, including i.MX 6, 8, and 9, catering to varying performance needs. This product portfolio helps to fit into many applications like vision systems, smart cameras and displays, medical devices and a range of industrial IoT systems to help cover any design challenges. With accessories including universal carrier boards, evaluation kits, cameras, displays and more, Boundary Devices is a total solution provider for your needs, catering to varying performance needs.
Like Laird Connectivity, Boundary Devices also pushes the boundaries to offer the latest products. For those needing compatibility with the latest industry standards, their SMARC (Smart Mobility ARChitecture) lineup uses a standard form factor which allows for quick swap of SMARC SOMs to be able to scale end-products for next-generation wireless standards and functionalities. This is important as many of the target markets of industrial and medical products have long lifecycle that last 10, 15, or even 20+ years in the market. And for your quick time to market needs, Boundary Devices supplies a variety of single board computers that drastically reduce development time to ensure your products reach the market quickly.
A New Era of Innovation and Integration
With both companies' many respective strengths, what does it mean for our customers? For one, we can utilize both industry-leading products together. For example, the Nitrogen8M Plus SMARC comes with the Sterling™-LWB5+ Wi-Fi 5 / Bluetooth 5.2 radio to meet not only high-performance needs, but also reliable connectivity. As both engineering groups are one, device compatibility, certification, and support are all ready to go to make your device integration as smooth as possible.
This acquisition not only expands our product offerings, but a philosophy in customer-focused innovation. Typically, companies take 9-15 months to progress from concept to production. However, leveraging the extensive expertise of our engineering and product management teams, we streamline the process offering customized solutions to meet your design needs. Whether it is a custom single board computer (rather than an off the shelf SOM) or integrating a SOM with a camera, display, and wireless connectivity, our dedicated engineering teams in Akron, OH, Irvine, CA, and Cedarburg, WI, are committed to guiding your design from start to finish. This acquisition leads the way to redefine and elevate industry standards, backed by industry-leading hardware and software support.
Together, Laird Connectivity and Boundary Devices offer an unmatched range of products and solutions in the industry. No other vendor provides a range of products, antennas, design, testing, certification, and technologies all under one roof. We focus on customer feedback, using it to improve our support and develop current and future products that meet industry needs.
It is not only about providing products but delivering total integrated solutions. For more information on our broad product portfolio, visit our website https://www.lairdconnect.com/.