i-FlexPIFA™ Series Inverted Flexible PIFA Antennas
Recommended for New Design (RND)
Overview
Now available!
This industry-first inverted FlexPIFA™ (i-FlexPIFA™) antenna design (patented) delivers strong performance in challenging environments, providing you unmatched flexibility to solve your real-world antenna design challenges. Designed for rapid integration into space-constrained devices and housings, the flexible, adhesive backed antennas are available with MHF1 and MHF4L connector options.

The i-FlexPIFA series is designed with the radiating element facing outward when adhered to a plastic enclosure interior. This orientation gives more flexibility by granting different mounting options, like the underside of an enclosure. The i-FlexPIFA outperforms competitors' solutions in these orientations, expanding the FlexPIFA family offerings.
i-FlexPIFA antenna technology provides consistent performance across the 2.4GHz ISM band, always ensuring a solid and reliable connection.
Coverage – 2.4GHz-2.48GHz Operation.
Performance – Exceptional performance with 3.1 dBi gain and 2.5:1 VSWR, outperforming competitors' solutions.
Versatile – Flexible, peel-and-stick adhesive backed antenna for a variety of space-constrained IoT devices.
Reliable – PIFA technology is easy to integrate into IoT devices and less likely to detune in proximity of metal or a human body.
Quality – Designed and built to exacting specifications.
New Mounting Options
The i-FlexPIFA introduces new mounting options to our popular line of FlexPIFA internal antennas. The i-FlexPIFA is designed to radiate on the adhesive side, meaning OEMs can easily mount directly to the inside of the forward or top-facing part of their enclosure. The i-FlexPIFA is designed to give superior performance and reliability in this orientation and give OEMs another option for mounting wireless 2.4 GHz antennas inside their design.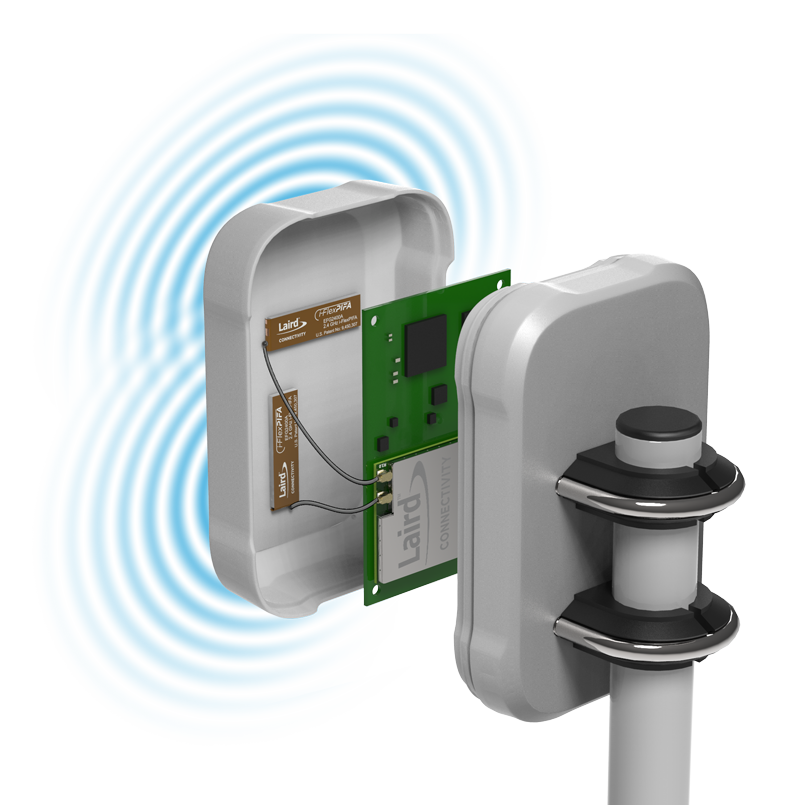 Specifications
Frequency Range (Min)
2400
Frequency Range (Max)
2480
Dimension (Height - mm)
2.9
Dimension (Length - mm)
11
Dimension (Width - mm)
40.9
Antenna Connector Type
MHF1 or MHF4L
Operating Temp (Max) (°C)
Operating Temp (Min) (°C)
Pattern Type
Omnidirectional
Part Number
Antenna Connector Type
Antenna Type
Cable Length (cm)
Frequency Range (Max)
Frequency Range (Min)
Gain (max)
Wi-Fi Ports

EFG2400A3S-10MHF1

Recommended for New Design (RND)

Buy Now
MHF1 R/A Plug (U.FL compatible)
Internal/Embedded
10
2485

MHz

2400

MHz

3.1 dBi
1

EFG2400A3S-10MH4L

Recommended for New Design (RND)

Buy Now
MHF4L R/A Plug
Internal/Embedded
10
2485

MHz

2400

MHz

3.1 dBi
1
What is Laird Connectivity's product lifecycle EOL and PCN policy?
Laird Connectivity is committed to the long-term supply of all its standard embedded wireless modules and packaged products. Laird Connectivity's products are specifically designed to meet the needs of the industrial and medical markets, which typically require 7 – 10 years product lifecycle. Although Laird Connectivity can't guarantee that a component used in our products will not be obsoleted and cannot be reasonably substituted, Laird Connectivity can assure customers we will continue to sell our product when we have customer demand and can obtain the necessary components to build our products.
Become a Laird Connectivity Customer and Gain Exclusive Access to Our Design Services Team
Antenna Scans
Antenna selection and placement
Custom antenna design
Worldwide EMC testing / certifications
Embedded RF hardware / firmware design
Cloud architecture and integration
Mobile application development
Product & Industrial Design
Distributors
Distributor
Phone Number
Region
Website

Alpha Micro

UK Only

+44 1256-851770

EMEA
Website

Arrow Electronics

1-855-326-4757
+44 2039 365486

APAC, North America, South America, EMEA
Website

Avnet

1-480-643-2000
+44 1628 512900

APAC, North America, South America, EMEA
Website

Braemac

Australia, New Zealand, South East Asia

+61 2 9550 6600
+64 9 477 2148

APAC
Website

Cal-Chip Connect

1-215-942-8900

North America
Website

Digi-Key

1-800-344-4539

North America, South America, APAC, EMEA
Website

EBV Elektronik

EMEA
Website

Farlink Technology

China, Hong Kong

+86 13266922199

APAC
Website

Farnell

1-800-936-198
+44 3447 11 11 22

EMEA
Website

Future Electronics

1-800-675-1619
1-514-428-8470

North America, South America, APAC, EMEA
Website

Glyn

+49-6126-590-0

EMEA
Website

Jetronic

China, Hong Kong and Taiwan

852-27636806 

APAC
Website

Laird Connectivity

1-847-839-6925
+44 1628 858941

North America, South America, APAC, EMEA
Website

M2M Germany

+49-6081-587386-0

EMEA
Website

Martinsson

+46 8 7440300

EMEA
Website

McCoy

South East Asia

+65 6515 2988

APAC
Website

Mouser

1-800-346-6873
+44 1494 427500

North America, South America, APAC, EMEA
Website

RS Components

+852-2421-9898
+44 3457-201201

North America, South America, APAC, EMEA
Website

Ryoyo

Japan

+81-3-3543-7711

APAC
Website

Solid State Supplies

UK Only

+44 (0) 1527 830800

EMEA
Website

Supreme Components International

India, South East Asia

+65 6848-1178

APAC
Website

Symmetry Electronics

1-866-506-8829

North America
Website

Tekdis

Australia and New Zealand

+61 3 8669 1210

APAC
Website

Telsys

+972 3 7657666

EMEA
Website