Coming Soon: Tungsten700 SMARC with Wi-Fi 6 + Bluetooth 5.3
A robust SMARC SOM powered by MediaTek Genio 700 and wireless connectivity using MediaTek Filogic 320
Published on July 19, 2023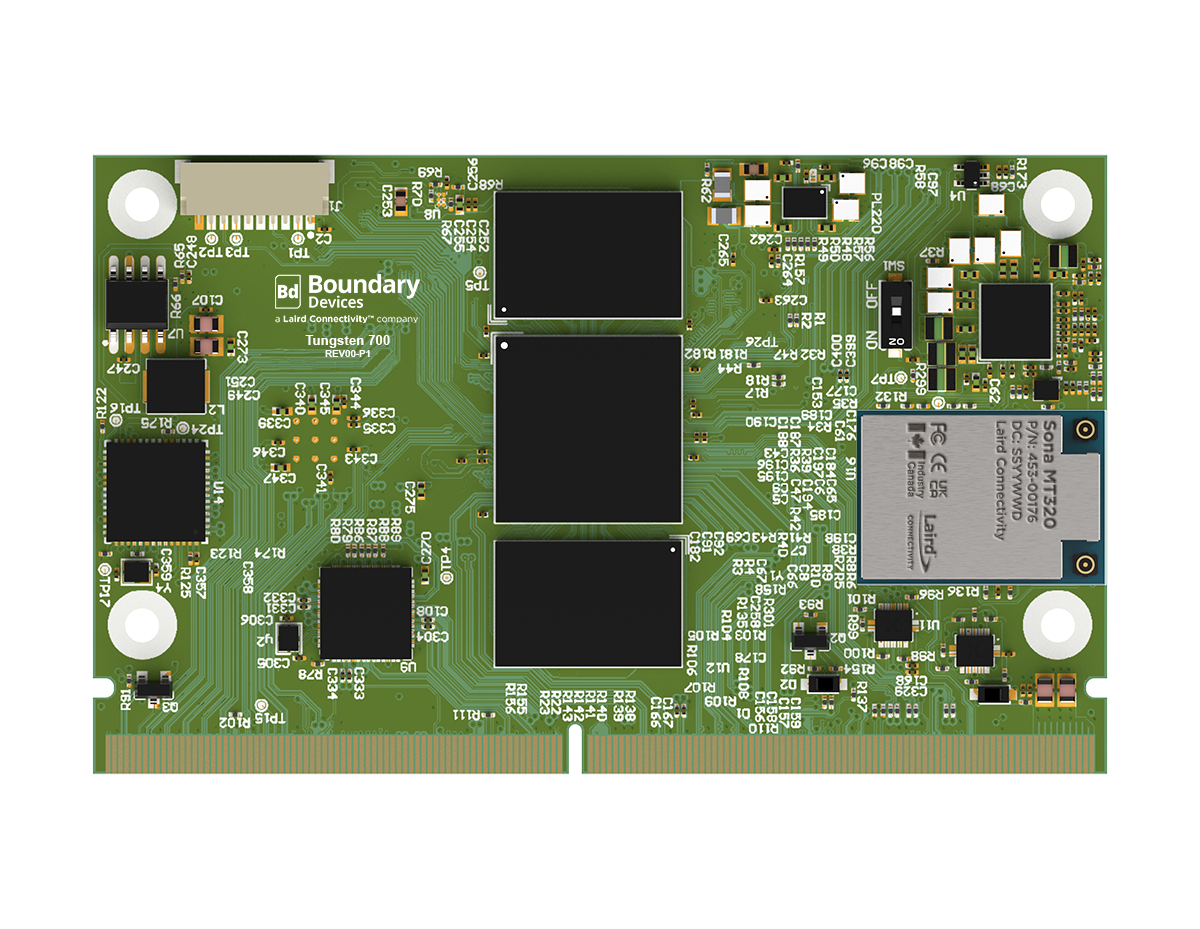 We are excited to introduce the upcoming Tungsten700 SMARC, in a smart mobility architecture (SMARC) form factor, expanding the system-on-module (SOM) portfolio conforming to the SMARC industry standard, developed in partnership with MediaTek.
The Tungsten700 SMARC is powered by MediaTek Genio 700 family processor and when combined with Laird Connectivity's upcoming Sona™ MT320 Wi-Fi 6 & Bluetooth 5.3 module, which uses the MediaTek Filogic 320 Wi-Fi/BT combo radio, offers a comprehensive, processing and connectivity platform. This high-performance SOM, combined with our universal SMARC carrier board, together serve as a single board computer (SBC) that can significantly speed customer products to market.
Stand-out features include:
• Optional: Wi-Fi 6 + Bluetooth 5.3
• SMARC 2.1.1 standard form factor: 82mm x 50mm
• 2.2 GHz dual-core Cortex-A78 and hexa-core 2.0 GHz Cortex-A55
• Powered by MediaTek Genio 700 processor
• Machine learning, graphics, video, vision, and audio
• Multiple high-performance memory options
• Extensive range of pre-certified antennas
• 10+ year product lifecycle
• Software support includes Yocto, Android, Linux and Ubuntu
• Commercial and industrial temperature rating options
• Global radio certifications – FCC, ISED, CE, UKCA and more
Visit the product page to access the product brief and data sheet.