BL600 Bluetooth Low Energy Modules from Laird
Published on April 16, 2013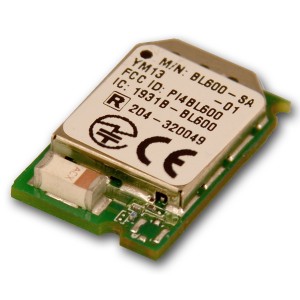 Laird BL600 Bluetooth Low Energy Module
Laird Technologies® proudly announces the release of the Bluetooth 600 Series (BL600) Modules. Every 600 Series module is designed to enable OEMs to add single-mode Bluetooth Low Energy (BLE) to small, portable, power-conscious devices. With a compact footprint of 19 mm x 12.5 mm, the modules deliver maximum range within a minimum size. The modules incorporate all the hardware and firmware required to support development of BLE applications.
Based on the world leading Nordic® Semiconductor nRF51822 chipset, BL600 modules provide exceptionally low power consumption with outstanding wireless range. The modules support a variety of ultra-low power modes to achieve as little as 600 nA of power consumption in deep sleep mode and 8.1 mA when transmitting data at 0 dBm.
What makes the BL600 modules unique is smartBASIC, an event-driven programming language that enables standalone operation of the module whereby sensors can be attached via any of the interfaces without the need for an external processor. A simple smartBASIC application encapsulates the complete end-to-end process of reading, writing, and processing of sensor data and then uses BLE to transfer it to any Bluetooth v4.0 device-smartphone, tablet, gateway, or computer. Ultimately smartBASIC accelerates initial development, creation of prototypes, and mass production by providing OEMs with their own inbuilt BLE expert within the module, completely removing the need for an OEM to have any knowledge of BLE.
In addition to carrying FCC modular, IC,  CE, and MIC approvals, the BL600 series modules are fully qualified as a Bluetooth End Products, enabling designers to integrate the modules in devices without the need for further Bluetooth Qualification. A low-cost developer's kit including simple software tools make it easy for an OEM to integrate the module and guarantees the fastest route to market.
Application areas include medical sensors, in-home medical sensors, battery powered sensors, AIDC apps, wellness products, location awareness, and fitness and general 'app'ccessories. For more information about this module, view the Laird Technologies BL600 product page, here.