Laird Connectivity: An End-to-End Solution Provider for All SOMs and SBCs
The product development journey has new leverage in the system-on-module, from easy-to-implement pre-designed solutions to fully custom board development. Explore Laird Connectivity's expansive SOM portfolio as a one-stop total solution provider.
Published on November 2, 2023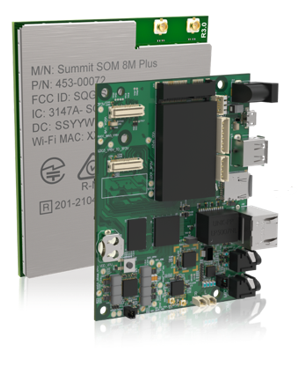 A Complete, Future-Ready Product Pipeline: Our SOM and Module Portfolio
In today's society, getting your product to market as quick as possible is a necessity. Hardware engineers are constantly facing pressure to push a product from concept to mass production in record time. Laird Connectivity helps OEMs rapidly navigate this challenge by providing a broad portfolio of wireless modules, system-on-modules, and single board computers that meet and exceed demanding requirements in product design. SOMs provide the option to choose the components your design needs. The ability to choose your processor, memory, wireless connectivity, software compatibility, and OS gives great flexibility, all done from a single provider.
System-On-Modules (SOMs) are compact single-board computers equipped with essential components like CPU, memory, and I/O controller. We offer them with pre-certified wireless modules, eliminating the complexities of custom board design and continuous discrete component updates. This not only accelerates the development cycle, but also allows engineering teams to channel their focus and resources directly towards innovating and enhancing the core functionalities of their products. These ready-to-go boards can be replaced or improved as part of future redesign cycles, all while reducing the number of steps required to bring a product to market.
Laird Connectivity's vast experience with standalone SOMs enables us to have the right solution for you utilizing many different silicon vendors, ranging from NXP, MediaTek, and Microchip. We offer embedded SOMs for any application, ranging from the highly regulated medical applications, high vibrations of the industrial market, and even to the bright displays of the gaming industry. Additionally, fortified by 35 years of extensive experience in wireless technology, Laird Connectivity is positioned as the only provider to offer the latest in wireless communication, including Wi-Fi 6/6E and Bluetooth 5, in a wide variety of SOMs to offer real-time network connectivity.
Diverse Range of SOMs / SBCs
Selecting the right hardware for a project is a pivotal decision that can shape the entire development process. Initially, there are two strategies: choosing a chip-down design, where individual chips are directly mounted and soldered to the PCB, or choosing a pre-built compact SOM that is mounted with a connector for straightforward integration. Developers face an important choice: while the chip-down design offers total customization, it is resource and time-intensive. On the other hand, SOMs with board-to-board or edge connectors cut the cost of the design but might offer less flexibility. Small and medium-sized developers are moving towards SOMs for their efficiency, rapid development, and scalability across various applications. Laird Connectivity has a variety of SOM options that can bring your product to market faster, as well as customization capabilities and design flexibility that is uncommon to other SOM offerings.
While many companies offer SOMs, Laird Connectivity has a broad portfolio that ensures they cater to a diverse range of applications and users. Our SOMs are ideal for companies needing off-the-shelf solutions that are easy to integrate. We offer standard SOMs that are mounted by an edge connector, such as the Nitrogen8M and Nitrogen8M Mini, that are ideal for mass production use with a guaranteed 10-year lifespan.
Another HUGE advantage in our SOM portfolio comes from our decades of experience in wireless modules. Our embedded processing solutions include 802.11a/b/g/n/ac and Bluetooth wireless to ensure our advanced connectivity SOMs already have a compatible module that is certified and tested. Similarly, for applications needing to be compact, such as edge computing devices, our SMT SOMs (such as the Summit SOM 8M Plus) are soldered directly on the carrier board to be smaller and more robust. These SOMs can still handle high performance capabilities as they are often used in industrial factories for AI and machine learning capabilities.
For those needing compatibility with the latest industry standards, we provide SMARC (Smart Mobility Architecture) as a compact module targeting applications that require low power and high performance. One of the main benefits of using SMARC is the standard form factor utilizing a 314-pin edge connector. Our commitment to the SMARC standard in our roadmap gives OEMs an upgrade path for the latest and greatest in processors and wireless standards for the decades to come. Our future SMARC SOMs will continue to feature next-generation wireless standards and functionalities, representing a drop-in replacement in products that last 10, 15, or 20 years in the market. Laird Connectivity offers its latest products, the Nitrogen8M Plus SMARC, Nitrogen93 SMARC, and Tungsten700 SMARC, in the SMARC form factor to enable future upgrades that are needed for emerging wireless and processor chipsets. A perfect use case can be seen in the robotics industry, where autonomous mobile robots are used for a variety of tasks. The modularity of SMARC SOMs means that the robots can be easily updated or modified with new capabilities or in response to new operational requirements without a major redesign of the components. For more information on SMARC, check out our blog Understanding the SMARC standard and What It Can Do For Your Design.
When developing with a SOM and carrier board, integration of the SOM to your board is necessary, which can be a complex process. Instead, consider allowing us to develop a custom single board computer (SBC) for you. SBCs offer a complete package with integrated processor, memory, graphics, and connectors, tailored with the interfaces you need, streamlining the development process. Each SBC is engineered to offer a blend of power and flexibility, aiming to accelerate your development cycles. They include many interfaces for data, audio/video, wired and wireless networking to provide the complete platform for embedded designs using NXP i.MX 6 and 8 chipsets. Many of our SBCs are compatible with camera modules and displays that are up to a stunning 4K resolution to offer a complete ecosystem of products.
End-to-End Solution Provider
Laird Connectivity offers a diverse range of processors, from the very powerful MediaTek Genio to the versatile NXP i.MX series, including i.MX 6, 8, and 9, catering to varying performance needs. Our SOMs fit into diverse applications from vision systems, smart cameras and displays, medical devices and a range of industrial IoT systems to help cover any product needs. Our Nitrogen8M Plus SMARC equipped with the Sterling LWB5+ Wi-Fi 5 / Bluetooth 5.2 radio, is designed to meet the high-performance needs, and ensure reliable connectivity in RF-heavy industrial environments. In busy warehouses, where numerous devices continuously communicate and execute various tasks, a robust and high-quality processing platform and wireless module tailored to your specific needs is crucial for optimal performance.
Laird Connectivity stands out due to our ability to provide tailored solutions. With decades of experience, our engineering teams specialize in creating custom SOMs and SBCs, collaborating with your engineers to deliver a board tailored to your exact specifications in under 12 weeks. We go beyond being just a hardware vendor, serving as your end-to-end solution provider, guiding you through every stage of the process.
Our embedded SOMs deliver highly scalable embedded processing solutions with 802.11a/b/g/n/ac and Bluetooth wireless. Built on the latest processors and utilizing our long-term software support, our SOM solutions give developers a secure, smart, and connector IoT platform for the most demanding applications.
For more information on our SOM portfolio, visit our website https://www.lairdconnect.com/resources/brochures/som-line-card.