Is Your Wireless SOM Certified? What Boundary Devices and Laird Connectivity Bring to the Table
System-on-module providers offer varying levels of support and services, a fact that can have serious consequences for your project at a critical time. This is how Boundary Devices and Laird Connectivity pull out the stops to keep you on track.
Published on October 3, 2023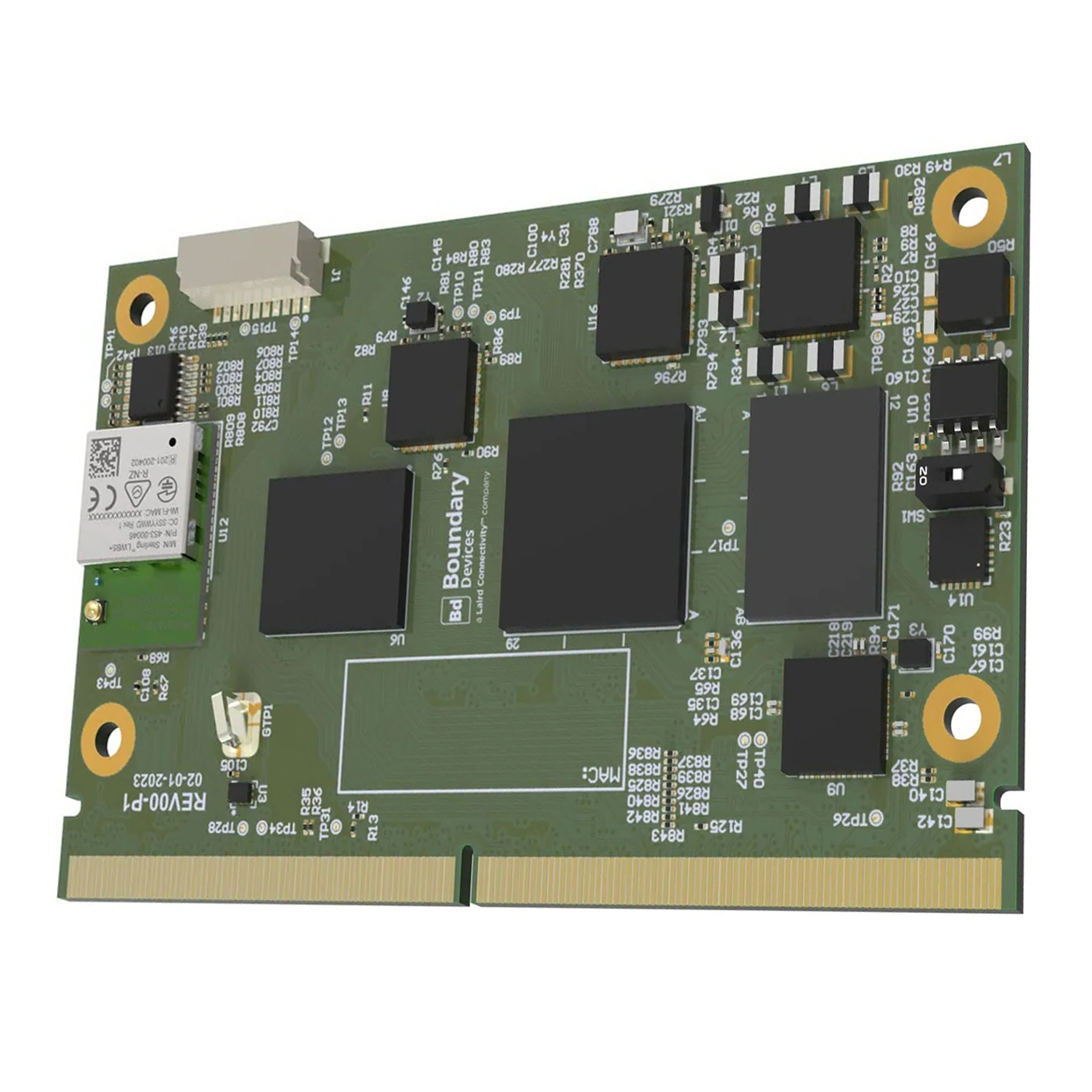 What Does YOUR SOM Provider Actually Provide?
The system-on-module market offers OEMs many choices when it comes to selecting a SOM provider. Selecting a SOM and SOM provider can be, at the least, difficult and confusing. For starters, many SOMs from different providers are powered by some of the same (or very similar) processor chipsets from manufacturers like NXP, Microchip, and others. That variability makes it important to suss out what features a SOM actually exposes from its included processor, as well as additional features that make that SOM unique. But beyond differences in hardware and software offerings, the really critical question is: what kind of a provider IS your SOM provider going to be?
Not all SOM providers offer the same degree of support or have the same level of experience, capability, and expertise. In particular, when it comes to a wireless SOM, many SOM manufacturers' experience and support does not necessarily extend to the wireless component. A wireless module is often sourced from another manufacturer, and that module is probably suitable for general use and general needs. But when requirements change or special circumstances arise, many SOM manufacturers are unable to address the complexities of wireless regulatory testing, certification, regulatory related software changes, and more.
We at Laird Connectivity acquired Boundary Devices in 2022 with the goal of bringing both companies' unique strengths and complementary capabilities together. Boundary Devices are known for their extensive expertise in building SOMs and single-board computers (SBCs), all manufactured in the USA. Laird Connectivity's decades of experience in wireless product design and broad array of value-added services made for a good match.
Boundary and Laird Connectivity in combination are a more capable provider and partner in product design than before, with wireless module expertise and SOM design expertise coming together to create real value. In this post, we'll look at the major reasons that Laird Connectivity is the ideal partner when designing a wireless SOM into your product.
#1: We've Been There And Back. Many, Many Times.
The combination of a top-tier SOM and wireless module provider and a top-tier certifications test house means there is no part of the complete product design process that we haven't navigated time and again. This is a significant speed-up on the road to market. Our wireless modules are pre-certified for many of the world's largest regulatory regions.
Laird Connectivity has decades of experience producing wireless modules with modular approvals to streamline your design process. Many of our wireless modules come pre-certified in places like the USA, Canada, Europe, the UK, Japan, Korea, Australia, and New Zealand.
For OEMs with limited experience in wireless or for those who are looking for the simplest route to market with a design partner who knows the entire landscape of product design and certifications, Laird Connectivity is an ideal partner and provider.
#2: We Do All of This Under One Roof
Many SOM providers are able to integrate another manufacturer's module into their SOM, but lack the wireless expertise to provide top-notch wireless support. By contrast, Laird Connectivity and Boundary devices are standing by for any challenge, like conducting antenna scans for EMC test or securing approval for new regulatory regions. Where others might direct a customer back to the wireless module provider, we ARE that provider, and our full-service company is ready to help.
Laird Connectivity has all this expertise within one company, with integrated product, test, and field engineering teams that work across departments to solve our customers' challenges. That integration functionally puts the entirety of the SOM, the wireless, the testing, the certifications, the integration, and more all under one roof.
As a result, working with Laird Connectivity is more efficient, with hardware, software, and test teams sometimes as close as a walk down the hall from each other. We have the expertise and the incentive to drive your project forward, keep your project on schedule, and deliver on your roadmap. Your success is our success.
#3: We're Not Limited – We Can Bring Your Product Anywhere
If requirements change, we've got your back in bringing your product anywhere in the world. If you need to ship your product to a new part of the world and need new certifications, other SOM providers may be unable to help. If you suddenly find your product needs certification, for example, in South Korea, it may be up to you to work with the wireless module manufacturer to secure this. That manufacturer may also be limited in terms of time and cost to bring your device to your desired market.
Laird Connectivity is a truly global company, meaning we've launched products all over the world and have the experience and certifications to prove it. As a full service provider, we know the requirements needed to bring your design to different regulatory regions and have worked with the approving bodies in the past to secure those regulatory approvals. It's not just a matter of willingness and support, it's a matter of experience. Our experts are at the ready to get you across the finish line, both at launch and in later redesign cycles when your project scales and your needs change.
#4: We Keep Your Design Evergreen with Continuously Updated (And Certified) Connectivity
This degree of support and flexibility for our customers informs our design philosophy as we build our extensive SOM and wireless module portfolio. Our wireless module roadmap accounts for upcoming changes to wireless standards and a broad support of different SoCs for our SOMs, and we'll introduce updated versions of our existing SOMs that support those new standards. Using these pin and electrical compatible SOMs, you'll be able to upgrade and replace the wireless component in your design to keep up with the latest features in Wi-Fi, Bluetooth, and more.
Choosing one partner for both your SOM and your wireless solution means having one comprehensive platform for keeping product refreshes simple, staying ahead of the latest demands and requirements from your customers, and dramatically lowering the time and effort required to do so. No more concern about whether the left hand knows what the right hand is doing and vice versa – Laird Connectivity and Boundary Devices, as one company, have a full view of the needs of OEMs in the SOM space. Our roadmap and vision for future designs is designed to keep your product ahead of emerging changes in wireless.
Learn How We Can Help
Laird Connectivity and Boundary Devices are a combination that is greater than the sum of their parts. At every step of the design process from concept to production, our joined companies carry OEMs throughout the entire process: Selecting the SOM platform and additional components such as wireless, performing schematic reviews and testing, implementing security and provisioning processes for trusted software execution, and much more.
Laird Connectivity is much more than a module or SOM provider. We have the skills, experience, and incentive to drive your design to market. Our business is building partnerships with our OEMs that help elevate their product designs, simplifying embedded development and wireless connectivity through a wide array of value-added offerings, software development tools, in-house capabilities, and our decades of historical expertise.
To learn more about our system-on-module offerings, visit: