A One Stop Shop: Integrated Solutions for Embedded Computing and Connectivity
Laird Connectivity's acquisition of Boundary Devices establishes a total one stop solution provider. Bringing together an industry leading product portfolio for all your embedded wireless technology needs.
Published on October 24, 2023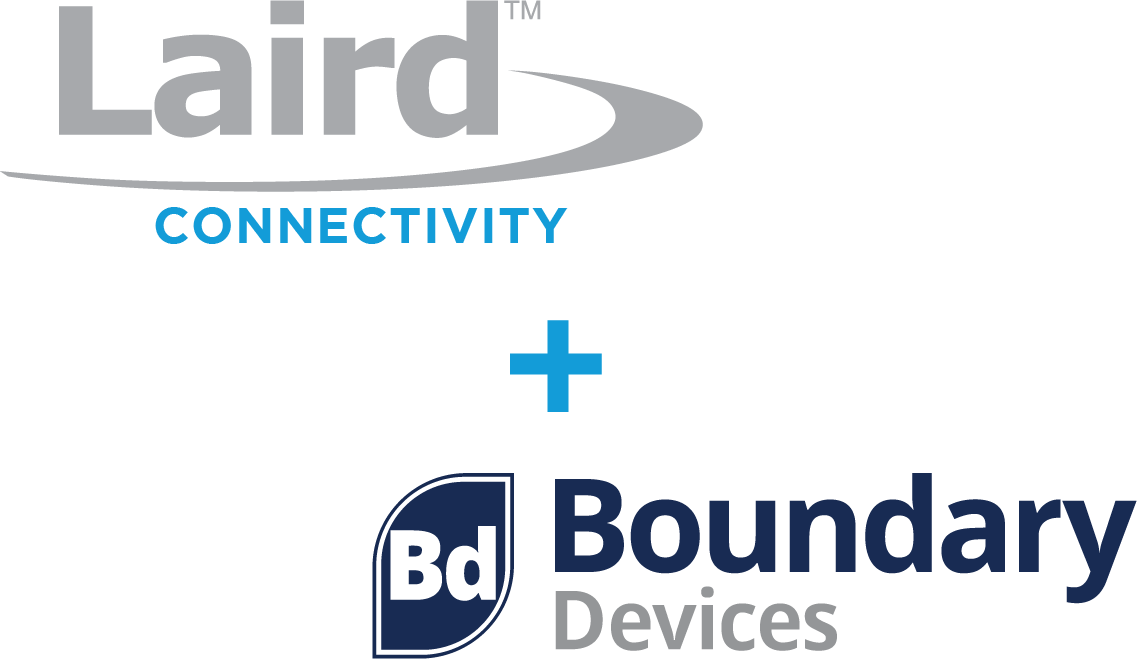 Laird Connectivity's Acquisition of Boundary Devices
The tech industry thrives on innovation, collaboration, and the continuous pursuit of providing the best solutions for next-generation technology. Laird Connectivity acquired Boundary Devices in December 2022 to create an exciting opportunity: blending wireless connectivity heritage with cutting-edge processor platform integration expertise.
Laird Connectivity's acquisition of Boundary Devices further elevates our industry presence with robust system-on-module quality and experience and creates a new company that is greater than the sum of its parts. Laird Connectivity's extensive certified wireless portfolio and services with Boundary Devices' processor expertise and highly integrated SOMs bring a new value-added suite of offerings to the market. Together, we deliver the pillars of our value: robust certified hardware, sophisticated software, dedicated support, and seamless integration.
Under the umbrella of these pillars, our services set us apart from the industry. One of our standout features is design capability. With design centers in multiple locations, including Cedarburg, WI; Akron, OH; Wooburn Green, UK; Irvine, CA; and Zhubei, Taiwan, we are well-equipped to accommodate unique customer requirements. Additionally, our in-house Design & Test Services in Cedarburg, WI is capable of EMC / regulatory testing, antenna design, and even custom development. It's how we certify all of our wireless modules, and how we can help deploy your product anywhere in the world. With our decades of test and regulatory experience, you'll never need to navigate the complex regulatory approval process alone. This standout offering from Laird Connectivity is now extended to Boundary Devices' customers as well.
This acquisition symbolizes more than just the growth of OUR business; it represents a promise to deliver superior solutions to YOUR business. When such integrated expertise, the possibilities for your product development are endless.
Industry Leading Product Portfolio
Companies, from the smallest startups to the largest established corporations, often find themselves at a crossroads when integrating multiple embedded wireless technologies. Finding the combination of compatible hardware, the right software stack, and the right partner (or partners) to bring it together can be time consuming, resource heavy and challenging, but not anymore!
Laird Connectivity's range of wireless connectivity solutions are the heart of any connected IoT device. Our products feature the latest wireless technology like Wi-Fi 6/6E, Bluetooth 5.4, LoRaWAN, and even ultra-wideband (UWB). This broad range of wireless connectivity puts us at the forefront of long-range industrial applications, the highly secured medical industry, and even the pin-point location needs of manufacturing. But we don't only offer the latest cutting-edge wireless technologies, but a range of products tailored to older technologies, backed by our commitment to long lifecycle support.
While Laird Connectivity excels in wireless connectivity, Boundary Devices offers a complete embedded SOMs and SBC portfolio. Integrating the latest processors, memory, and storage options provides a foundation for your full-featured product design. We are also embracing the future by incorporating SMARC (Smart Mobility ARChitecture) standards into the Boundary Devices lineup for high performance, low power, and rapid development needs. By leveraging the SMARC standard, we give OEMs an upgrade path for the latest and greatest in processors and wireless standards for the decades to come.
These joint capabilities allow Laird Connectivity and Boundary Devices to offer an industry-leading portfolio of products for wireless solutions from a single provider. Our customers have access to an even broader set of support services for design, manufacturing, and especially software. For example, in a product's design stages, the wiki from Boundary Devices displays our extensive knowledge. Containing detailed tutorials and OS support from Android, Ubuntu, Yocto and other OSes ensure that our customers have the guidance needed right at their fingertips.
As your end-product inches closer to production, having strong data integrity and security is paramount. Laird Connectivity offers a range of security software and services to keep data secure, such as our Summit Suite Security Solutions. Together, these software capabilities reflect our commitment to providing full hardware, software, and support services.
One-Stop Solution Provider
One of the hardest aspects of designing products is hardware integration, but you don't have to do it alone. The acquisition joins the two companies to create a total one-stop shop solution provider. As a one-stop shop, we streamline the collaboration process from conceptualization to mass production, offering a diverse portfolio ranging from high-performance, powerful processors for complex tasks to efficient solutions for basic, low-end processing applications. Our versatility extends beyond processors, featuring our wide range of wireless modules and internal antennas to complement our SOMs and SBCs, each backed by diverse software options. Our goal is to fast-track your journey from product development to market launch, all from a single, dedicated provider.
Whether it's for a small IoT device for factories or an intricate instrument in a medical facility, this partnership guarantees powerful, connected devices tailored for a variety of applications. Searching for a board optimized for graphics processing with top-tier internet connectivity? Our partnership helps customers obtain a certified SOM with a NXP i.MX series processor that integrates a Wi-Fi 6 module. The result? Powerful, connected devices ready for use in any industry without needing to juggle between vendors or dealing with compatibility or certification issues. This fusion brings connected devices that are industry-ready while minimizing design risks and accelerating your time to market. We're here to streamline your journey with ease and reliability.
Why juggle with multiple vendors when one can offer it all?
With market-leading RF modules, system-on-modules, internal antennas, IoT devices, and custom wireless solutions, we are the only provider for one-stop solutions offering the latest in wireless communications. For more information on our product portfolio, visit our website https://www.lairdconnect.com/.