Innovate with Confidence with Laird Connectivity's BL65x Product Family
Our Nordic Semiconductor family of Bluetooth 5 offerings provides the BLE 5 features you want and options that give you the flexibility to design your way.
Whether you need cost effective, RF certified hardware functionality or full-on multi-wireless capabilities and programming options, there is a solution to meet your design needs. We feature the latest in Bluetooth technology and carefully design and test our solutions to maximize the performance from Nordic Semiconductor silicon. Leverage some, or all, of the major new Bluetooth 5 specification benefits of higher data throughput, longer range and increased broadcasting capacity, all in one tiny footprint of your choice.
Laird Connectivity's Bluetooth 5 offerings are available as integrated and external modules in each series, as well as simple, easy-to-use development kits for the BL652 and BL654.

Nordic-Based Bluetooth 5 Modules
Free Personalized FAE Support
Custom Antenna Design
Free Antenna Scans with Schematic Reviews
Product Customization and Design Services
Antenna Selection Placement Support
EMC Product Certifications: FCC, CE, IC, Gitecki, etc.
Go Further and Faster with Bluetooth 5 from Laird Connectivity
With more than fifteen years of experience in the development and production of Bluetooth wireless solutions and longstanding partnership with Nordic Semiconductor, we are the ideal technology partner to help simplify your next BLE 5 design. With a broad range of modules, adapters, development kits and embedded antennas as well as design expertise, our customers leverage the benefits of Bluetooth 5 functionality and speed their time to market.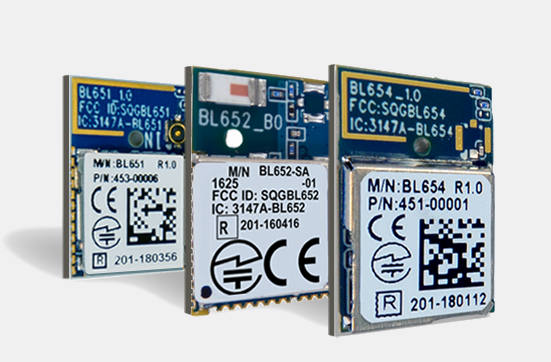 | BT 5 FEATURE | ADVANTAGES | IMPROVEMENT | END USER EXAMPLES |
| --- | --- | --- | --- |
| LE Coded | Robust, reliable connections indoors and outdoors | 4 x Range | Whole house/building coverage/outdoor e.g. Nordic Semi tests drone connectivity to 750m outdoor range |
| 2 MPHY | Faster data transfer, reduced TX/RX time | 2 x Speed | Lower latency, increased performance & faster data transfer for critical data e.g. swifter FW updates, download of logged sensor data |
| Advertising Extension (AE) | More data capacity in Connectionless Services | 8 x Increase broadcast message capacity | Beacons & location/tracking services can be improved for greater data & information e.g. enhanced user experiences in facility tours |
The BL65x Series of modules and adapters makes Bluetooth 5 connectivity practical for a broad range of applications. Leverage increased bandwidth, longer range and battery life, faster data transfer, and more data capacity for an endless variety of use cases, such as medical peripherals, industrial equipment, smart heating and cooling, asset management, and more.
Medical, Wellness and Fitness Devices
The BL654 excels in mission-critical environments like hospitals, providing secure wireless connectivity for medical peripherals as well as wearables like smartwatches, pedometers, and more.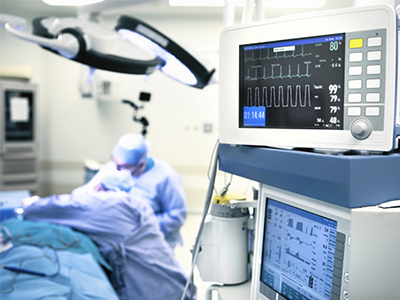 Industrial Sensor Networks
Sensor data can provide deep insights needed to maintain energy efficiency and productivity within factories and manufacturing plants. Monitor and control temperatures, energy usage, output, downtime vs. uptime, and other critical metrics.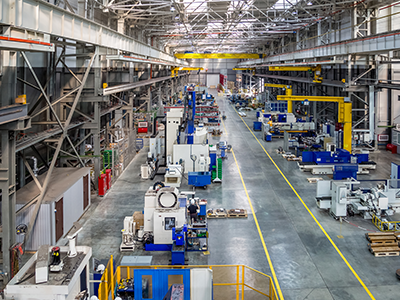 Remote Security Monitoring
The BL654 excels with home security devices like door, window, and air-quality sensors. A BL654 powered home security system can broadcast its status regularly to a monitoring base. As many as eight peripherals can be connected to the system via Bluetooth Low Energy, creating a hub of smart BLE home sensors.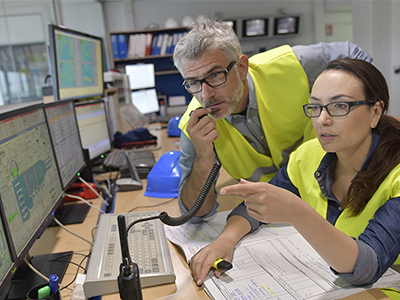 Connected Home
Securely and remotely take control over household devices like thermostats, refrigerators, dish washers, coffee makers and more. Monitor and automatically get notified about food stock levels, energy usage, and other statuses to create a more productive lifestyle.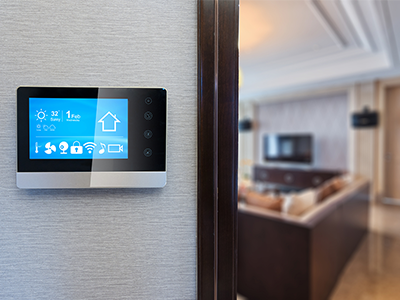 Why Choose Laird Connectivity?
Laird Connectivity simplifies the enablement of wireless technologies with market-leading wireless modules and antennas, integrated sensor and gateway platforms, and customer-specific wireless solutions. Our best-in-class support and comprehensive engineering services help reduce risk and improve time to market. When you need unmatched wireless performance to connect electronics with security and confidence, Laird Connectivity delivers – no matter what.