BL653μ Series - Bluetooth 5.1 + 802.15.4 + NFC Modules
Recommended for New Design (RND)
Overview
Reliable Bluetooth Connectivity for the IoT - Just a Fraction of the Size.
Laird Connectivity's latest range of Nordic nRF52833 based modules specifically targets OEMs where space is constrained in their designs. Yet still the miniaturized BL653μ series enables Industrial OEMs to robustly implement longer range Bluetooth LE applications in the harshest operating environments. This series of secure, low power microcontroller modules with multi wireless capabilities is the future of wireless Internet of Things (IoT) connectivity, as small as 6.3 x 5.6 mm.
Powered by Nordic's nRF52833 WLCSP silicon, the small form factor BL653μ modules provide for secure, robust Bluetooth Low Energy and a Cortex -M4F CPU for any OEM's product design. The BL653μ provides you with maximum development flexibility with programming options for the Nordic SDK or Zephyr RTOS, a simple, intuitive AT command set, as well as Laird Connectivity's own smartBASIC environment.
The BL653μ series brings out key nRF52833 hardware features and capabilities including USB access, up to +8 dBm transmit power, up to 5.5V supply considerations, and NFC tag (type 2 / 4) implementation. Complete regulatory certifications enable faster time to market and reduced development risk completes Laird Connectivity's simplification of your next small form factor Bluetooth design!
Ultra-Compact and Highly Flexible
Our BL653μ Series modules bring reliably, high-quality Bluetooth 5.1 to our smallest form factor ever. With an optional chip antenna or antenna trace pin, they provide multiple ways to connect and develop at an incredibly small size.
Chip Antenna (453-00059) - 6.3 x 8.6 x 1.6 mm
Trace Pin (453-00060) - 6.3 x 5.6 x 1.6 mm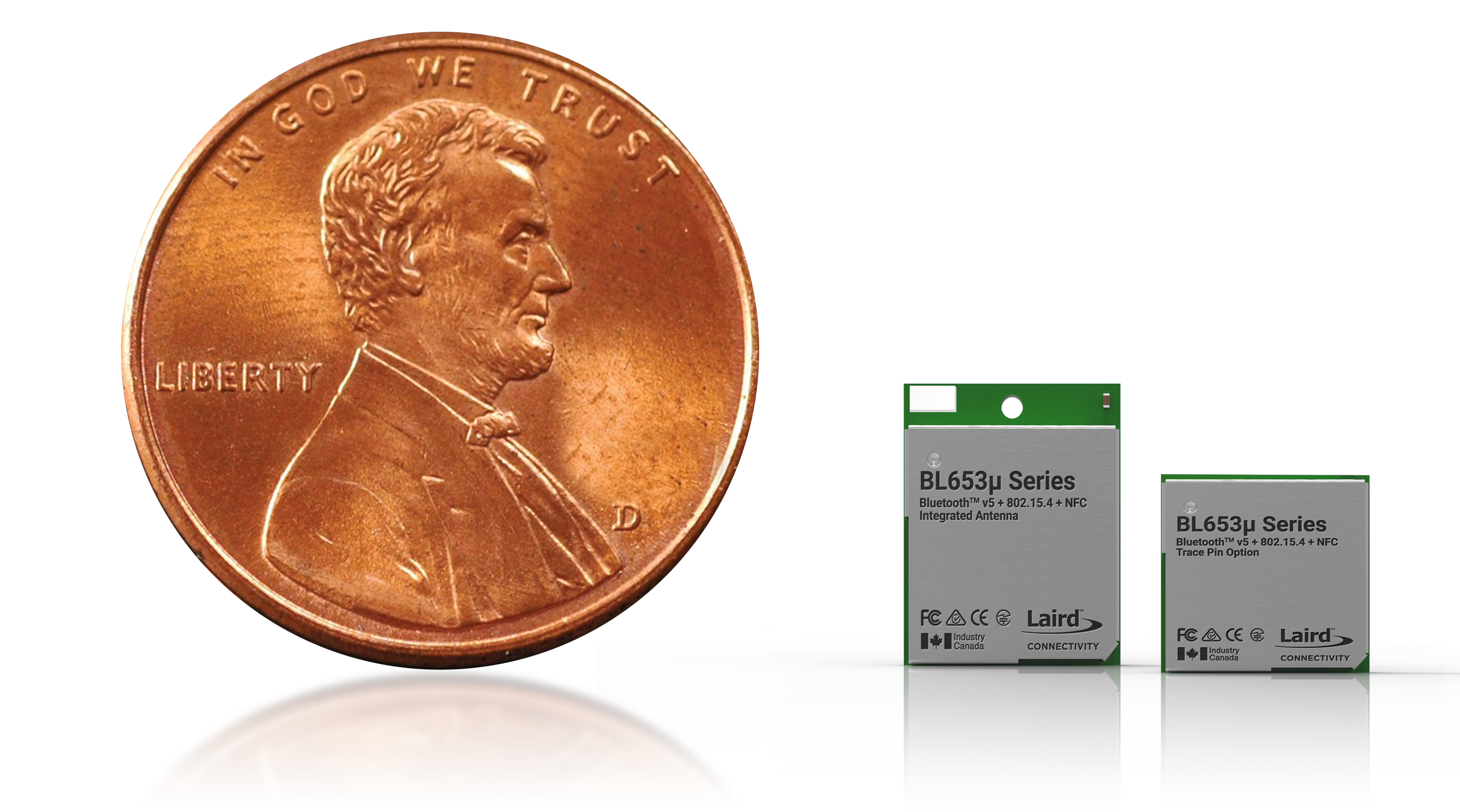 Specifications
Chipset (Wireless)
Nordic nRF52833 WLCSP
Antenna Options
Chip Antenna (453-00059)
Trace Pin (453-00060)
Certifications
FCC, ISED, EU, UKCA, MIC, AS/NZS
Data Rate
1 MBps, 2 Mbps, 125 Kbps
Development Tools
UwTerminal X and UWFlashX (multi-platform)
Nordic nRFConnect (Android/iOS Application)
Dimensions
6.3 x 8.6 x 1.6 mm (Integrated Antenna Module)
6.3 x 5.6 x 1.6 mm (Trace Pad Module)
Firmware Upgrade
Via UART or JTAG (SWD)
Interfaces - General
UART, GPIO, ADC, PWM, PDM, FREQ output, I2C, SPI, NFC, USB
Link Budget
103 dB (@ LE 1 MBps)
111 dB (@ LE 125 Kbps)
Power Consumption
Max Peak Radio Current (@ +8 dBm TX) - 14.1 mA (DCDC at 3V)
Max Peak Radio Current (@0 dBm TX) - 4.9 mA (DCDC at 3V)
Receive Sensitivity
-96 dBm (typical @ LE 1 Mbps)
-103 dBm (typical @ LE 125 Kbps)
Software
smartBASIC, Zephyr RTOS, Nordic SDK, AT Command Set
Temperature Range
-40° to +105° C
Thread
Thread and Zigbee support via Nordic nRF Connect SDK
Thread supported via Zephyr RTOS
Part Number
Antenna Type
Bulk or Single
Chipset (Wireless)
Frequency Range (Max)
Frequency Range (Min)
Logical Interfaces
OS/Software
Packaging
Product Type
System Architecture
Technology

453-00059RBuy Now
Integrated Antenna
Bulk
Nordic nRF52833 WLCSP
2480

MHz

2402

MHz

UART, GPIO, ADC, PWM, PDM, FREQ output, I2C, SPI, NFC, USB
smartBASIC, Zephyr, Nordic SD, AT Commands
Tape/Reel
Embedded Module
Hostless
Bluetooth 5.1

453-00060RBuy Now
Trace Pin
Bulk
Nordic nRF52833 WLCSP
2480

MHz

2402

MHz

UART, GPIO, ADC, PWM, PDM, FREQ output, I2C, SPI, NFC, USB
smartBASIC, Zephyr, Nordic SD, AT Commands
Tape/Reel
Embedded Module
Hostless
Bluetooth 5.1

453-00059CBuy Now
Integrated Antenna
Bulk
Nordic nRF52833 WLCSP
2480

MHz

2402

MHz

UART, GPIO, ADC, PWM, PDM, FREQ output, I2C, SPI, NFC, USB
smartBASIC, Zephyr, Nordic SD, AT Commands
Cut Tape
Embedded Module
Hostless
Bluetooth 5.1

453-00060CBuy Now
Trace Pin
Bulk
Nordic nRF52833 WLCSP
2480

MHz

2402

MHz

UART, GPIO, ADC, PWM, PDM, FREQ output, I2C, SPI, NFC, USB
smartBASIC, Zephyr, Nordic SD, AT Commands
Cut Tape
Embedded Module
Hostless
Bluetooth 5.1
Development Kits
Additional Description

USB-SWD Programming Kit: Includes mainboard, TC2050-IDC Tag Connect cable, 10-pin flat IDC cable, 1.2 m USB cable, and 2-pin jumper
Certified Antennas
FlexPIFA / FlexPIFA 6E Flexible Adhesive-Backed PIFA Internal Antennas

mFlexPIFA Flexible Adhesive-Backed PIFA Internal Antenna
Become a Laird Connectivity Customer and Gain Exclusive Access to Our Design Services Team
Antenna Scans
Antenna selection and placement
Custom antenna design
Worldwide EMC testing / certifications
Embedded RF hardware / firmware design
Cloud architecture and integration
Mobile application development
Product & Industrial Design
Distributors
Distributor
Phone Number
Region
Website

Alpha Micro

UK Only

+44 1256-851770

EMEA
Website

Arrow Electronics

1-855-326-4757
+44 2039 365486

APAC, North America, South America, EMEA
Website

Avnet

1-480-643-2000
+44 1628 512900

APAC, North America, South America, EMEA
Website

Braemac

Australia, New Zealand, South East Asia

+61 2 9550 6600
+64 9 477 2148

APAC
Website

Cal-Chip Connect

1-215-942-8900

North America
Website

DigiKey

1-800-344-4539

North America, South America, APAC, EMEA
Website

EBV Elektronik

EMEA
Website

Farlink Technology

China, Hong Kong

+86 13266922199

APAC
Website

Farnell

1-800-936-198
+44 3447 11 11 22

EMEA
Website

Future Electronics

1-800-675-1619
1-514-428-8470

North America, South America, APAC, EMEA
Website

Glyn

+49-6126-590-0

EMEA
Website

Jetronic

China, Hong Kong and Taiwan

852-27636806 

APAC
Website

Laird Connectivity

1-847-839-6925
+44 1628 858941

North America, South America, APAC, EMEA
Website

M2M Germany

+49-6081-587386-0

EMEA
Website

Martinsson

+46 8 7440300

EMEA
Website

McCoy

South East Asia

+65 6515 2988

APAC
Website

Mouser

1-800-346-6873
+44 1494 427500

North America, South America, APAC, EMEA
Website

RS Components

+852-2421-9898
+44 3457-201201

North America, South America, APAC, EMEA
Website

Ryoyo

Japan

+81-3-3543-7711

APAC
Website

Solsta

UK Only

+44 (0) 1527 830800

EMEA
Website

Supreme Components International

India, South East Asia

+65 6848-1178

APAC
Website

Symmetry Electronics

1-866-506-8829

North America
Website

Tekdis

Australia and New Zealand

+61 3 8669 1210

APAC
Website

Telsys

+972 3 7657666

EMEA
Website

WPG

+44 1628 958460

EMEA
Website