Leveraging Next Generation Wi-Fi 6 For Your Embedded Applications
Published on November 8, 2021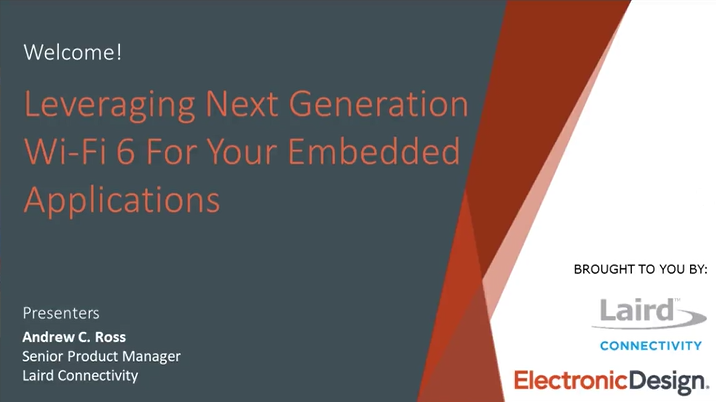 The focus of the presentation will be around the features introduced to the connectivity space by Wi-Fi 6 and how they can be leveraged in the embedded electronics space. Wi-Fi 6 has been promoted as the next generation Wi-Fi technology, bringing higher data rates to the connectivity markets; however its greatest contribution is the enhanced efficiency it brings to connectivity. We will review how this efficiency applies to and can be leveraged by embedded applications.
Topics that will be discussed are:
Improved link rate support and higher QAM
Low latency feature
Increased device density and station capacity
Enhanced low power modes
6GHz spectrum availability
Wi-Fi 6 device profile
Speaker
Andrew C. Ross
Senior Product Manager
Laird Connectivity

Andrew is a Senior Product Manager at Laird Connectivity, responsible for the Infineon based Wi-Fi and IoT Cellular products. He joined Laid Connectivity in April of 2021 and is part of the global Product Management team.

Andrew started as Director of Technology at DPAC, focusing on advanced packaging and device stacking technologies; he holds several patents in this area. He shifted his focus to embedded Wi-Fi during the 1990s, while at DPAC, and has held technical and support positions at several companies including Quatech, Advantech B+B SmartWorx, and most recently at Silex Technology where he was a Global Product Manager for their Wi-Fi product line.

Andrew is based on the West Coast of the US.