Nitrogen8M Plus SMARC® System-On-Module Combining Powerful NXP Edge Processing with Wi-Fi 5 and Bluetooth 5.2 Connectivity
Published on March 30, 2023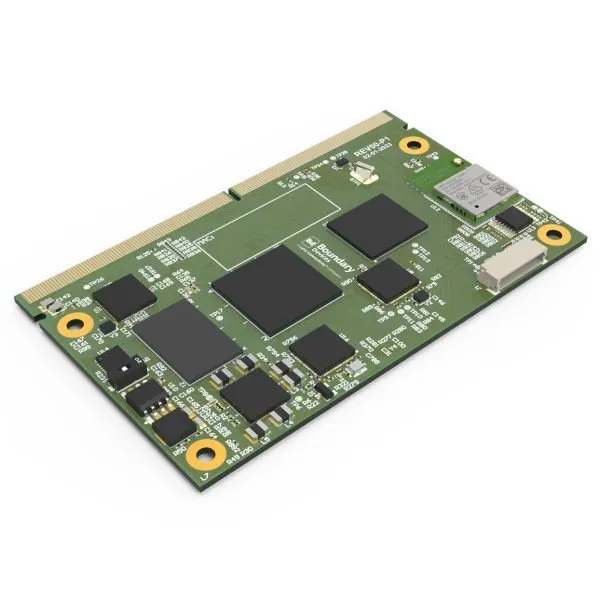 Akron, Ohio – March 30, 2023 – Laird Connectivity, a global leader in wireless technology and Boundary Devices, leading supplier of NXP's i.MX based SOMs, announce the Nitrogen8M Plus in a smart mobility architecture (SMARC) form factor, the first product in our system-on-module (SOM) portfolio conforming to the SMARC industry standard.
The Nitrogen8M Plus SMARC is powered by NXP's innovative i.MX 8M Plus applications processor, NXP PMIC PCA9450, and Laird Connectivity's Sterling™-LWB5+ Wi-Fi 5 & Bluetooth 5.2 combo radio module based on Infineon's CYW4373E silicon. This high-performance SOM, when combined with the new SMARC carrier/development board, together serve as a single board computer (SBC) that can significantly speed customer products to market.
"The Nitrogen8M Plus SMARC is our first integrated product that delivers Boundary Devices' SOM and NXP i.MX processor expertise with Laird Connectivity's wireless capabilities," said Dan Kephart, Senior Product Manager, Laird Connectivity. "Available in the SMARC 2.1 form factor, this product provides a secure, smart, standardized, and connected IoT solution that easily scales with customer's applications."
Powered by NXP's i.MX 8M Plus, the Nitrogen8M Plus SMARC is an ideal solution for powerful heterogenous multiprocessing, delivering a versatile, power efficient up to 1.8 GHz quad-core Cortex-A53 microprocessor and 800 MHz Cortex-M7 microcontroller that allow customers to run Linux and an RTOS on dedicated, hardware-firewalled subsystems. Customers can leverage hardware acceleration with high-performance edge machine learning via an integrated neural processing unit, delivering up to 2.3 TOPS. Multiple display, network, data, audio, and camera interfaces are also available.
Leverage the SMARC 2.1 standard edge connector form factor of 82mm x 50mm, which includes onboard ethernet PHYs and a USB hub controller. One design can support multiple processor, memory, and wireless configurations. Build a product design that can easily be upgraded to the latest processors and wireless options using other Boundary Devices SOMs based on the SMARC standard.
The Nitrogen8M Plus SMARC is ideal for a broad range of applications, including harsh, industrial IoT rugged handheld devices, industrial IoT gateways, IoT vision solutions, and healthcare devices. It supports a robust, secure, and optionally encrypted boot mechanism to ensure only trusted software boots on your device. Optionally store and use secure keys, certificates, and credentials in a run-time isolated trusted environment.
Boundary Devices products are specifically designed to meet the needs of the industrial and medical markets, which typically require a 10+ year product lifecycle. Software support includes Yocto Linux, Android, Zephyr RTOS, and FreeRTOS. Long-term software support includes LTS Yocto Linux and Zephyr RTOS support with vulnerability remediation.
For more information about the Nitrogen8M Plus SMARC, visit: www.boundarydevices.com/product/nitrogen8m-plus-smarc
About Boundary Devices, a Laird Connectivity Company
Boundary Devices a Laird Connectivity Company is a pioneer and leader in providing innovative SOM and SBC products that serve a diverse and global customer base across high-growth end markets, including IoT, commercial equipment, laboratory instruments, and industrial automation. Boundary Devices provides a one-stop-shop destination for customers seeking a total-solutions partner able to offer: hardware design for NXP® Semiconductors i.MX applications processors, software development, U.S. based manufacturing, and integration, all backed by best-in-class engineering and customer support.
Boundary Devices is a gold partner of the NXP Partner Program.
About Laird Connectivity
Laird Connectivity simplifies wireless connectivity with market-leading RF modules, System-On-Modules, internal antennas, IoT devices, and custom wireless solutions. Our products are trusted by companies around the world for their wireless performance and reliability. With best-in-class support and comprehensive product development services, we reduce your risk and improve your time-to-market. When you need unmatched wireless performance to connect your applications with security and confidence, Laird Connectivity Delivers – No Matter What.
Laird Connectivity is a gold partner of the NXP Partner Program.