Laird Connectivity Launches Antenna Selector Tool for RF Products
Published on May 29, 2020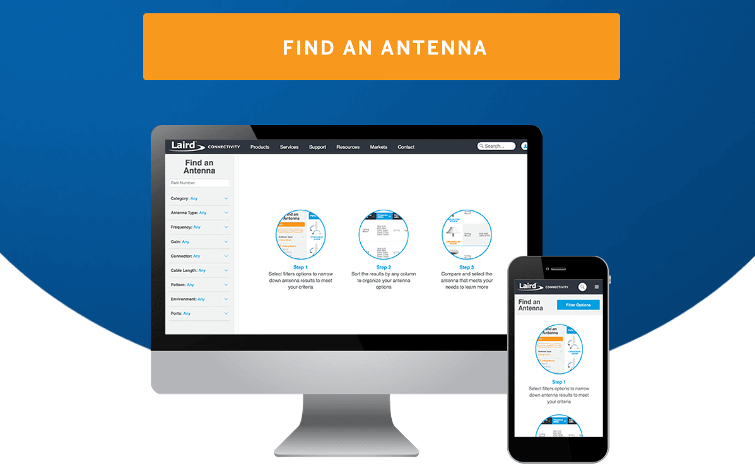 Akron, Ohio – May 28, 2020 – A global leader in wireless technology, Laird Connectivity has announced a new industry-leading parametric selector tool for RF antenna products. Using this antenna selector tool, customers can quickly and accurately find the right antenna for their project by searching with criteria such as single-frequency and multi-frequency ranges, cable types, cable lengths, and connectors. The selection can also be made based on the market categories of Wi-Fi, Bluetooth, cellular, GNSS, GPS, IoT, M2M, and public safety – giving users a precise way of finding the best solution for their design specifications.
The Laird Connectivity antenna selector tool utilizes criteria that enable users to narrow search results according to the type of implementation. For example, antennas suitable for use cases such as portable handheld devices, mobile vehicle mount implementations, fixed infrastructure implementations, and more. The Laird Connectivity antenna selector tool also includes filters to narrow results by key performance features such as gain, omnidirectional or directional radiation patterns, environmental requirements, and the numbers of ports – key criteria that engineers factor into antenna selection.
This new selector tool also makes it efficient to sort and analyze results by specific features among multiple search criteria.
"Laird Connectivity's new selector tool provides a fast and convenient method for searching a database of 1,500 antennas with an intuitive drop-down menu of key RF antenna features," said Gordon Barber, Laird Connectivity's Director of Product Management. "The results can display in an easy-to-read table, including on mobile devices, for quick antenna searches on the move. This tool helps find the exact antenna needed faster than ever before."
The Laird Connectivity antenna selector tool is available on mobile and desktop platforms via a web browser at www.lairdconnect.com/rf-antennas/find-antenna. For a webinar demonstrating how to use the antenna selector, visit https://www.lairdconnect.com/resources/webinars/quick-guide-using-our-find-antenna-tool.  
About Laird Connectivity
Laird Connectivity simplifies wireless connectivity with market-leading modules, antennas, IoT devices, and customer-specific wireless solutions. Our products are trusted by companies around the world for their performance and reliability. With best-in-class support and comprehensive product development services, we reduce your risk and improve your time-to-market. When you need unmatched wireless performance to connect your applications with security and confidence, Laird Connectivity Delivers – No Matter What.
For the latest news or more information, visit:
lairdconnect.com| twitter.com/LairdConnect | facebook.com/LairdConnectivity| linkedin.com/company/lairdconnectivity