Laird Connectivity Extends Global Partnership with Silicon Labs Announcing the Lyra 24 Series
Next Generation Bluetooth LE for Advanced IoT Device Development
Published on May 25, 2023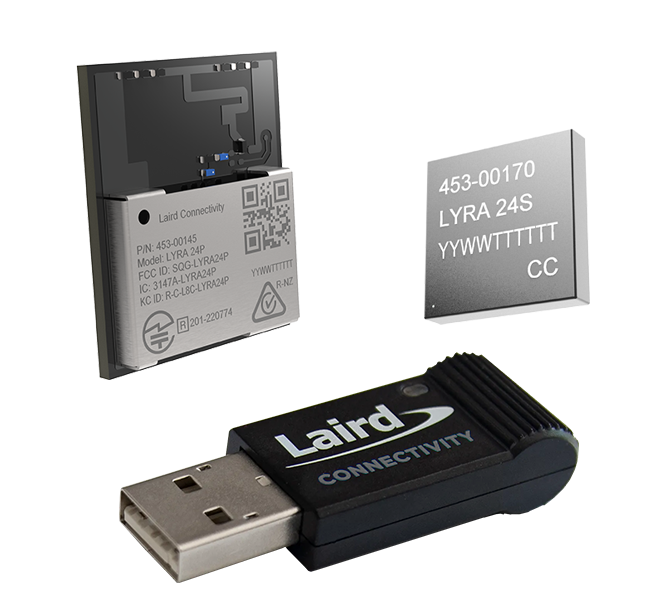 Akron, Ohio – 25 May 2023 – Laird Connectivity, a global leader in wireless technology, today announces a new addition to its Bluetooth portfolio through the extended development partnership with Silicon Labs. The upcoming Lyra 24 Series of flexible Bluetooth Low Energy (LE) modules, USB adapters, and development kits delivers significant feature and performance enhancements ideally suited for scalable, next generation Bluetooth LE development.
The Lyra 24 Series marries all the benefits of Silicon Labs hardware, software, and tools offerings with Laird Connectivity's added value application software, services, certification, and support capabilities. This seamless partnership continues to provide customers with multiple software development options suited to their resources and skillsets in Bluetooth LE-enabled product development.
Based on Silicon Labs EFR32BG24 SoC, the Lyra 24 Series delivers on the silicon's key features including a powerful Cortex-M33 with 1,536 kB Flash and 256 k RAM, Bluetooth 5.3 connectivity, Secure Vault High, AI/ML hardware accelerator, high sensing ADCs and an extended industrial temperature rating.
"We are pleased to continue our partnership with Silicon Labs by expanding on the successful Lyra Series, bringing major performance and feature enhancements to our portfolio with the new Lyra 24 Series," says Jonathan Kaye, VP of Product Management, Laird Connectivity. "Together through this partnership, customers can scale up their Bluetooth LE design for tomorrow's connected world."
From a software perspective, the Lyra 24 Series allows customers to choose from two firmware options for their application development, supporting either hosted or hostless operation. This includes Laird Connectivity's AT Command Set, developed from years of extensive Bluetooth LE experience and easily portable from original Lyra implementations. The extensible AT option provides a robust, simple, easy to use firmware for any customer regardless of their Bluetooth LE expertise or host MCU. Alternatively full SDK and stack access for C code development with integrated support for Lyra 24 devices is included in Silicon Labs' Simplicity Studio IDE.
"Partnerships with Laird Connectivity help to expand the usability and simplify the development process for our users," says Anders Pettersson, Director of Mass Market at Silicon Labs. "Our goal is to make it so developers can use the tools they're comfortable and familiar with to build cutting-edge IoT applications on Silicon Labs SoCs, and our partnership with Laird Connectivity is a key step in providing that to our customers."
The Lyra 24 Series is ideal for a broad range of battery-powered IoT device applications including professional lighting, asset tags and beacons, secure medical peripherals, and industrial IoT sensors. Modular FCC, ISED, EU, UKCA, MIC, KC and Bluetooth SIG approvals extend to OEM designs with no new testing, enabling faster time to market and reduced development risks.
For more information about the Lyra 24 Series, visit: www.lairdconnect.com/lyra-24-series
To learn more about Laird Connectivity, visit: www.lairdconnect.com
About Laird Connectivity
Laird Connectivity simplifies wireless connectivity with market-leading RF modules, internal antennas, IoT devices, and custom wireless solutions. Our products are trusted by companies around the world for their performance and reliability. With best-in-class support and comprehensive product development services, we reduce your risk and improve your time-to-market. When you need unmatched wireless performance to connect your applications with security and confidence, Laird Connectivity delivers – no matter what. For the latest news or more information, visit: lairdconnect.com | twitter.com/LairdConnect | facebook.com/LairdConnectivity| linkedin.com/company/lairdconnectivity