Laird Connectivity Combines Bluetooth LE and Ultra-Wideband (UWB) in a Seamless Solution for Proximity and Pinpoint Accuracy with the Sera NX040
Precise, Granular Positioning and Processing for Medical and Industrial IoT Devices
Published on September 21, 2023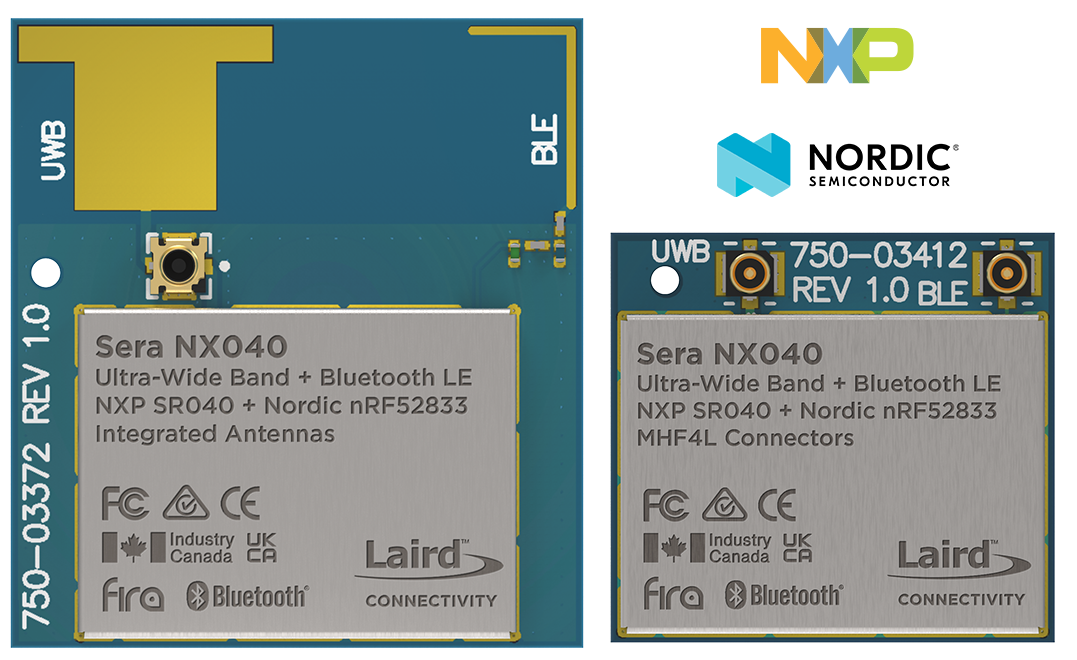 Akron, Ohio – 21 September 2023 – Laird Connectivity, a global leader in wireless technology, today announces the upcoming Sera NX040 ultra-wideband (UWB) and Bluetooth Low Energy (LE) product range. This lineup of new UWB modules seamlessly integrates the cutting edge Trimension™ SR040 chipset UWB silicon from NXP with the processing and Bluetooth LE capabilities of Nordic Semiconductor's nRF52833 system-on-chip (SoC). This innovative combination, paired with Laird Connectivity's added value hardware, software, and services, brings new possibilities for UWB to grow beyond consumer and automotive segments into mainstream IoT devices.
The Sera NX040 module is a UWB tag solution that allows developers to deliver granular locationing and positioning that yields much higher accuracy compared to RSSI-only proximity applications in industrial and medical environments. The module is optimized for battery-powered implementations and integrates additional memory, crystals, and components to simplify the overall BOM and drive down the cost of integration.
"The Sera NX040 is our flagship solution for UWB-based designs," says Jonathan Kaye, VP Product Management, Laird Connectivity. "It's our first module in a growing portfolio of multi wireless offerings designed to unlock the door for our industrial and medical customers to enable proximity and pinpoint accuracy capabilities to their next generation designs."
The Sera NX040 provides real added value hardware and software capabilities to accelerate the development of UWB/Bluetooth LE applications. The Sera NX040 has a rich feature set including tag-to-tag and tag-as-anchor UWB use cases and a compelling ranging toolkit with visualization and sample applications available. This is backed by further enablement tools including mobile apps for easy configuration and view of real-time tag status, and an AT Command set with host-side libraries for customers requiring a hosted architecture to an external MCU. Due to the integrated Nordic nRF52833, developers can implement totally hostless product architectures with support for the nRFConnect SDK or implement rapid firmware app development in Python with Laird Connectivity's on-module scripting engine.
The Sera NX040 is available in two variants, supporting either an integrated antenna or MHF4 connectors for external antennas. The latter variant comes pre certified with Laird Connectivity's upcoming NanoUWB family of internal antennas to further simplify customer integration and compliance requirements for UWB applications. All modules will be globally certified to reduce customers' barrier to entry, with pending certifications including FCC, ISED, CE, UKCA, MIC and Bluetooth SIG qualification.
For more information about the Sera NX040, visit: www.lairdconnect.com/sera-nx040-series
About Laird Connectivity:
Laird Connectivity simplifies wireless connectivity with market-leading RF modules, system-on-modules, internal antennas, IoT devices, and custom wireless solutions. Our products are trusted by companies around the world for their wireless performance and reliability. With best-in-class support and comprehensive product development services, we reduce your risk and improve your time-to-market. When you need unmatched wireless performance to connect your applications with security and confidence, Laird Connectivity delivers –no matter what.