Laird Connectivity Announces the BL5340PA Bluetooth 5.2 Module for Multi-Core, Multi-Protocol Long Range Bluetooth Connectivity
Published on February 22, 2023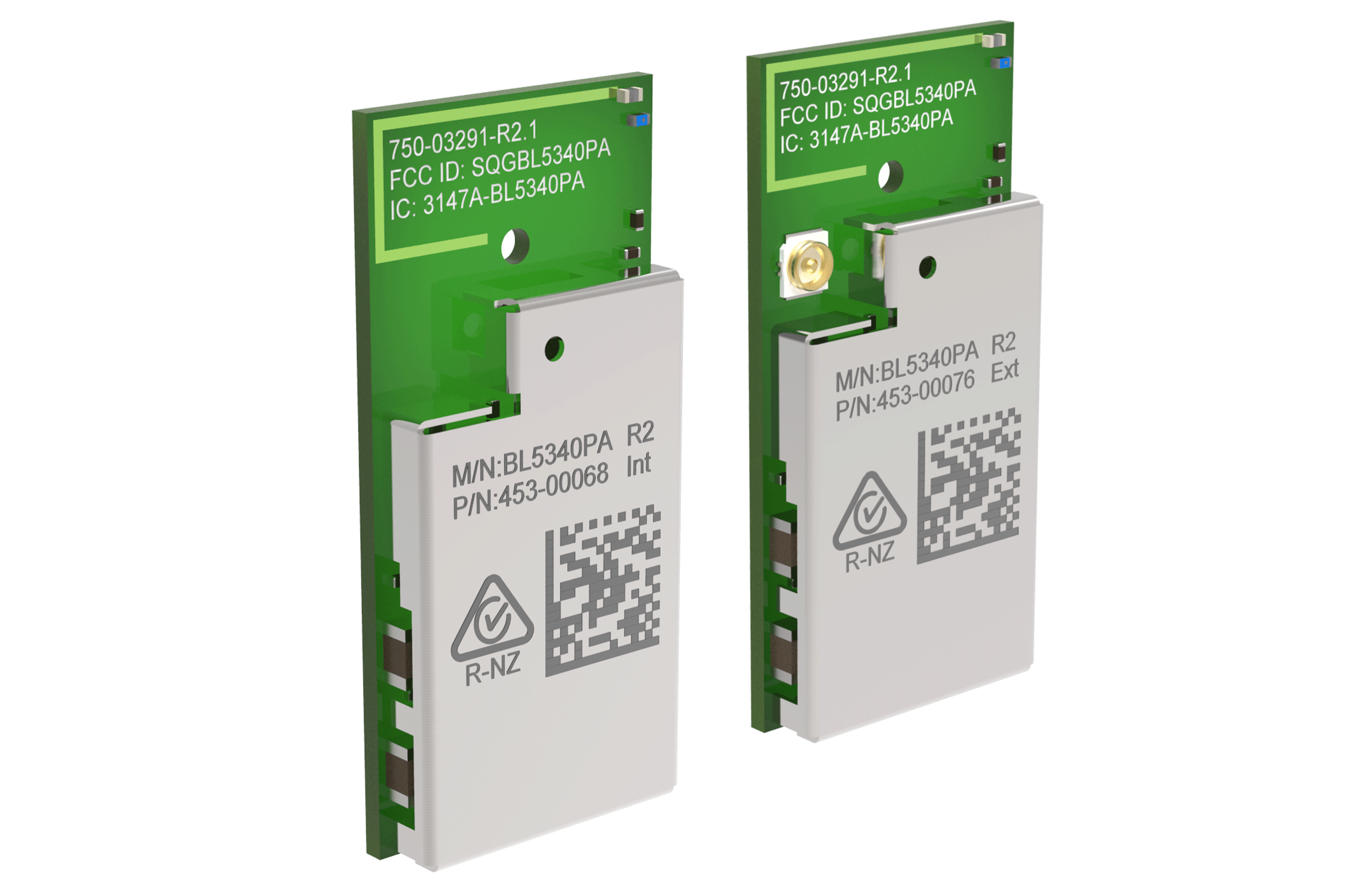 Akron, Ohio – 22 February 2023 – Laird Connectivity, a global leader in wireless technology, today announces the BL5340PA (Power Amplified) Bluetooth module series, their most advanced, secure, and highest performing dual core MCU architecture wireless solution available.
Based on the Nordic Semiconductor nRF5340 system-on-chip (SoC) and nRF21540 Front End Module (FEM), the BL5340PA series directly targets OEM customers requiring the longest range and highest MCU performance for their products' wireless connectivity needs. Adding the nRF21540 RF FEM improves the link budget and connection robustness and significantly increases wireless range versus only using the nRF5340 SoC. The partnering of the nRF5340 and nRF21540 together into a certified module enables a wide range of use cases including industrial predictive maintenance and long range LE Audio capabilities.
The dual core Arm® Cortex M33 microcontrollers enable developers to run a low-power core focused purely on wireless connectivity with a second higher performance core targeted for the end application itself. This further extends the multi-protocol capabilities of the product which include Bluetooth Low Energy (LE), 802.15.4 (Thread/Zigbee), and NFC. It's further enhanced with ARM CryptoCell-312 including trusted execution, root-of-trust, and secure key storage security features.
"The BL5340PA is unmatched in the industry, providing engineers with secure Bluetooth connectivity and extended range ideal for advanced IoT applications," said Jonathan Kaye, VP Product Management, Laird Connectivity. "The BL5340PA enables further progress to the IoT where the extended range on top of the capabilities of Bluetooth 5 are needed."
The BL5340PA brings out all the key nRF5340 and nRF21540 hardware features and capabilities including USB access, up to +18.5 dBm transmit power, and a true industrial operating range of -40 to 105°C. Modular FCC, ISED, RCM and Bluetooth SIG approvals extend to an OEM's design with no new testing, enabling faster time to market and reduced development risks.
For more information about the BL5340PA, visit: www.lairdconnect.com/bl5340pa-series
About Laird Connectivity
Laird Connectivity simplifies wireless connectivity with market-leading RF modules, System-On-Modules, internal antennas, IoT devices, and custom wireless solutions. Our products are trusted by companies around the world for their wireless performance and reliability. With best-in-class support and comprehensive product development services, we reduce your risk and improve your time-to-market. When you need unmatched wireless performance to connect your applications with security and confidence, Laird Connectivity Delivers – No Matter What.