Laird Brings Bluetooth v4.2 Dual-Mode Connectivity to Updated Line of HCI Modules
Published on October 12, 2017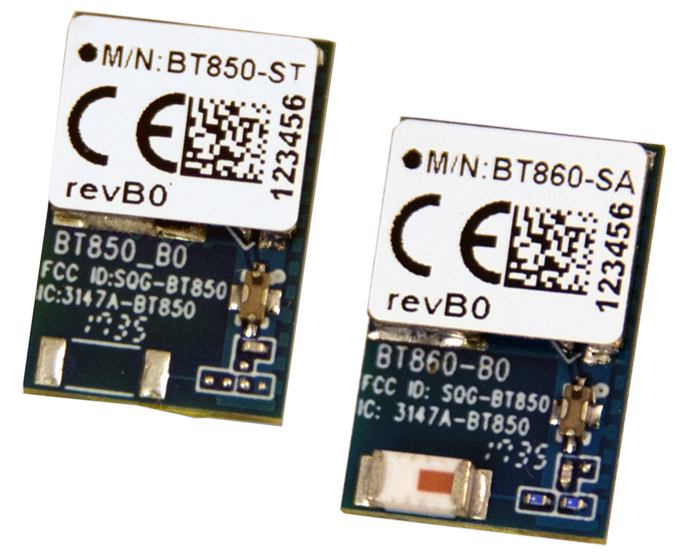 LONDON – Global technology leader Laird (LRD: London) has announced a significant new line of Bluetooth-qualified Class 1 HCI modules for rapid enablement of Bluetooth technology into OEM devices.
The new BT850, BT851, and BT860 series complements Laird's original BT8x0 series of Dual-Mode Bluetooth v4.0 modules. This next-gen series brings support for the Bluetooth v4.2 BR/EDR/LE core specification in Classic Bluetooth and Bluetooth Low Energy (BLE), and is equipped with market-leading silicon from Cypress Semiconductor.
The BT850 and BT860 Series build on the success of the original BT8x0 line of modules, giving OEM customers more options and flexibility for using the enhanced throughputs and security benefits in the Bluetooth v4.2 specification to their end devices.
Leveraging the market-leading Cypress chipset, CYW20704 A2, these new small form factor devices integrate all the required RF components for a complete design with full RF and regulatory certifications, while still providing design flexibility for customers to implement options such as USB (BT850) or UART (BT860) host interface, or integrated versus external antenna implementations.
The BT851 USB dongle rounds out the portfolio, providing OEM's and Bluetooth system providers a simple external plug-in option for enabling their operating system-enabled devices with robust Bluetooth v4.2 connectivity.
Today, there are billions of wirelessly connected devices, and that number continues to grow. Laird is at the forefront of deploying certified module solutions for any stage of Bluetooth development, which enables customers to better address the requirements of their specific application.
The addition of Bluetooth 4.2 to Laird's HCI module portfolio provides pin-to-pin compatible solutions with enhanced security, including AES-128, Diffie-Hellman pairing, and link layer privacy. This enables customers to easily develop smart, secure, and power-conscious devices for a greater number of IoT deployments or easily upgrade from original BT8x0 designs without any footprint, or hardware changes.
"The BT850 and BT860 Series modules are designed to remove complexity and accelerate development time," said Scott Lordo, senior vice president of Laird's Connectivity business segment. "Our new hardware takes advantage of new silicon from Cypress to provide Bluetooth v4.2's enhanced low energy features, allowing customers to get started quickly and go to production faster, producing sophisticated, secure, and intelligent designs."
Taking full advantage of Cypress' innovative chipset technology, the BT850 and BT860 Series offers superior and secure RF performance ideal for IoT applications.
For maximum flexibility in systems integration, the modules are designed to support a USB or UART host interface, additionally I2S and PCM audio interfaces plus GCI coexistence (2-Wire).
These Laird devices also provide native support for Windows, Linux and Android Bluetooth software stacks. All Laird products are fully qualified by the Bluetooth SIG as a Hardware Controller Subsystem, which allows designers to integrate their existing pre-approved Bluetooth Host and Profile subsystem stacks to simply and easily gain Bluetooth approval for their products.
"The CYW20704 A2 single chip Bluetooth transceiver and baseband processor from Cypress is the ideal wireless core for Laird's new range of Bluetooth v4.2 HCI modules for robust, reliable Bluetooth enablement of high performance Internet of Things applications," said Andrew Hunter, Senior Director of Marketing, Cypress Semiconductor.
"Laird's USB and UART module variants based on our CYW20704 A2 silicon will provide OEMs with the flexibility to support both Classis Bluetooth and BLE support whilst leveraging the throughput, security and privacy enhancements of BTv4.2, all from a single, low power IC," Hunter added.
The BT850 and BT860 Series join Laird's rapidly expanding portfolio of embedded wireless modules. Paired with comprehensive IoT product design and development capabilities from strategy through production, Laird is a trusted partner for customers looking to create wireless innovations quickly to succeed in the market.
Engineering samples of all BT850, BT851, and BT860 devices are now available. Modules and kits are expected to be commercially available in January 2018, with all stated RF certifications. A fully featured low-cost developer's kit is available for prototyping, debug, and integration testing for each module variant.
For more information about Laird's BT850, BT851 and BT860 series, CLICK HERE.
For more information about Laird Connectivity, CLICK HERE.
About Laird
Laird is a global technology company focused on providing systems, components and solutions that enable connectivity in mission critical systems through wireless applications and antenna systems, and that protect electronics from electromagnetic interference and heat.
Its products are supplied to all sectors of the electronics industry including automotive, rail, industrial, medical, telecom/computing, and the mobile device markets.
Laird employs nearly 9,700 employees at 48 locations, including 20 engineering and manufacturing facilities, 18 research and design centers, and 10 sales and administrative offices, in 19 countries worldwide.
For the latest news or more information, visit:
Lairdtech.com | twitter.com/lairdtech | facebook.com/lairdtech | linkedin.com/company/laird-technologies
Trademarks
© 2017 All rights reserved.  Laird, Laird Technologies and the respective logos are trademarks owned by Laird Technologies, Inc. and/or Laird PLC, either directly or indirectly through one or more subsidiaries. Other products, logos, and company names mentioned herein, may be trademarks of their respective owners.