The Women of Laird Connectivity: Celebrating Our Women in Tech for International Women's Day
Laird Connectivity values celebrating diversity, inclusion, empowerment, and collaboration. Here's some of the women of our company in their own words on what it means to be a woman in tech.
Published on March 7, 2023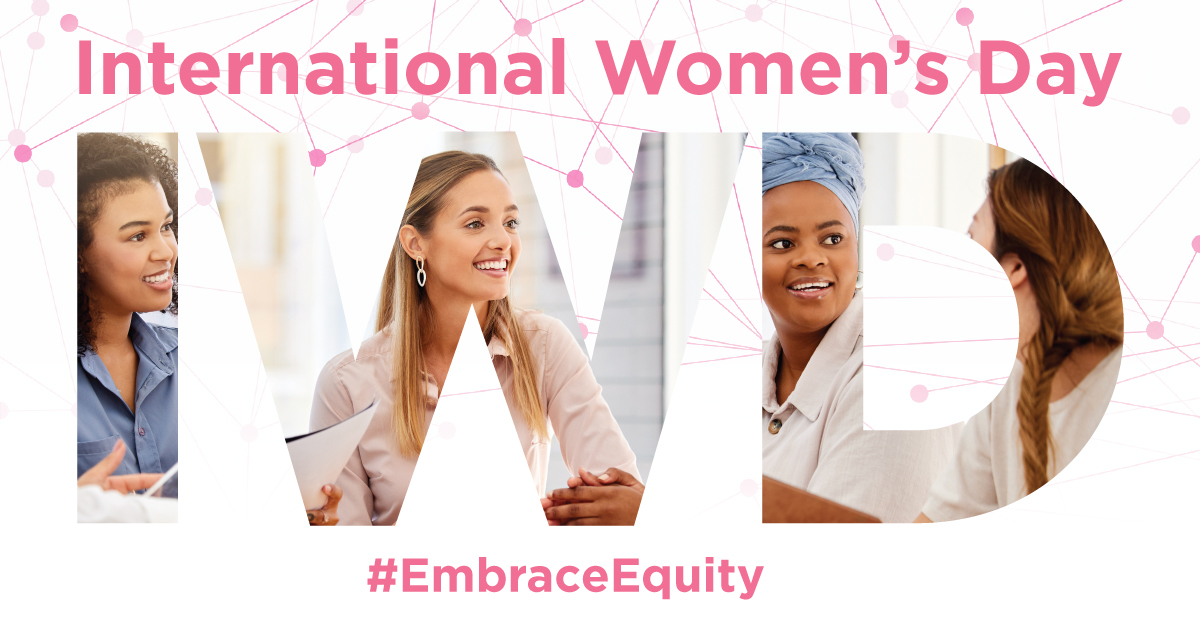 Making a Global Impact – The Women of Laird Connectivity
March 8 is International Women's Day (IWD), a celebration of the accomplishments and contributions of women in communities and workplaces around the world. Additionally, IWD is an opportunity to raise awareness of issues facing women, call for positive change, and to raise funds for charities that support women globally.
The 2023 theme for International Women's Day is #EmbraceEquity, a focused campaign that aims to raise awareness that equal opportunities are only part of the story for women's advancement. 2023's IWD aims to encourage the world to remember that we can all advocate for equity – in our homes, in our schools, in our places of work. When we challenge the status quo in our own personal lives, we help create a better environment for the future, one that stands for equity for women and fosters a better, more diverse, more inclusive world.
The tech industry is a critical piece of the architecture of that future. The rapid development, advancement, and deployment of new technologies around the world creates possibilities that never existed before. Technology drives better healthcare, better safety infrastructure, better access to information and communication, greater efficiency, and improved outcomes for all. Laird Connectivity is proud to be a part of this movement, and the women of Laird Connectivity are indispensable contributors to our mission.
The tech industry is, however, uniquely challenged in this regard. Women continue to be underrepresented in tech (estimates place women's representation in the industry in the approximately 25% range to this day). By some measures, the number of women in tech has actually fallen slightly in recent years. For this reason, it's even more important for us to reflect on the contributions of women in our company, the value of increased diversity in our workplace, and the ways our industry has changed over the years.
In this conversation, we'll speak with five women in Laird Connectivity (and our newly acquired business, Boundary Devices) in four locations across three continents in diverse roles such as production, sales and marketing, and project management. We'll showcase some of the women of Laird Connectivity and Boundary Devices in photos. We'll also discuss with our panel what IWD means in their lives, what biases they encounter in the industry, what they love and what motivates them in their careers, and the unique perspectives that women bring to our exciting field.
Tech Talk
Our panel:

Elaine Baxter
Director, Marketing
Wooburn Green, England, UK


Jessica Yang
Production Supervisor
Lake Forest, CA, USA


Jen Sarto
Chief Revenue Officer
New Jersey, USA


Maggie Teng
Program Manager
Zhubei, Taiwan


Asya Abullaeva
Director of Operations
Lake Forest, CA, USA
Interviewer: What does International Women's Day mean to you?
Elaine Baxter: I see it as a day to celebrate women globally from every culture and what we have achieved. Take stock. Take notice. Call it out. And it's also a focal point globally to continue to bring attention on the topics and challenges women face today: lack of freedom, discrimination, violence, abuse, inequality, and more. There is much more to do.
Asya Abdullaeva: For me, as for many, IWD is time to recognize all courageous and incredible women and to reflect on all past historical achievements. It is a reminder that we are limited only by the size of our dreams.
Jen Sarto: International Women's Day is an opportunity for us all to pause and think about what women contribute to technology advancements. It's also a day that forces us to think about gaps and hurdles that are in the way of advancing women in tech, whether put there intentionally or unintentionally.
Interviewer: What first sparked your interest in working in the tech industry?
Jen: Math! I love math and physics. I had a wonderful physics teacher in high school that introduced me to the idea of getting an engineering degree. My father was a chemist, so math and science were a big part of my childhood.
Maggie Teng: It was a suggestion from my roommate at the time who was doing R&D in laptop design. I was told I have the program manager personality. Shortly after, in 2003, I started my program management career in Wi-Fi technology.
Jessica Yang: My father showed me how to put computers together and play video games when I was younger. I developed a huge passion for technology because of it.
Some of the women of Laird Connectivity, in photos:


Laird Connectivity – Zhubei, Taiwan


Laird Connectivity – Cedarburg, WI
Interviewer: How much do you think the industry has changed since you joined?

Maggie: It's changed in a big way. And it never stops.
Jessica: A lot! I work with excellent female colleagues every day.
Asya: Women are still underrepresented in the technology workforce, especially when it comes to leadership roles. However, I am happy to see a lot of the progress the tech industry has made in recent years with numerous new initiatives in the industry that aim to promote a diverse and inclusive work environment.
Elaine: The tech industry has changed so much in the past 30 years, it is so much more part of our lives today, which we take for granted. It is everywhere – laptops, sports watches, home energy monitors, electric vehicles, robotics, gaming, apps, internet storage, renewable energy, patient monitoring, building technology, software, app development, food transportation and monitoring, hardware, software, materials, science, the list is endless. Our mission at Laird Connectivity is creating the technologies that enable the future: smart cities, Bluetooth broadcast audio, predictive maintenance for machinery, and better healthcare. It's incredible to be a part of an industry which is changing so quickly. Why would you not want to be part of this?
Interviewer: Why do you think it's important for more women to join the tech industry? And what advice would you give to women entering the tech industry?
Maggie: Men and women are different. I find women to be more careful and to notice the details.
My advice to women starting out would be this: It is great to follow technology and your career, but you should still expect and enjoy a healthy work life balance. Our kids are growing up while we are burying ourselves in our job – that is not right. Don't forget family; make time to play with the kids and don't get lost in work.
Asya: I believe that gender underrepresentation in certain industries limits the range of perspectives and diversity of ideas. The tech industry has historically been male dominated. Considering how important a role technology plays in shaping society and our daily lives the increasing number of women could help address gender inequality issues and create a more inclusive and harmonious world.
The tech industry is full of opportunities. It is innovative and constantly evolving. More women should join the industry to enjoy endless opportunities for growth and impactful career. I would advise all women entering the industry to speak up and share their ideas and opinions. There is always a demand for skilled professionals. Don't take rejections personally, and don't be afraid to take on leadership roles.
Elaine: It's important because the contribution and views in the tech industry should be representative of our society. Tech should have the benefit of this diversification in the views and attitudes inside companies and within the projects themselves.
My advice? Don't put any barriers in your own mind. Learn, progress and aim high. Drive the technology for the future, get involved, have fun. Don't put up with any bias you come across, and support change with a positive attitude. And teach your kids the same – girls and boys! Be determined and confident and be yourself. Bring your energy and characteristics to tech.

Laird Connectivity – Wooburn Green, UK /
Munich, Germany


Boundary Devices – Lake Forest, CA
Interviewer: How do you combat biases in the tech industry? What are the barriers to advancement in the tech industry for women and are they the same as when you started?

Jen : I don't see or think about biases against women on a daily basis. This does not mean they do not exist. The fact is there are still many more men than women in tech, especially in the industry I work in.
There has definitely been progress in the industry since I started. I recall on one of my first sales calls the client telling me I did a great job. He had great intentions, but I would bet he never would have told an older male that he did a great job. His expectations of me were low so when I impressed him, he had to point it out. I don't know if that happens today, but I would hope not.
Jessica: I have excellent role models that pave the way for advancement and encourage me to carve my own path. I try to be knowledgeable and adapt according to the requirements of my role. I see a lot of opportunities for myself and my colleagues, I think that we've come a long way in the last century!
Maggie: I work hard to earn the respect of my colleagues and to earn a good reputation.
One barrier is not having enough time to study and learn new technologies due to being busy with my kids and family.
Interviewer: What is your best leadership advice?
Jessica: Treat your colleagues the way you would want to be treated, with empathy and encouragement.
Asya: For me, leadership is about creating an environment where team members feel supported and encouraged to take ownership of their work. So, my leadership advice would be to stay open-minded and trusting. Provide your team members with the necessary level of autonomy supported by the resources they ask for to succeed. Promote the idea that no one is perfect, mistakes happen, but we are here to grow. Continuously reassess and improve. From my experience, it fosters an environment of transparency where the team is focused on progress vs. negativity and mistrust.
Jen: My advice is to give others the benefit of the doubt. Typically, people have good intentions and truly care but sometimes can act without thinking or can be misunderstood. If we all try to understand their intentions and perspective, we will learn and advance.
Interviewer: What motivates you every day?
Asya: I love being part of the industry making a global impact. Knowing that your work matters is the best motivator. It makes me feel a strong sense of responsibility to my team, company, family, friends, and community.
Elaine: Motivation is in many forms, and it can be different each day. Working with great people every day, getting things done (l like lists!), having faith, my family and friends, traveling to different parts of the world.
Jessica: Seeing our progress and reaching both short and long term goals is a huge motivator for me.
| | |
| --- | --- |
| Laird Connectivity – Akron, OH | |
Interviewer: In your career, what accomplishments are you most proud of?
Jessica: I'm very proud of both my own and the company's growth in these last 5-6 years. It's amazing what we have been able to accomplish. I'm very proud to have a leadership role, something I personally never thought I was capable of.
Asya: I am grateful for the opportunity I had to work on an In-House Production Project a couple of years ago. We had an amazing team that worked diligently to deliver a successful outcome and I am proud of what we achieved. There is always room for improvement, but I am grateful for the experience and what we were able to accomplish together since then by having our internal production.
Maggie: I'm proud of continuously being able to solve challenges against pressures of time and resources, to the satisfaction of the end customer.
Jen: I am mostly proud of my efforts helping develop my team and colleagues. I have learned a great deal in organizational design and how to develop individuals. I have made mistakes but have learned from those mistakes and turned them into successes. Helping people improve, but giving them the tools and training they need, getting them in the right role, or even just believing in them until they believe in themselves, is incredibly rewarding.
Elaine: I am proud to have led a business unit at Pulse Electronics through a successful company restructure, including significant investment in production automation, delivering YoY growth in revenue and profit concluding in the sale of the company. A great opportunity for me to collaborate with fantastic people. Today I am proud of the marketing department at Laird Connectivity and how we have developed and changed together through the past few years. The empowered team are generating thought leadership and technology-driven content on Wi-Fi 6E, BLE Auracast, ultra-wideband technology, and LoRaWAN, We help drive the company's objectives, educate customers, and bring emerging tech into clear focus.
Get Involved: A Message from Laird Connectivity
Laird Connectivity is focused on creating hardware and software solutions that leverage wireless connectivity to power the future. Our worldwide and diverse team consists of hardware engineers, software developers, testing and compliance experts, field application engineers, sales and support staff, and more .
We are proud to celebrate the contributions of the women of our company worldwide. This International Women's Day, we join in calling for not just equality but to #EmbraceEquity for women in all places and in all industries. We also call on women to join and take part in our fascinating industry, making a real impact around the world by driving better outcomes for everyone with smarter cities and smarter industries.
Find your place in tech. Be inspired. Get involved.
Learn more about us at https://www.lairdconnect.com. For more information on how to get involved with International Women's Day, visit https://www.internationalwomensday.com.