Recap of LSR's Webinar: Certification Testing when Designing with RF Modules
Published on May 26, 2016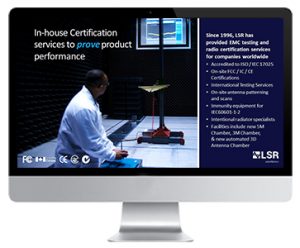 Missed our webinar? Not to worry. You can watch the recording of our Designing for Success: Practical Advice on Certification Testing when Designing with RF Modules presentation, here. Hosted by LSR, a Laird Business, the webinar features Tom Smith, Director of EMC Compliance. Throughout the presentation Tom explains the critical steps, costs, and pitfalls to watch out for when navigating the world of FCC, IC, and CE certification testing for products incorporating an RF module.
Certification efforts for RF products with modular approval can be confusing. To remove some of this confusion Tom provides real-world scenarios and covers important topics such as an overview of FCC, IC, and CE certification, leveraging full and limited certifications and approvals, as well as an industry update on upcoming ETSI EN 301 893 v1.8.1 and ETSI EN 300 328 v1.9.1. changes.
Click here to watch the full presentation. For questions, comments or feedback, contact wireless.webinars@lairdtech.com.