Philips Drives Connected Hospital with $225M Smart Hospital Deal
Published on December 2, 2015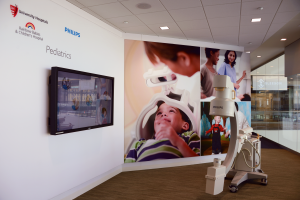 Throughout the past few years, we have learned how the idea of the Connected Hospital has rapidly transformed from a vision of the future into a reality. Hospitals are now focusing on providing the best quality of care to their patients while optimizing the workplace for doctors, nurses, and the overall healthcare industry. Looking forward, the next 20 years will include wirelessly connected hospitals that leverage wireless technologies to improve patient care and allow for easier accounting for healthcare providers. Wireless technologies like Wi-Fi and Bluetooth/ Bluetooth Low Energy (BLE) are setting the bar for patient safety, data accuracy, and mobility. These technologies produce a host of benefits to all involved in the healthcare industry that outweigh the challenges associated with connected healthcare.
Recently, Philips announced a $225 million 'smart hospital' deal with an existing as well as a new hospital in Ontario. According to Fierce Medical Devices' article, "As part of the deal, the hospitals and Philips will work to incorporate all manner of connected health technologies, as well as explore how to elicit patient data that can be used to improve clinical outcomes and reduce costs." The facilities will also get access to new medical technology, management, and maintenance in the next 18 years. This is a big move for the Healthcare industry and positions Philips as a top connected medical leader. The deal will allow Philips to offer systems interoperability, diagnostic imaging and equipment utilization, radiology practice management, patient-centric design, and alarm management offerings in the existing Mackenzie Richmond Hill Hospital and the future Mackenzie Vaughan Hospital, which is expected to be completed in 2019. The deal is just one example of the vision of the Connected Hospital coming to life.
The deal acts as an example of incorporating all components of connected health technologies that will allow patient data to be used for the benefit of clinical outcomes and reduced costs. Considered to be the largest deal of its kind in Canada, it will affect an estimated half-million patients and it only one of several existing hospital partnerships that Philips has been involved with in the past few months. According to the article, other plans include King's Daughters Medical Center in Kentucky along with the Dutch Catharina Hospital's cardiovascular center, and similar partnerships have been made with Westchester Medical Center Health Network in New York's Hudson Valley and Georgia Regents Medical Center in Augusta, Georgia.
The deals and expansions mentioned above are an example of how Connected Hospitals are becoming the global standard for healthcare technology. The use of Wi-Fi and Bluetooth/BLE in hospitals is increasing and creating greater experiences f
or both patients and healthcare providers. Connecting medical devices to secure wireless networks allows hospitals to integrate EHRs, prevent hospital readmissions, save the time of nurses, improve patient outcomes, and enable workflow automation. The possibilities of wireless technologies in hospitals are increasing and leading toward a better future in healthcare.
To learn more, visit the Connected Hospital webpage and don't forget to subscribe!