Now Available: Sentrius™ BT610 Long-Range Bluetooth I/O Sensor
Published on December 7, 2021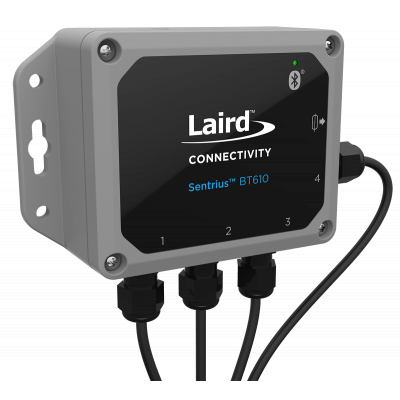 Gather and deliver robust, reliable sensor data wirelessly in harsh environments.
Now available as the IG60-BL654 + BT610 IoT Starter Kit! 
The Sentrius™ BT610 Long-Range Bluetooth I/O Sensor is now available! This new Bluetooth 5 sensor turns wired sensors into IP67-rated, battery-operated wireless nodes that provide robust and secure messaging. Powered by our BL654 Bluetooth module (Nordic nRF52840), the BT610 delivers full Bluetooth 5 capabilities for a wide range of remote monitoring applications.
Stand-out features include:
Full Bluetooth 5 features including LE Coded PHY (4x Bluetooth range)
Wide range of sensor input/output options
IP67-certified enclosure with pressure vent
Replaceable large-capacity battery
High-gain internal antenna with IPEX locking connector
Wide operational temperature range (-40º to +85º C)
Built on our experience developing the longest-range Bluetooth sensors
The BT610 hardware supports virtually any industry standard external sensor through its wide range of sensor interface options, including general purpose analog inputs, digital input/output, I2C, and SPI. 
New: IG60-BL654 + BT610 Starter Kit!
Our Sentrius™ IG60-BL654 + BT610 IoT Starter Kit contains everything you need to prototype thermistor-type temperature monitoring applications and move real-time data to the cloud. They include the following:
1x Sentrius IG60-BL654 Wireless IoT Gateway with global power supplies (optional LTE version adds LTE Cat 1)
3x Sentrius BT610 I/O Sensor – Long-range Bluetooth 5, configurable, battery power, IP67 rated
3x Thermistor cable assemblies – Connect to the BT610 for temperature sensing within -40°C to +125°C
Laird Connectivity's free AWS-based IoT monitoring platform
Sentrius IG Connect - iOS and Android mobile app for fast, in-field provisioning
Global AC and DC power adapters
Learn more here.