New Products: Sentrius IG60-BL654 Wireless IoT Gateways and BT510 Starter Kits
Published on March 25, 2020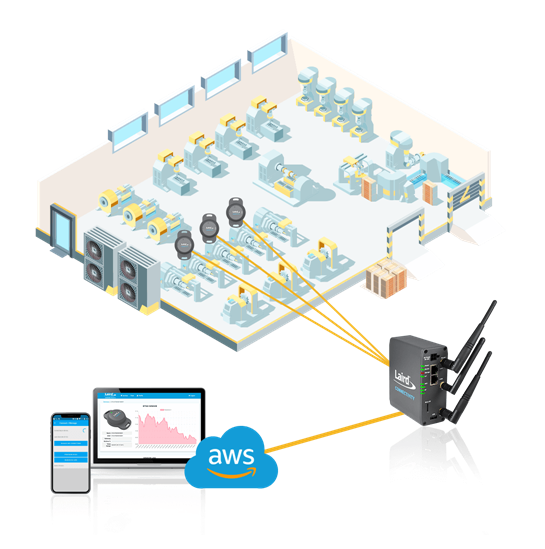 In Stock and Ready for Your IoT Project
The Sentrius IG60-BL654 is the latest wireless IoT gateway offering now available from Laird Connectivity. The IG60-BL654 combines Bluetooth 5 (Nordic nRF52840 silicon) with Laird Connectivity's enterprise-grade 60-Series Wi-Fi, allowing you to capture data from Bluetooth 5 sensors, add edge intelligence, and send to the cloud with 802.11ac 2x2 MU-MIMO Wi-Fi.
Stand-out features include: 
Full Bluetooth 5 connectivity 

Best-in-class enterprise Wi-Fi 

Software variants for the cloud-native or embedded expert

Complete security including hardware root-of-trust secure boot and updates

Global certifications 

Personal support and services
Start Your IoT Proof-of-Concept in Minutes
The Sentrius IG60 & BT510 Starter Kit is now in stock. This new product offering combines the IG60-BL654 gateway with three BT510 Bluetooth 5 multi-sensors to provide a quick and simple way to start evaluating your wireless IoT system.
The starter kit contains:
1x

Sentrius IG60-BL654 wireless IoT gateway with global power supplies

3x

Sentrius BT510 – Long-range Bluetooth 5 temperature, motion, and open-door sensors

Laird Connectivity's free

AWS-based IoT monitoring platform

Sentrius IG Connect

- iOS and Android mobile app for fast, in-field provisioning
Soon to join our growing family of IoT devices are the IG60-BL654-LTE and IG60-SERIAL-LTE. With Global LTE Cat 1 wireless connectivity with 3G and 2G fallback, this upcoming gateway is ideal for the harshest and remote IoT applications. The IG60-BL654-LTE will be available in a starter kit option which will include the Sentrius BT510 Bluetooth 5 sensors.