New Bundle Solution for BT and Wi-Fi Connectivity from Laird
Published on July 23, 2014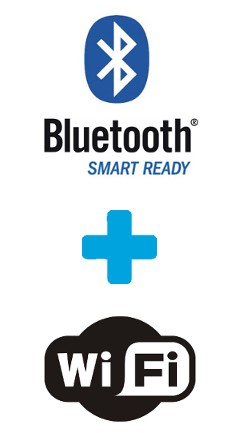 Today, Laird released the 45 Series Enterprise-Grade Wi-Fi modules and BT830 Series Bluetooth v4.0 HCI UART modules. Together the 45 Series Wi-Fi modules and BT830 BLE provide seamless integration of Bluetooth and Wi-Fi connectivity for enterprise and industrial applications, saving design engineers time while delivering secure and reliable connectivity. Key application areas for both the BT830 and 45 series modules reside predominately in enterprise and industrial markets, specifically AIDC devices, medical devices, barcode scanners, and M2M connectivity.
The BT830 Series module is a cost-effective Class 1 UART based BT v4.0 HCI module with complete RF and regulatory certifications. The BT830 series joins Laird's existing Dual Mode BTv4.0 HCI module portfolio (BT800 Series) and reduces OEM's time to market for high quality, high volume BT/BLE connectivity for OS backed devices. The BT830 series also comes equipped with Laird's new BooTpatch driver for Windows CE and Mobile platforms which simplifies and speeds product testing and integration for the OEM.
The 45 Series 802.11 a/b/g/n Enterprise-Grade Wi-Fi modules (MSD45N and SSD45N) support Linux and Android, offering enterprise security and roaming for both operating systems. The MSD45N and SSD45N allow for seamless integration of Wi-Fi connectivity, ease of use, and rapid time to market. The 45 series will also support Windows Embedded including Windows 6.0 and 6.5. The MSD45N module combines low-power 802.11 a/b/g/n with a complete software feature set, which is proven on mobile computers and other business-critical devices that operate in harsh environments. The SSD45N is a System in Package (SiP) Quad Flat pack, No leads (QFN) module that operates in unlicensed portions of the 2.4 GHz and 5 GHz radio frequency spectrum.
Laird is offering a bundle featuring the SSD45N and the BT830 for Embedded Windows (Windows CE/Mobile) operations. This combined solution is fully certified and enables OEMs to seamlessly integrate both modules into their chosen OS platform which simplifies development and accelerates time to market for proven Wi-Fi/BT/BLE combo architectures. In addition, each module can be integrated as stand-alone solutions if the OEM application just requires Bluetooth or Wi-Fi.
To learn more about the BT830 series and 45 series modules, visit:
http://www.lairdtech.com/Products/Embedded-Wireless-Solutions/SD45N-BT830