New BLE v4.2 + NFC Solution from Laird Enhances Security and Development for the EIoT
Published on July 20, 2016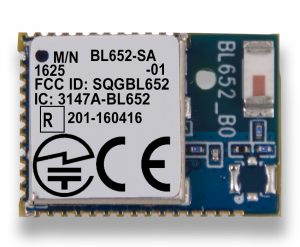 The Internet of Things (IoT) is one of the fastest growing sectors of the tech industry. In a short time, expectations from emerging IoT deployments have skyrocketed, and the world is now seeing an onslaught of new products from companies looking to capitalize on the rapid IoT adoption. Bluetooth® Smart (often referred to as BLE) is right in the center of this tidal wave for many reasons, including its low power consumption, ubiquity in mobile devices, small footprint, and lower development costs. The excitement surrounding the IoT is warranted, but the concept can be daunting for those responsible for designing the products. Recognizing this, Laird is pleased to announce our upcoming Bluetooth Low Energy (BLE) solution which helps integrate secure Bluetooth Smart capabilities into Enterprise IoT (EIoT) applications quickly while reducing engineering burden and technical risk.
Designed with the EIoT in mind, the BL652 builds on the expertise of the BL600 Series and years of experience working with Nordic to equip developers with a Bluetooth v4.2 solution that provides enhanced security and outstanding RF performance. The BL652 brings BLE and Near Field Communications (NFC) together in one module to provide additional industrial security to BT v4.2's major security upgrades of AES-128, Diffie-Hellman pairing, and link layer privacy.
Based on the class-leading Nordic nRF52 series, the BL652's ultra-small form factor, optimized low power schemes, and smartBASIC programming language provide a robust, stable, stand-alone Bluetooth environment for any embedded design. Laird's smartBASIC solution is a proven event-driven programming language that makes integration easier for all designers, especially those who may be new to Bluetooth Smart wireless technology. The programming language allows designers to leverage Laird's years of Bluetooth expertise and offers built-in functions that replace thousands of line of C code. It also acts as a bridge between software and hardware, which means that applications developed on other BL600 Series solutions can be ported over seamlessly to the new BL652.
In addition, the module boasts an industrial temperature rating and choice of an on-module antenna or a U.FL connector for external antennas. The module also contains Bluetooth 5 ready hardware and carries modular FCC, IC, CE, MIC, and Bluetooth SIG approvals covering multiple antenna listings, which can extend to your design with no new testing for the fastest route to production.
In terms of availability of this exciting new product, production quantities of modules and development kits for the BL652 Series are scheduled to be fully available in September 2016 through virtually all of our customers' preferred distributors. Laird will begin working with select customers immediately to successfully design the BL652 into their product applications.
For more information about Laird and the BL625, visit the BL652 product page.