Laird's BT900 Makes Headlines at International Trade Show
Published on December 16, 2014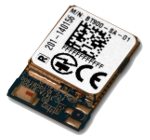 Laird BT900 Series Intelligent Dual-Mode Bluetooth Modules Featured at Electronica
In the eye of thousands of global decision makers, Laird made headlines at this year's Electronica trade show in Munich, Germany. The show exhibited over 70,000 visitors, including experts, engineers, designers and trade journalists within the electronics industry. At the show, Laird demonstrated its expertise in wireless communication for a multitude of industries and solutions.
Visitors to the Laird booth got an exclusive look at the latest Bluetooth innovation from the Embedded Wireless line, the BT900 Series—intelligent dual-mode modules for classic Bluetooth and Bluetooth Low Energy (BLE). The programmable module features Laird's innovative, event-driven smartBASIC programming language, which allows anyone to easily and quickly add wireless capabilities to their embedded device.
During the trade show, Wireless Design and Development Magazine cordially named the BT900 Series one of its "Top 10 Picks Best Wireless and RF Devices." If you were unable to make the show or visit Laird's booth, it's not too late to learn about the BT900 series! View the video below or visit www.lairdtech.com/BT900-series/ for more information.