Laird Wins ECN Impact Award for BT900 Series
Published on May 19, 2015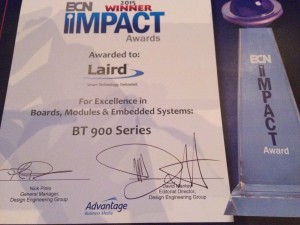 Last week, Laird's BT900 won an Electronic Component News (ECN) Impact Award for Excellence in Boards, Modules & Embedded Systems at the ECN Awards Ceremony held at the Mirage Resort & Casino in Las Vegas, Nevada. The annual ceremony recognizes products and services that shape the electronic components industry. Featuring quick, easy and affordable wireless freedom to devices throughout a range of industries, Electronic Component News selected Laird's BT900 amongst eight other companies.
The Boards, Modules & Embedded Systems category highlights the revolutionary embedded systems and computers that inhabit boards along with the modules and chassis that connect them together. Some of the products featured include standalone boards, modules, chassis and backplanes, I/O cards, board level controllers, single board computers, buses and interface boards, computer on modules, and memory.
"Laird is honored to receive the ECN IMPACT Award as it showcases the company's dedication to continuous innovation and reliable fulfillment of solutions for the complex wireless landscape of today," stated Laird's Senior Vice President of Embedded Wireless, Ron Seide.
Seide continued with "Laird developed a proprietary programming language for the BT900 series called smartBASIC, which allows manufacturers of medical, industrial, and commercial equipment to quickly and easily introduce wireless capabilities to their devices. This product series delivers a fully configurable balance of Radio Frequency performance, Bluetooth, Bluetooth Low Energy and power consumption making it a powerful tool for portable, power-conscious devices."
The smartBASIC language functions as a Bluetooth expert within the BT900 modules allowing for a simple programming process that assists engineers and designers with increasing initial development, creating prototypes, and producing end devices. This is due to the smartBASIC application capturing the entire end-to-end operation of reading, writing, and processing data without the need for any external processor.
To learn more about how the BT900 series can leverage your next endeavor, visit www.lairdtech.com/products/bt900-series.
Laird would also like to congratulate all of the other winners and thank ECN for the recognition. For a full list of the categories and winners, visit www.ecnawards.com.