Laird Article on BLE Security and Privacy Featured in EECatalog
Published on September 15, 2014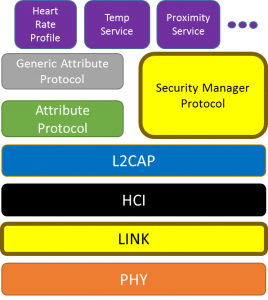 Bluetooth Low Energy security is implemented in both the Host Security Manager Protocol (SMP) and the Controller Link Layer.
An article written by Laird's Jennifer Gibbs was recently featured in EECatalog. Titled, "Increasing Wireless Security with Bluetooth Low Energy", the article goes into technical detail on the security and privacy capabilities of Bluetooth Low Energy (BLE).
The article serves as a technical guide to security and privacy for BLE. Highlighting the wireless technology's security and privacy offerings, the article helps developers understand how to best  leverage the latest BLE options for their application. Author Jennifer Gibbs writes, "A BLE offering that comes equipped with integrated security and privacy settings specifically designed for the enterprise network can mitigate security and privacy risks."
In addition to giving a detailed overview of BLE's security and privacy capabilities, the article also stresses the importance of choosing BLE modules carefully and notes the need to choose BLE modules with tested and proven security and privacy capabilities.
The full article can be found on EECatalog's website, here.
For more information on Laird's BLE offerings, visit our Bluetooth product page.