Key Takeaways of New Wireless Medical Devices White Paper
Published on March 4, 2015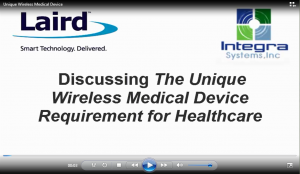 A new white paper, "The Unique Wireless Medical Device Requirement for Healthcare", written by David Hoglund of Integra Systems, will be available next Tuesday, March 10 at www.lairdtech.com/solutions/white-papers. Visit this page to sign up today to be one of the first to access the white paper!
Want to learn more about what to expect from the white paper before then? View the video below for an exclusive interview between Chris Downey, Product Director of Laird Embedded Wireless Solutions and the author, David Hoglund.
David has over thirty years of experience in the medical device space and offers his expert knowledge on the unique wireless requirements for medical devices and the challenges routinely faced. David and Chris discuss the inspiration for the white paper, trends, and challenges seen when trying to choose the right wireless solution for medical devices. What are the most common misconceptions about enabling wireless connectivity in medical devices? Who will benefit the most from reading this white paper? Hear David's answers to these questions and more by viewing the interview below!