Introducing the Pinnacle™ 100: Low-Power Cellular & Bluetooth 5 Delivers a New World of Powerful Applications
Published on June 4, 2019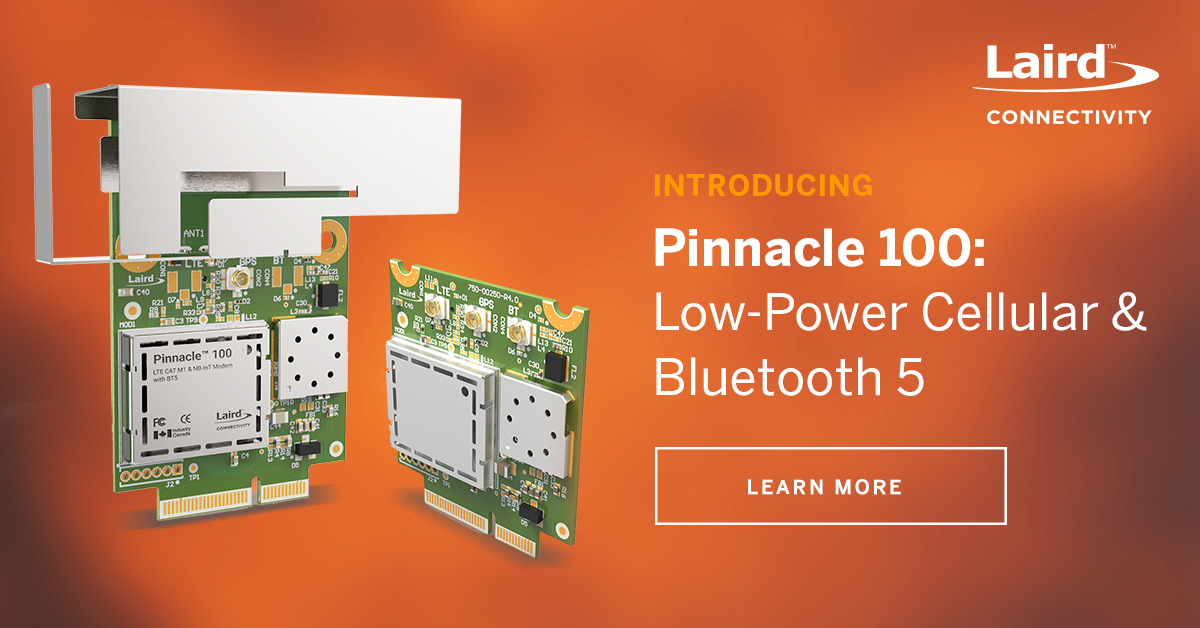 After decades of designing, developing, and manufacturing in low-power wireless technologies, the Laird Connectivity team is proud to announce our next generation, fully-integrated, multi-wireless solution – Pinnacle™ 100.
The Pinnacle 100 is a multi-wireless modem that combines low-power cellular LTE CAT-M1 and NB-IoT with Bluetooth 5 technology into a fully-integrated hardware platform. This unique combination enables totally new use cases using low-cost, long-range Bluetooth sensors all connected in a much simpler and lower cost architecture.
The Pinnacle 100 seamlessly incorporates a powerful Cortex M4F controller running a hostless Zephyr RTOS-based software implementation, complete Bluetooth 5 functionality, and LTE CAT-M1/NB-IoT capabilities – all fully certified from a radio regulatory, cellular and network carrier perspective. This unique combination of capabilities simplifies common use cases like using a smartphone to configure and create an LTE connection in a product. It also enables new use cases combining multiple long-range meshed Bluetooth sensors connected to the Cloud over the evolving global low-power LTE network. Bridging Bluetooth sensors to a single intelligent LTE device allows customers to optimize sensor coverage and manage cellular data with a simple, low-cost architecture, not to mention decrease time-to-market and deliver real-time insights.
The Pinnacle 100 comes with: 
A pre-integrated embedded antenna option OR
Multiple external antenna options including our Revi Flex
Integrated Bluetooth radio supporting LE Long Range, 2MPHY, and Bluetooth mesh
Cortex MHF4 MCU with secure, integrated bootloader
Hostless operation via Zephyr or hosted via AT command set
Complete radio, cellular, and carrier certifications
Multiple low-cost development kits will be available to simplify application development and provide everything required for initial evaluation right out of the box including: 
Standalone Bluetooth 5 environmental sensor (Bosch 280)
SIM card with prepaid data
Companion smartphone app for provisioning 
Complete end-to-end AWS cloud demo to see your Bluetooth sensor data in the Cloud in minutes
Visit the product page to sign up for updates and enter our raffle to win a FREE Pinnacle development kit!