How Many Sign Technicians Does It Take to Change a Radio?
Published on January 6, 2015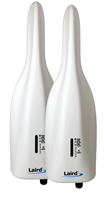 Have you ever driven past a car dealership near a busy intersection and saw a digital sign that was not working? Maybe you were in the market for a new vehicle and were curious about the dealership's special offers but could not view them because the dealer's sign was out. Or maybe you were glancing at a movie theater sign outside a theater because you were trying to plan a movie time before dinner but could not view the times. Your Friday night dinner and movie plans just got more complicated, and you probably ended up being rushed through dinner just to miss the first 15 minutes of the latest summer blockbuster that you were dying to see. Are you a business that is tired of constantly climbing up a ladder to fix your unreliable sign? Are you spending money on hiring a maintenance crew to fix your sign for you? These hassles and expenses are easily prevented through the use of Laird's RAMP Bridge radio module.
Having more than 10 years of experience in the Digital Signage market, Laird works closely with digital signage manufacturers to provide the right wireless solution for any application through our wide-ranging line of RAMP products and solutions. The RAMP Bridge provides a fresh way for sign makers (LED signs, scoreboards, reader boards, etc.) to reduce costs and offer additional services due to the ease of installation, long-life warranty, high throughput, and long-range of the RAMP Bridge.
The Hospitality industry benefits from the Laird RAMP Bridge through various entities. Large properties such as resorts and shopping centers require secure, long-range wireless coverage to remote terminals and signs located around and on their sites. With the RAMP Bridge, you can quickly and easily add a new device to a network, miles away from the main wireless infrastructure without any frustration. The omni-directional antenna located precisely inside the RAMP Bridge provides extensive 360-degree coverage. That means the hassle of pointing or aligning to accomplish reliable long-range communication is not required. In fact, the Ethernet Bridge will strategically scale to your application in order to fulfill your individual needs. Whether the distance is just a hundred feet or up to 3.5 miles, the RAMP Bridge has you covered.
The RAMP Bridge allows for high-throughput connections that rival the speed of Ethernet transfer. It is capable of connecting up to five clients in a point-to-multipoint network with the intuitive web-based setup wizard. This makes sending data wirelessly to multiple display signs, scoreboards, or reader boards easier and faster. The RAMP Bridge also features a sturdy weather-proof enclosure that withstands harsh environments of all sorts. It is encased in a rugged, waterproof (IP 67) enclosure that is ready for any outdoor environment.
For more information on how the RAMP Bridge can ensure reliable connectivity in digital signage, visit our digital signage page.