Deliver Maximum Flexibility with New BT900-US Intelligent USB Dongle
Published on February 24, 2015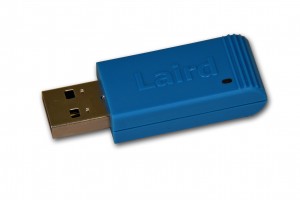 Laird recently announced a new member to the BT900 Series, the BT900-US, an intelligent BTv4.0 dual-mode dongle for Classic Bluetooth and Bluetooth Low Energy (BLE). The dongle is designed to simply add Classic Bluetooth, BLE Central, and BLE Peripheral Modes to any OS backed device with a USB interface–no external Bluetooth software or drivers are required! The dual-mode dongle has the capability to integrate Classic BT and BLE support to any PC, laptop or mobile computer without the hassle of difficult installation and necessary software support requirements.
For those considering updating their current devices for application in the forthcoming Internet of Things (IoT) and the Connected Hospital, the dual-mode dongle is an ideal solution in situations where hospitals are required to add wireless capabilities to their Legacy devices that have an operating system but no inbuilt Bluetooth or BLE functionality. Due to urgent requirements for mobility and enhanced patient care in the healthcare field, many hospitals are switching to wireless technology for convenience, economical purposes, and easy integration. Since the BT900-US has the ability to add on Classic Bluetooth, BLE Central, or BLE peripheral modes, there is no need to replace wired medical devices and waste valuable resources. The operating systems supported through the BT900-US are Windows, Windows Embedded, MAC OSx, Linux, and Android.
Besides the healthcare industry, the BT900-US is compatible with industrial applications that allow users to add wireless capabilities to barcode scanners, point of sale terminals, and various other devices within challenging industrial environments. With the addition of the smartBASIC programming language from the BL600 Series and BT900 Series, the embedded design is even more accessible, while allowing developers to take advantage of the core and wireless extensions of the BL600, BL620, and the BT900 series. This produces several compatible BLE applications between both product segments allowing for diversity, reliability, and ease of use.
"Laird is very excited to release the BT900-US dual-mode dongle which provides a simple solution for any OEM looking to easily add Classic BT or BLE connectivity to any Operating System backed device in their Bluetooth solution. The BT900-US allows simultaneous Classic BT and BLE connections without any complicated installation or software support requirements." said Jonathan Kaye, Product Director at Laird. Whether you are working in the medical field and looking to integrate the USB dongle into a legacy medical device for portability, or looking for a solution to provide your warehouse with reliable connectivity for your barcode scanner, this device can be simply transitioned to many industrial applications. To learn more about Laird's BT900-US intelligent USB dongle and discover how the device can transform your wireless applications, visit our BT900-US Series page.