Akron Formula SAE Electric Team Leverages Laird's RM024
Published on April 29, 2015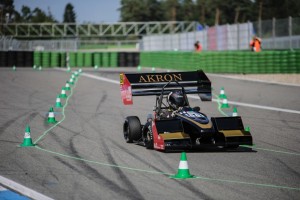 An avid supporter of The University of Akron, Laird's Connectivity Products Business Unit, with offices in the heart of Akron, Ohio, donated two RM024 dev kits to the university's Formula SAE Electric team to leverage data paths within a race car. The first data path consisted of a telemetry system, while the other featured car options and configurations. This allowed the Formula SAE software team to easily change settings and quickly perform test runs in the field for optimized performance and quality assurance.
Each year, The University of Akron's Formula SAE team designs and competes with a Formula-style race car, which is powered by electricity in its entirety. This allows for participants to gain experience in business planning and cost and design analysis, while focusing on safety, learning, and the overall hands-on experience. The competition consists of a fictional manufacturing company contracting a design team to develop a small Formula-style race car. Based on a set of rules that support onsite operations and promote clever problem solving, each student team is required to design, build, and test a prototype. At the end of the competition, the race car is evaluated for its potential to be put into production. Akron's team competes against a combined 130+ US and international collegiate teams at competitions throughout the world.
Laird's RM024 is a Range Amplified MultiPoint (RAMP) module designed to provide wireless communications for a number of applications that require a wireless transport for serial data. RAMP modules include a Frequency Hopping Spread Spectrum (FHSS) protocol for excellent interference and multipath immunity. The RM024 operates on a 2.4GHz band and capable of transmitting at 500kbps at a range greater than 2 miles. The module features an improved link budget and switchable antenna output, which allowed Akron's team to easily integrate the device into their race car. With its field-proven FHSS air interface protocol, the RM024 discards RF noise, flourishes in multipath situations, allows for co-located systems, and generates an exceptionally reliable communication link that benefited the Formula SAE team.
Learn more about the RM024, here.
If you liked this story, subscribe to the Wireless Connectivity Blog! Each week we post product updates, news related to IoT, healthcare, and digital signage, the latest on Bluetooth/BLE, Wi-Fi, and RAMP, and more.