Sentrius RG1xx + RS1xx IoT Starter Kit
Overview
The IoT is all about getting data to the cloud and taking critical actions based on the information in the world around us. Our RG1xx Gateway and RS1xx Sensors make it effortless to prototype your long-range Temperature/Humidity and Open/Closed applications and start gathering meaningful data today.
The kit contains: 
1x Sentrius RG1xx LoRaWAN Gateway + Wi-Fi / Ethernet
1x Sentrius RS1xx Sensor  (featuring Temp/RH + Open/Closed sensing capabilities)

Open/Closed cable assembly

Our free AWS-based sensor payload decoders, converting binary sensor data into meaningful information
Power adapter
The combination makes it easy to gather sensor data and send it as far as 10km in open air to our gateway, where it can be sent to the cloud via Wi-Fi or Ethernet.
The RG1xx included within the Starter Kit is configurable with many popular packet forwarders, such as Semtech Basics Station, UDP forwarder, and compatible with cloud services such as AWS IoT Core for LoRaWAN, The Things Network, ChirpStack and Senet.
RS1xx sensors are easy to install, last for years on two AA batteries and are configurable over our mobile application.
As AWS Qualified Devices, the RG1xx and RS1xx are easy to quickly register with AWS IoT Core, eliminating the need to manage a LoRa Network Server and accelerating IoT application development
Prove it Works! Request a Whiteboard Session with our team.
Developing and implementing wireless IoT solutions is complex and there are a lot of moving parts. We will help you map it out so you know exactly what you need.     
What's involved:
Map the business model
Define the technology
Tackle tough questions like security, provisioning, and updates at scale
Select the right products and applications to meet the technical requirements at the right price points
Talk to our team about getting your application connected to the cloud.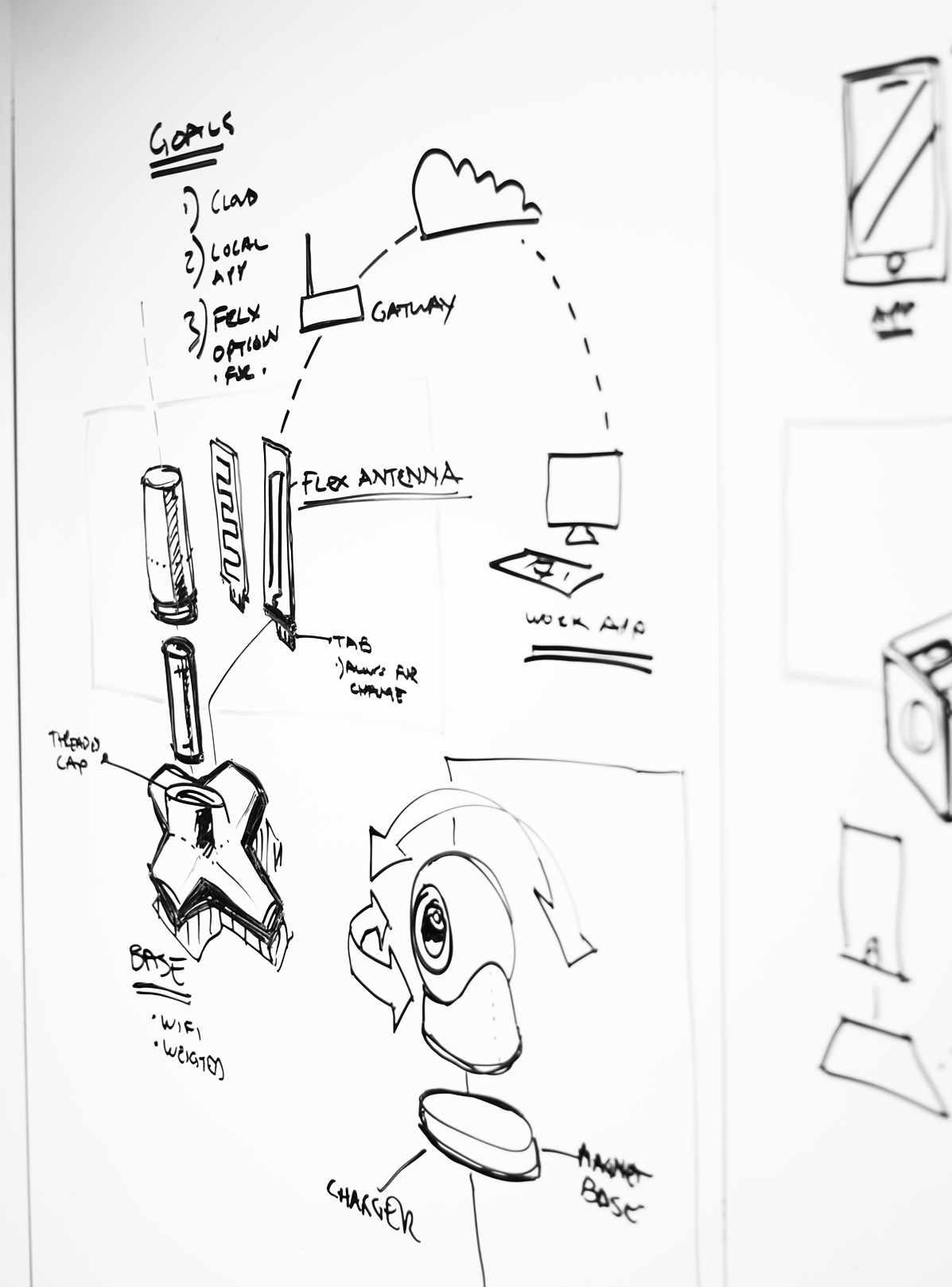 Specifications
Certifications
FCC, ISED, EU, NCC, AS-NZS, IMDA Bluetooth SIG
Chipset (Wireless)
Gateway: SX1301/1257, CSR 8811 A08, QCA6004
Sensor: SX1272, nRF51822
Form Factor
Molded plastic housing
Interfaces - General
Gateway: 2x2 MIMO Wi-Fi, LoRaWAN, Ethernet
Sensor: Bluetooth 4.2, LoRaWAN, Open/Closed Peripheral
Sensor Type
Temperature
Relative Humidity
Door Open/Closed
Software
Gateway: Web-based GUI for config/updates, Pre-Loaded LoRa Forwarders (Semtech Basics Station / UDP Forwarder, Senet, Chirpstack, TTN)
Sensor: Mobile application 'Sentrius Sensor App' (Android/iOS)
Wireless Specification
802.11abgn, LoRaWan, Ethernet (gateway)
LoRaWAN, Bluetooth 4.2 (Sensor)
| Part Number | Additional Description | Included Gateway | Included Peripheral | Included Sensor |
| --- | --- | --- | --- | --- |
| 455-00122Buy Now | US Version | Sentrius™ RG191 US (US902-928) 915 MHz Gateway - LoRaWAN, Wi-Fi & Ethernet – US Power Adapter | Open/Closed cable assembly for RS191 – 1830mm length cable (Single) | Sentrius™ RS191 Multi-Sensor – 915MHz External Open/Closed + integrated Temp / Humidity – North America |
| 455-00121Buy Now | European Version | Sentrius™ RG186 Europe (EU868) 868 MHz Gateway - LoRaWAN, Wi-Fi & Ethernet – EU Power Adapter | Open/Closed cable assembly for RS186 – 1830mm length cable (Single) | Sentrius™ RS186 Multi-Sensor – 868MHz External Open/Closed + integrated Temp / Humidity – Europe |
What LoRaWAN specification does RG1xx support?
Let's break down the LoRaWAN classes for a clearer understanding:
Class A: Energy-efficient, with uplink transmissions followed by sporadic downlink listening for incoming messages, suitable for low-power devices.
Class B: Features scheduled receive windows in addition to Class A behavior, offering a balance between energy efficiency and predictable downlink communication times.
Class C: Maintains an open receive window, allowing near-continuous downlink reception for immediate responses, but consumes more power compared to Class A and B.
For more in-depth information on LoRaWAN classes, you can refer to:
https://www.thethingsnetwork.org/docs/lorawan/classes/

Now, let's talk about RG1xx's LoRaWAN support:
The RG1xx fully supports LoRaWAN v1.0.2.
The LoRaWAN v1.0.3 introduces full support for unicast and multicast class B devices. The sections regarding class A and class C remain unchanged from LoRaWAN v1.0.2, except for the addition of a new MAC command called "DeviceTimeRequest," which is used to synchronize a device's real-time clock. If your devices operate in class A or class C, there is no need to upgrade to LoRaWAN v1.0.3. However, if you plan to use class B, it is recommended to utilize LoRaWAN v1.0.3.
Considering this information, it's important to note that our RG1xx supports LoRaWAN v1.0.3 for Class A and C, but it does not support Class B due to the absence of a GPS onboard module in the gateway.


How to trigger and perform a factory reset on the RG1xx gateway?
A factory reset on the RG1xx gateway can be used to reset all settings to their default values − at any time. This process restores the original "factory" condition of your RG1xx gateway. It is recommended for troubleshooting purposes or for users who no longer have access to the web UI. Please note that a factory reset is irreversible, therefore there is no way to recover your previous configuration. It is also required to reconfigure your RG1xx gateway once the factory reset has been completed. If possible, we advise developers and system integrators to back up their existing settings before continuing.

Please follow the instructions in our latest Sentrius RG1xx / RG191+LTE User Guide under section 9.8 (Factory Reset). If this approach does not work for you, try the following:

First remove the power supply from your RG1xx gateway completely for at least 10 seconds. Press and hold down the User Button. Do not release the User Button. Now restore the power supply while the User Button is still pressed. Wait until all LEDs start flashing. Release the User Button and observe the LEDs while the RG1xx gateway is performing the factory reset in the background. This usually does not take longer than 3 minutes and your RG1xx gateway might restart automatically afterwards. Do not remove the power supply while the LEDs are flashing. This means that the factory reset is still in progress.

Does the RG1xx gateway support Bluetooth Classic and/or Bluetooth Low Energy (BLE)?
Unfortunately, there is currently no built-in driver or software support to utilize any Bluetooth Classic / Bluetooth Low Energy (BLE) features. For this reason, the Bluetooth radio is completely disabled and cannot be used from a user perspective. Please note that from a pure hardware point of view the RG1xx gateway is leveraging our WB50NBT wireless bridge module which is featuring the CSR8811 chipset from Qualcomm (formerly Cambridge Silicon Radio or CSR), so technically proper support for Bluetooth could be implemented at a later stage in the future. However, at this time there no plans to offer a RG1xx gateway with Bluetooth support from our side.
Is it possible to change the region settings on the RG1xx gateway afterwards?
No. Our RG1xx gateways ship with a region lock; each region is using a different power table due to different regulatory reasons and requirements which we must comply with. We do not allow nor support to modify the region settings, so you must purchase the appropriate model for the desired region of operation. If you bought the wrong model for your region, we advise you to get in touch with your seller or distributor and ask for a RMA (Return Merchandise Authorization).
Based on the part number we set the region settings during manufacturing for each RG1xx gateway individually. The only exception here is for the Australian variant where you can toggle between the AU915 and AU923 regions in the web UI. Please find a complete list of all available part numbers with the corresponding regions in our latest Sentrius RG1xx / RG191+LTE User Guide under section 2.3 (Ordering Information).
Why are the LEDs of my RS1xx with external temperature probe constantly on and it does not join the LoRaWAN network?
With the 1-Wire Digital Thermometer Probe, a connection problem at power up is indicated by both LEDs on the front panel being
constantly on. This is a visual indicator to the user that there is a communication issue between the sensor and the probe.

Please check the connector/plug of the external temperature probe for proper connection as well as its cable for mechanical damage.
How fast can the RS186/RS191 detect a change of the door magnet open/close sensor?
The latency of the RS1xx Sentrius LoRa sensor with external magnet open/close sensor is limited by the following reasons:
1) The RS1xx uses two internal dwell times to detect a door open and close. These can be set in the Sentrius smartphone app to a minimum of 5 seconds (which is also the default setting). So any state change faster than 5 seconds will be suppressed and a change or the open/close sensor state won't be transmitted faster than 5 seconds.
2) Independent of the dwell time the RS186 (EU868 region) faces a minimum LoRa uplink interval due to regulatory 1% duty cycle limitations of the 868MHz frequency band. At the maximum data rate (SF7BW125) the airtime is roughly 60msec, which then adds a dead time of 99x60msec=5.94sec. So from this we get a minimum cycle time of roughly 6 seconds. At the minimum data rate (SF12BW125) the airtime is roughly 1480msec plus a dead time of 99x1480msec=2.4min giving a minimum cycle time of roughly 2.5min.
So the latency of a door open/close state detection plus transmission for the RS186 would be 6 seconds at best case (maximum LoRa data rate SF7BW125) and 2.5min at worst case (minimum LoRa data rate SF12BW125).
The latency of the RS191 is not limited by duty cycle restrictions and hence end up at 5 seconds latency purely due to dwell time.
What LoRaWAN MAC version does the RS1xx support?
LoRaWAN version: MAC V1.0.2
Regional Parameters version: PHY V1.0.2 REV B
Where are the access keys for the gateway in TTI (The Things Industries) v3?
The access keys used in TTN v2 are not used anymore in TTN v3 the API key is used instead. Follow the below steps to create an API Key for an application from The Things Stack Console.
Navigate to your application.
Select the API Keys section on the left menu and click the + Add API Key button.
Fill in the Name and select the Rights of your API key.
Click on the Create API Key button in order to create the API key. This will open the API key information screen.
Note: Please make sure to save your API key at this point because it will no longer be retrievable after you leave the page.
What is IP rating
IP stands for Ingress Protection. Its a standard we use to check the sealability of a product once it is installed.
It is composed as IP## , where first digit is for dust/solid objects and the 2nd digit, is for liquids.
Here is the meaning for each numerical code:

| First Digit | Description |
| --- | --- |
| 0 | No protection |
| 1 | Ingress of solid object diameter 50 mm is protected |
| 2 | Ingress of solid object diameter 12.5 mm is protected |
| 3 | Ingress of solid object diameter 2.5 mm is totally protected |
| 4 | Ingress of solid object diameter 1.0 mm is totally protected |
| 5 | Protected against harmful dust |
| 6 | Totally protected against dust |
2nd Digit
Description
0
No protection no protection against liquid object No test
1
Protection against water drop vertically
2
Protection against water drop 15° Tilt from its normal position
3
Protection against water spray 60° from the vertical direction
4
Protection from water splash from all direction
5
Protection from water jets from all direction
6
Protection from strong water jets from all direction
7
Protection from water dip 1 m depth water for 30 min
8
Protection from water sink should be decided between customer and manufacturer
Can the RG1xx UI be accessed on a cellular network
If you have normal RG1xx (non LTE version) and add Ethernet to Cellular bridging capability, you can access to RG1xx UI via port forwarding but with the following requirement
need to forward whatever external port to internal port 443 to reach the gateway on that bridging device.
Cellular provider allows incoming connections on that port.
Can AS923 and AU915 networks coexist in the same area?
Yes, as long as they are operating on different networks such that AS923 sensors talk to the AS923 gateway and vice versa for AU915 devices. 
Can the RS1xx AS923 (455-00063) work with an AU915 gateway which uses overlapping channels to AS923?
No, an RS1xx AS923 sensor will not work with an AU915 gateway because it cannot receive the downlink packets due to differing bandwidth and frequency plans used and therefore will drop off the network.
How many end-devices can a LoRaWAN gateway support?
End-devices do not actually make a connection with a gateway. End-devices broadcast to all gateways within range and the gateway forward packets to a network server if it can hear them. So, a gateway does not have a hard number for supporting devices and it is rather dependent on how much bandwidth a gateway can support. For example, factors such as payload size, interval of each data transmission or data rate being used can affect how much air time is consumed and therefore the gateway processes. Also environment factors should be considered.   
It's normally best to experiment with real devices in actual sites in order to figure out how many devices can transmit data without much data loss, using desired configuration/setup.
What is the temperature range for the RS1xx sensors
While the standard RS1xx (455-0001 for North America) can support down to -40°C and RS1xx external sensor (455-0070 for North America) can support down to -55 °C, typical AA batteries do not perform well at below -25 °C. Industrial grade of AA batteries may support lower temperature but they are significantly more expensive that off the shelf standard AA batteries. 
What is Laird Connectivity's product lifecycle EOL and PCN policy?
Laird Connectivity is committed to the long-term supply of all its standard embedded wireless modules and packaged products. Laird Connectivity's products are specifically designed to meet the needs of the industrial and medical markets, which typically require 7 – 10 years product lifecycle. Although Laird Connectivity can't guarantee that a component used in our products will not be obsoleted and cannot be reasonably substituted, Laird Connectivity can assure customers we will continue to sell our product when we have customer demand and can obtain the necessary components to build our products.
Become a Laird Connectivity Customer and Gain Exclusive Access to Our Design Services Team
Antenna Scans
Antenna selection and placement
Custom antenna design
Worldwide EMC testing / certifications
Embedded RF hardware / firmware design
Cloud architecture and integration
Mobile application development
Product & Industrial Design
Distributors
Distributor
Phone Number
Region
Website

Alpha Micro

UK Only

+44 1256-851770

EMEA
Website

Arrow Electronics

1-855-326-4757
+44 2039 365486

APAC, North America, South America, EMEA
Website

Avnet

1-480-643-2000
+44 1628 512900

APAC, North America, South America, EMEA
Website

Braemac

Australia, New Zealand, South East Asia

+61 2 9550 6600
+64 9 477 2148

APAC
Website

Cal-Chip Connect

1-215-942-8900

North America
Website

Digi-Key

1-800-344-4539

North America, South America, APAC, EMEA
Website

EBV Elektronik

EMEA
Website

Farlink Technology

China, Hong Kong

+86 13266922199

APAC
Website

Farnell

1-800-936-198
+44 3447 11 11 22

EMEA
Website

Future Electronics

1-800-675-1619
1-514-428-8470

North America, South America, APAC, EMEA
Website

Glyn

+49-6126-590-0

EMEA
Website

Jetronic

China, Hong Kong and Taiwan

852-27636806 

APAC
Website

Laird Connectivity

1-847-839-6925
+44 1628 858941

North America, South America, APAC, EMEA
Website

M2M Germany

+49-6081-587386-0

EMEA
Website

Martinsson

+46 8 7440300

EMEA
Website

McCoy

South East Asia

+65 6515 2988

APAC
Website

Mouser

1-800-346-6873
+44 1494 427500

North America, South America, APAC, EMEA
Website

RS Components

+852-2421-9898
+44 3457-201201

North America, South America, APAC, EMEA
Website

Ryoyo

Japan

+81-3-3543-7711

APAC
Website

Solid State Supplies

UK Only

+44 (0) 1527 830800

EMEA
Website

Supreme Components International

India, South East Asia

+65 6848-1178

APAC
Website

Symmetry Electronics

1-866-506-8829

North America
Website

Tekdis

Australia and New Zealand

+61 3 8669 1210

APAC
Website

Telsys

+972 3 7657666

EMEA
Website